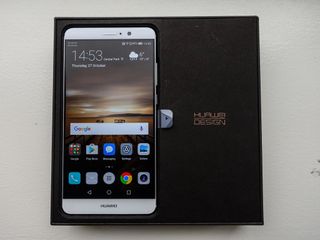 Huawei's Mate 9 is official — it's the company's sleekest, most powerful phone to date, and the first to run the brand new Kirin 960 processor, which features a boatload of powerful cores and ARM's new Mali-G71 GPU, alongside Huawei's own i6 co-processor.
More than anything, though, the Mate 9 is impressive for its refined software: EMUI 5.0. Based on Android 7.0 Nougat, the Mate 9 features a simplified notification shade, a better home screen launcher experience, with an optional app drawer, and far fewer extraneous features.
Then there is the camera setup, which features two sensors on the back — one 20MP monochrome, the other 12MP RGB — for better detail and additional color. Rounding it out is a 4,000mAh battery that should last two days given the 5.9-inch LCD panel's rather homely 1080p resolution.
But wait, there's more! Huawei is also showing off a special Porsche Design version of the Mate 9, which features additional storage, a curved 2K display, and a hefty price tag!
The Mate 9 will sell for €699 later this year and the Porsche Design Mate 9 goes for €1395 when it debuts in December.
Swipe to scroll horizontally
Category
Huawei Mate 9
Porsche Design Mate 9
Operating System
Android 7.0 with EMUI 5.0
Android 7.0 with EMUI 5.0
Processor
Huawei Kirin 960
4x A73 @ 2.4Ghz, 4x A53 @ 1.8Ghz
Mali-G71 MP8 GPU
i6 co-processor
Huawei Kirin 960
4x A73 @ 2.4Ghz, 4x A53 @ 1.8Ghz
Mali-G71 MP8 GPU
i6 co-processor
RAM
4GB
6GB
Display
5.9-inch 1920x1080
IPS LCD
2.5D glass
5.5-inch 2560x1440
AMOLED
curved glass
Rear Camera
20MP (monochrome) + 12MP (color)
f/2.2
OIS
20MP (monochrome) + 12MP (color)
f/2.2
OIS
Front camera
8MP, f/1.9
8MP, f/1.9
Video
4K capture
4K capture
Battery
4,000 mAh
Non-removable
4,000 mAh
Non-removable
Charging
SuperCharge
3.5-5V / 5A
9V / 2A
SuperCharge
3.5-5V / 5A
9V / 2A
Connectivity
USB Type-C, Bluetooth 4.2
USB Type-C, Bluetooth 4.2
Fingerprint sensor
Yes, on rear
Yes, on front
Storage
64GB
256GB
Expandable storage
microSD
microSD
Dual SIM
Yes, dual nano
Yes, dual nano
Colors
Space Gray, Moonlight Silver,
Champagne Gold, Mocha Brown,
Ceramic White
Graphite Black
Dimensions
156.9 x 78.9 x 7.9 mm
152 x 75 x 7.5 mm
Weight
190 grams
169 grams
Price
€699
€1395
Android Central Newsletter
Get instant access to breaking news, the hottest reviews, great deals and helpful tips
Daniel Bader was a former Android Central Editor-in-Chief and Executive Editor for iMore and Windows Central.
That camera ought to be real interesting

Not the base Mate 9 with that resolution on a 5.9" screen. A screen that size ought to be at least quad HD.

I agree. Screen resolution should be closer to other flagships.

I'll take the extra battery life.

I'll take a screen that is powered longer at 1080p than the negligible at best difference visually for quad HD or 2k...

Exactly, all 5 of us that do so will likely want to look elsewhere haha.

It would be the best phone ever with a higher resolution screen and stereo speakers.

Looks solid. And a Porsche Design option? oooooh baby.

Except the price on that Porsche version almost made my eyes fall out. Looks sweet but costs double.

The Porsche Design would be lovely. I need to make more dough to justify pulling the trigger on one though!

It's a non-starter for me without a Qualcomm SOC. Looks nice otherwise but there is a reason that all the best phones have tech in them from Qualcom. The drivers have already been worked out, less bugs, less crashing.

Snap dragon arent the only good processor now days...exynos and now huaweis processors are as good or maybe better...in S7 exynos beats snap dragon

Kirin is still not in the league with SD and Exynos. Prices for mate 9 are simply too high for what they offer. Pixel price now seems fine when you compare it with this.

This is very 4 years ago thinking. Exynos and Kirin offerings often do better than what Qualcomm offers.

Lol, "best". I have tried other Qualcomm devices with the same sized display and battery, and the Kirin on my Honor 8 beat out the battery life on them! With no shame either...

My girlfriend's Honor 8 gives my OP3 with its snapdragon 820 a run for its money when it comes to battery life and everyday performance. The only time mine beats hers out is when playing a graphically intensive game.

Of course T-Mobile probably won't ever get it.

Then you better hope they offer an unlocked version

They will probably play nice with T-Mo and it would be no problem, unless you need Wifi calling.

The Porsche model looks and sounds like a great phone, but after converting Euro to US Dollars, I could buy a Pixel XL and a really nice Chrome Book and still have money left over.

Ha. yea, those prices are silly.

As long as people are willing to plop down ridiculous amounts of money for a mobile phone, the vendors will gladly keep charging those prices.

Huh? If I convert the money of the xl (128GB) to euros I come out at $1235 (USD). For $265 more you could have a special edition. If you're an porsche fan (which I'm not) that $265 would be peanuts, no?)

Huawei board meeting: "Hey, Google is overcharging, why can't we? And for the dopes with money to burn, we'll throw in a designer model with a little more ram and storage ....muahaha!!

I wouldn't call that a little more storage haha. But I get your point

€699 that's sounds great! On par with all the other flagships beside Google and apple. Weldone!

I think the Screen resolution is fine at that size...I'll take that battery life over trying to tell if I can even see a difference. The price however.... Bzzzzzzzz..... Maybe next year it will be a firework, and then they can charge full Samsung pricing.

Poor Note 7....and we said it was expensive for over 800??? Look what Huawei is offering for 700 and 1400....It could have been made of pure gold, but with Kirin and EMUI inside...NEVER. Huawei is completely delusional. 700 for 1080p? They must be crazy. Porsche and Leica logo on outrageous S7 edge copy with the worst Huawei audio quality in the world for 1400? What do they have in the water they drink?
Android Central Newsletter
Get instant access to breaking news, the hottest reviews, great deals and helpful tips
Thank you for signing up to Android Central. You will receive a verification email shortly.
There was a problem. Please refresh the page and try again.