Huawei Glory will bring high-end Android to Cricket for $300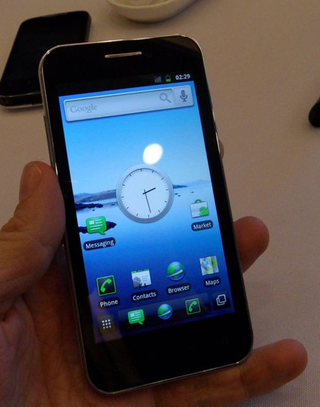 Are you ready for a high-end Android phone, on a prepaid unlimited $45 plan, checking in at under $300? Cricket Wireless thinks you are, and will be offering the Huawei Glory to foot the bill. Checking in with a 1.4 GHz CPU, a 4-inch 854x480 screen, an 8MP camera and Gingerbread (Android 2.3.3), the Glory looks like it's filling the promises we heard last year about high-end, low cost components that will push Android into as many hands as possible.
According to Sasha Segan (PCMag), Huawei has edited a few things away from stock, but the Glory doesn't have a heavy manufacturer skin. It does have a huge 1900 mAh battery and a very bright LCD screen. To sweeten the whole pot, Huawei also says the Glory will be updated to Ice Cream Sandwich when it's available.
Will great phones on pre-paid carriers (see the Motorola Triumph on Virgin Mobile) become commonplace? I certainly hope so.
Source: PCMag. Thanks, Ilya!
Android Central Newsletter
Get instant access to breaking news, the hottest reviews, great deals and helpful tips
Senior Editor — Google Ecosystem
Jerry is an amateur woodworker and struggling shade tree mechanic. There's nothing he can't take apart, but many things he can't reassemble. You'll find him writing and speaking his loud opinion on Android Central and occasionally on Twitter.
Wouldn't it be funny if this phone got the Ice Cream Sammich update before any other high end phone, besides the Nexus? LOL!

1.4Ghz, 1900mah. What is the extended battery going to be like, 5000mah?

Does anyone else notice the google search bar id android 2.1 ver. And this phone is like 5x better than my epic and this is on CRICKET lol.

BTW- My epic is overclocked to 1.3GHz running Gingerbread 2.3.3 with great speed and reliability. My Epic is 4G so that and all the other Samsung goodies make it 5 times better than this...

What eom are u running i have an epic. Im running syndicate,1.2

I see a lawsuit by apple in the near future. It also comes in white and black like the Iphone. It looks like an iPhone 3gs.

Thought for a second you called it a "Fascinate"... Weird. Nevermind.

Too bad the Cricket network is so limited. I worked at a festival next to a Cricket trailer, and even the salespeople said they wouldn't use the service.

What's limited. Coverage is nationwide and better than Sprint and T-Mobile.
http://dl.dropbox.com/u/6089/coverage.jpg

IIRC Sprint is one of Cricket's roaming partners. It's been since 07 since I used their service but it was on parity with Sprint when roaming (voice only) no 3G or even 1xEVDO data, SMS was hit and miss.

Wow, that looks just like an iPhone. It's like they didn't try to differentiate at all.

It will actually be $55 a month. $45 a month is for non smartphones

That looks ridiculously similar to the iPhone 4, but the iPhone 4 is sexy (despite Android being better), so that's not really a bad thing.

I heard about how great the pricing is at Cricket. I thought even if the service sucked more than what I'm used to (AT&T), it'd be worth it for the price. Well, then I looked at their website and realized I don't think I'll ever have service, like, at all where I live or work or go to class. :-\ Does anyone have Cricket and likes it? I don't know one single person in GA who has Cricket.

When I lived in Albuquerque many years ago, my older sister used Cricket. We never really left the area, so it was great because there was coverage throughout the surrounding area. She still lives there and actually got a few months free service because she had been such a loyal customer... And she had used more minutes than anyone else using Cricket in the entire country over a certain period of time. She said that when they called her to tell her, they were all amazed. They calculated it out and she would have to be on the phone for all but 3-4 hours of sleep. It was ridiculous. I had Cricket when my family moved to Colorado Springs. I had that phone for about two years and never had any problems. I didn't really leave the area, though. My whole experience with Cricket is this: If you have coverage, it's great and affordable. The only caveat is that the phones are limited in selection and you have to pay the full price. This is all pre-Android, btw.

Awesome, thanks for the informative reply!
I wonder what their policy is on testing them out. Maybe 30 days? I'll have to find a Cricket store and ask. Thanks again!

I signed up with them in 2001 in the Phoenix area. Back then it was $15/mo unlimited local calling. It was when I dropped my land line. I thought of it more of a wireless land line than a real cellular phone at the time as coverage was very patchy. Over the years they improved, offered unlimited nationwide calling, SMS, MMS for about $35. Caller ID and voicemail pushed it to $45 where it is now with the added bonus of 3G data.
They now offer prepaid roaming that is separate from the monthly bill. You fill a balance 'Bucket' with some funds to cover things like roaming and international calling. If you are on the phone while switching from Cricket to Roaming while driving your call will drop and there will be some dead zone between the two coverage areas.
Data is as good as VZW at times but mostly 30-50% slower during peak hours if you have a good signal.
If VZW's wireless infrastructure is 10/10 I'd rate Cricket as 6/10 at least in my area.
Keep in mind that you get what you pay for. There is absolutely no customer service. You will need to rely on your local store for any issues that you can't solve with their mostly unhelpful phone staff.
Don't be a day late on your bill or you get disconnected and have to pay a $15 reconnect fee. No grace period.
If your expectations for customer service are very low, pay your monthly bill early, and don't rely too heavily on 3G data you will be OK with using Cricket.

Love all the info, thank you so much! Your comments on customer service match another review I read of Cricket from a google search yesterday. Thanks again!

This is awesome as Android will, between Virgin and Cricket, gain more market share as they are serving those that can't afford a contract plan. The major downside of Cricket is a 1GB glass ceiling in data usage in their "unlimited plan." So buyers beware.

why do you guys compare it to phones that came out like a yera ago? you got it a year a go, check the phones on yout networks, way better than this, anyways it looks very good for a cricket phone, i guess cuz they saw the triumph and decided.to step it up, crickets has decent service (not a customer) it gets service where my sprint phone doesnt but gets doesnt get signal anywhere else..

This is bloody awesome. We need more of these types of offers.

Oh man. I was thinking about getting the Triumph on Virgin Mobile too. Now I want this instead. I could care less about the lack of a HDMI port. Make it happen Virgin Mobile.

Metro pcs or vrigin mobile please stupid att and tmo deal -_-
Android Central Newsletter
Get instant access to breaking news, the hottest reviews, great deals and helpful tips
Thank you for signing up to Android Central. You will receive a verification email shortly.
There was a problem. Please refresh the page and try again.