This is what HTC's next flagship phone looks like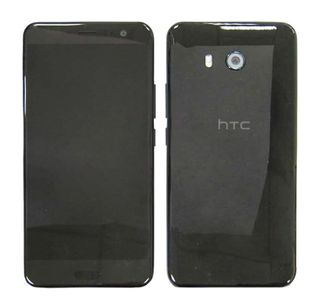 HTC is going to release another flagship in a few weeks. It's made out of metal and covered in glass on the front and what looks like shiny glass on the back. You may be able to squeeze its sides to get it to do things like take a photo. It'll have the latest and greatest specs one would expect from a 2017 flagship, including a Snapdragon 835, 4GB of RAM, and a 12MP UltraPixel camera.
If these things interest you — the phone is expected to be called the HTC U — then cancel your Galaxy S8 pre-order, throw your LG G6 in the fire, stomp on your OnePlus 3T and eat your shorts Huawei Mate 9.
HTC U Ultra review: A beautiful group of questionable decisions
Get the Android Central Newsletter
Instant access to breaking news, the hottest reviews, great deals and helpful tips.
Daniel Bader was a former Android Central Editor-in-Chief and Executive Editor for iMore and Windows Central.
Looks boring.
Is there any chance we'll see some real innovation in smartphone designs? For example, as much as I don't like Samsung, I really like their Edge design.

Here you go. http://phandroid.com/2011/12/22/the-pyramid-tablet-is-back-but-not-from-...

Personally, I detest the edge design and would give anything for a flat panel 6.2" Samsung Note 8.

Ditto: Flat 6.2" screen with a 16:9 ratio.

Even better, a 6.2" screen @ 16:9 on the Pixel XL2!

Too big at 16/9. 5.7" is perfect at 16/9 for a phablet IMO, but I'm liking 5.5" alot right now too

Boo on yo boring flat azz designs

Me too, I hate the curved screens.

I'm not a fan either. I've tried the GS7 Edge and am returning. I will not try the GS8. I get why Samsung went with the curved screens exclusively (demand). But it leaves me looking elsewhere.

Yes I agree the edge is what I dislike the most, it is not user friendly with palm rejection.

Yay more glass 🖕 Oh and of course nobody is going to like the bezels but that doesn't bother me.

Plastic backs on phones are dead. Only other way wireless charging currently works... Is with glass.

This phone very likely doesn't have wireless charging as the U Ultra didn't.

A phone that easily breaks or not having wireless charging? I'll take the no wireless charging. I have had more than one phone that had wireless charging and never bothered to get a charger for it.

Looks like HTC's farewell salute. Oh and I bet it doesn't have a headphone jack.

You sound like the typical gobshite.

Impressive vocabulary. Do you work for HTC or are you just so enamored with terrible devices that you'll pay $700+ for a device with less value than a used condom?

I'd never have guessed *anyone* got value out of a used condom. Now I know someone who does.

Nope. Pixel 2 or Moto Z2 Play or OnePlus 4 or Nokia 8/9 for me. Whichever has the best combination of amazing camera, very long battery life, water resistance and a compelling design.

for the last few years HTC has had horrible designs. what happened to the HTC that made the amazing M7 and M8. HTC needs to really step it up if they want to compete with samsung and LG

Their head design guru left a few years back. That's what happened. I still like the look of their designs, but it is uninspiring sometimes when compared to the beauty that is the Galaxy s8

Things started to go downhill for hTc with the M9. The M7 and M8 were fantastic phones but the M9 was not at all well received. Everyone criticised the M9 as being not enough of an upgrade on the M8. And yet here we are with Apple and Samsung keeping to their same design language. Gotta love fanboyism.

When you are the leaders there is no reason to change anything.

I'm holding an HTC 10 and it's design is far better than most phones from last year. The chamfered edges to the rounded back that fits perfectly in my hand. I'm a huge HTC fan, but if this is what they are releasing, then count me out. I will be waiting to see the next pixel.

Yes indeed. My HTC 10 is a simple, elegantly beautiful, functional design. I just want to screen a little larger. There is no way it wouldn't have been more popular if the screen was 5.5" I love it as is. I'll be keeping it as long as it works smoothly. I've had only HTC phones for years, since the original Evo.

I may try to pick up a 10 when the price drops if this is as bad as it sounds and looks. I want the metal design of the 10 with new hardware. No gimmicks, just give me a good solid phone HTC!

I guess HTC is on their way to Chapter 11. What CEO would let this come out as a flagship device?

You sound like a gobshite

Include a headphone jack and a massive battery please.

Just stop it already, HTC. You are an embarrassment to yourselves and the Android community

You are the embarrassment.

The back doesnt look like a Flagship phone to me, maybe its the glossy finish it has

Wow. All this hate from 1 low resolution pic. Heaven forbid anyone should wait and see what it actually looks like in real life. I guess Taylor Swift was right.

What did Taylor Swift say about HTC?

Doesn't agree with the corporate structure and direction the company is headed.

That seems like a weirdly specific song lyric, especially for a Taylor Swift song.

She must have broke up with them too. She writes her songs about people she breaks up with.

Hideous and no metal to be seen.

Looks basically ok to me, not great, not terrible. I would have preferred metal to glass, given a choice between the two, especially since this almost assuredly doesn't have wireless charging. Won't sell worth a damn. Also, no more small batteries in their too high dollar, large screen phones needs to happen, badly.

Damn time to sell my G6 and use the HTC U as my backup to S8+. Definitely looks better than the G6 if they fix the shortcomings of the U Ultra. They need to add wireless charging and waterproofing when it's a glass back. No excuse is they don't include it. And yeah this is going to cost a fortune just like the U Ultra or S8.

Why do you need a backup phone?

I'm sure there's an app for that condition!

Don't worry. You're definitely not alone.

Not to sure about this one... It looks underwhelming compared to what Samsung is offering and other device releases coming up. I hope HTC gets it together and releases some solid products this year

Bottom bezel is bigger then the top. Makes no sense and why is there so much bezel above the physical button?

Mid April announcement? So any day now there will be a press release/online event with phone details and release info. I don't think they have the money or enough press interest to require an event.

I think this is a photoshop. Camera is not centered.

I hate you so much. That's one of those things we can't un-see. Ha! That bothers the crap out of me!

I hope you're right. Rumour​ is U is delayed bcs Ultra was not welcomed at all. Hope it's true, that direction is suicidal. Instead of improving 10 in right direction and keep 3.5 htc did all the wrong changes.

I'd put money down and say they forgot a headphone jack and water resistance and the same, a little above average camera from the 10. I am still hoping but it doesn't look all that promising. I miss the HTC of old.

Htc need change. Fast. Wang and Chang move. Fast.

The problem with HTC is they will put a small battery in this

You have no idea what I'd be willing to compromise for a good pair of front facing stereo speakers!!

Looks like a phone. I am not sure what you guys want. You can only do so much with a rectangle.

It looks wide. Posted via the Android Central App

I'd compare it to the simplicity of the G6. Nothing wrong with that. Keep the high quality DAC and headphone jack. Add waterproofing and wireless charging and you've got yourself a smash hit.

Totally agree, but for some strange reason I have this feeling three out of four will be absent.

Why can't HTC just built on the design of HTC 10. I mean it stood out and it looked good.

Looks like HTC is moving backwards instead of moving ahead. This phone looks like ****.

Looks like another U Ultra. HTC's last hurrah.

The Leak looks cheap! Not a good look HTC..

Meh I moved on trying Samsung now HTC seemed to not stick to a good thing and improved it instead they make radical changes that don't make since Ugh!!!!

I don't care if the design is a little uninspired. If it does everything superbly, I would definitely consider upgrading from my S7 edge. The problem is that they always screw something up, usually the camera or battery life.

I'm not surprised. HTC is nothing more than a VR company that wants to make smartphones.

This looks really uninspiring and I dare to say, even cheap. It's a shame how HTC doesn't seem to even try anymore. I remember when the HTC One M7 came out. Still a phenomenal phone design wise.

Very sad and disappointed. Glass made phones. No amoled screen. No front stereo speakers. I'll just upgrade my m8 to the HTC 10.

More trash, there is just no NEED for these REDUNDANT designs, this FREQUENCY of release - JEZZUS - heck Android of all platforms needs to FREEZE production and get its SOFTWARE TOGETHER, every YEAR they release 'new' software that other 'manufactures' delay delay delay it should be mandated to have your devices ALL on the LATEST version BEFORE putting more hardware its just trash, but because people keep buying they keep coming, these phones lack differentiation - I want variety - stand out - everyone is mimicking the other, its pretty stale.

This. I'm tired of the Android race, but I absolutely ******* detest Apple. I'm looking at the BB KEYone, because at least that's proudly different, has a wonderful typing experience and no doubt a long-lasting battery.

If HTC (or LG) wanted a return to relevance, they would offer a device with 6 or 8 GB of RAM and a 4000 or 5000 mAh battery and perhaps a 4K screen. OR they would cut the price of their phones in half. Instead, HTC and LG - as well as Google by the way - offer the same specs, the same features, inferior hardware, similar software/usability/experience etc. while charging full flagship prices. Result? There is no reason to buy anything but a Samsung phone. The competition is neither better, cheaper or even different. You can't claim that your phone is faster or more fluid because they use the same SOC and the same amount of RAM. You can't say that it has battery life because they all offer 3000-3500 mAh. You can't say that the display is better because they all use AMOLED or LCD with 1080p or 2K resolution. Your only case for buying something else is brand loyalty - from back before Samsung and for that matter Android were a major factor on the mobile phone landscape perhaps ... or maybe because you own an LG refrigerator or smart TV - or simply not liking Samsung. Well trust me, there is plenty of stuff not to like about Samsung, especially if you are a Google or Android loyalist. Tizen watches and TVs instead of Android Wear and Android TV. Facebook Oculus Gear VR instead of Daydream. Bixby, S Health, S Voice, partnering with Microsoft on DeX to push Microsoft software instead of Google Docs ... the hits keep coming. Unfortunately, disliking Samsung's decisions and wanting to buy a smartphone that is better than or different from - and in a good way, not HTC imitating Apple by dropping the headphone jack or LG's implementation of the failed Project Ara with the G5, or LG's dual screen/DAC LG V20 "media creator's phone" - a Samsung Galaxy S or Note are two different things. So, the LG G6, this HTC device and the rumors about the Google Pixel 2 do nothing but force me to resign myself to replacing my Nexus 6 with a Galaxy Note 8. My last hope: the Nokia 9. And even then, it will need to be on a major carrier because I need things like supports and the occasional software update. (Otherwise, my next phone would be the Asus Zenfone AR.)

No one should have to buy Samsung. That's a bad deciding right there

You know there is this thing called the enter button? It splits your book into paragraphs.

Why would anyone want a 4k screen on a phone? That would be useless except as a huge battery drain. Just because they can make 4k displays for phones doesn't mean they should. Way overkill.

The Lg V20 is a great phone. Just not as stylish as the Lg g6 and not the Vip image of the apple.
And not sold in Europe.

Well centosguy, you appear to have thoroughly checked things out. I just moved up from an HTC Rezound to an HTC 10 only cause the activate button was failing and I couldn't get it fixed. I got the HTC 10 cause they seemed to have corrected the mistakes they made on the M9. However, I do wish they would have continued with the dual front speakers. I kept the Rezound for 5 years and I will probably keep this one for as long. The newer phones don't impress me very much. However, this HTC 10, with the new Nougat 7.0 has some impressive battery times. Lots, lots better than my Rez and better than with Marshmallow. So we are looking good. When I "might" decide to change is when the Battery will no longer charge... since it is sealed in. Don't know what will be involved or what the cost will be to get it changed.

This....basically looks like HTC took a bunch of leftover Pixel frames and called it something new. **yawn**

That's gonna be a hard sell next to the S8 and G6.

it's probably going to have a 2000mah battery...

Gotta say... It looks cheap. Seems like a huge downgrade from the HTC 10.

It's........shiny. Whatever happened to metal???

HTC lost the folks who mattered most, their design team..

So there's no one there who can imagine up a more interesting looking phone? It doesn't make sense to me.

maybe folks with the design chops of Scott Croyle are hard to come by..

If HTC were to suddenly take the old school Incredible, with its wonderfully weird back panel and everything, and fit it with modern internals and a high-res AMOLED display, I would buy it right away. Even if they kept the same screen size! These new phones are so uninspired and boring. I miss the Incredible.

Why would they lose the beautiful metal unibody? My 10 is fantastic and feels gorgeous. All they needed to do was modernise the bezels, add another speaker on the front and a bigger battery. This looks so boring. I'm done with the Android race. Might buy a Passport.

and you don't think the 10 is boring? I mean, it's still based on a 2013 design.

I think HTC have released to many models lately. Confusing for customers. And they seems to have lost all carrier parters to.

Don't take offense, but: http://www.elearnenglishlanguage.com/blog/english-mistakes/to-too-two/

I am cracking up. I wish I could vote this up twice.

Another half-assed bar of soap from HTC... Qualcomm need to start restricting their SoC sales to manufacturers who won't waste them.

HTC's next flopship... Uhhh, flagship. ;)

Is Evan Blass a real person, and if so, how does he always get pics of all these different phones before they are released? Or is it a front for the different manufacturers to funnel controlled leaks? Just asking cause he seams too well-connected to always have pics of new phones (either 1st or among the 1st) and usually very accurate.

He is definitely a real person. He is a tech journalist and happens to have really good connections.

How could this even beat the 3T in any way?
Would rather eat my shorts than use this over my 3T.
Happy Easter guys!

It's almost like you're biased towards the phone you currently own, like almost everyone.

Everyone is SO concerned on how it looks on the outside (only so much you can do with a rectangle). I haven't seen ANYONE comment on what's INSIDE. Snapdragon 835! Yeah baby!

Because how a phone looks goes a long way to how many people will buy it. For better or worse this phone looks positively ancient next to the S8, looks wise I'd say it's akin to an old Blackjack next to an OG iPhone.

Who really cares? Any modern processor works fine in pretty much any smartphone. They have put a decent camera and battery for this thing to be successful.

Well, I care. I don't buy a new phone every tear so when I update, I want the most modern hardware included which extends the hardware's useful life. Easy. Year old plus processors are already behind the curve. Buy old equipment if you like. Me, I'll buy the best for longevity.

Almost every premium phone will have the 835 in 2017. Nothing special about that.

As I said. I will only buy the latest tech when buying a phone. "Good enough" doesn't cut it.

I just don't understand manufacturers anymore. It's like the entire world is conspiring to force people to be a ******* boring sheep and buy iPhone or Galaxy.

Im holding off on the Nokia 9. Based with all the issues with the Pixel, and personally have gone through 3 of them and still have the same issues,it will be a long time coming before I put my hands on anything that HTC manufactures!!

From the front it almost looks like a Pixel

That's because the pixel was pretty much an htc design.

Not one comment about a touch sensitive frame that can tell which hand you are holding it with? I think I like that better than wrap around displays or haptic engines. It's not as appealing as the the M7 or M8, or the 10, or the One mini, or the One mini two, or the... well, you get the picture. But still, I could go for the frame technology.

It has bezels! No thanks.

Internally this phone has it. From a Aesthetics pov this thing sucks big honkin donkey balls. HTC have you seen what your competition is doing? Put the GD FP sensor on the back like you did with the pixel. Shrink those bezels and give us proper stereo speakers. No what you give is a recycled design of a recycled design. The U ultra is a total failure and this looks like the next one up.

It looks like..... almost every other smartphone. A rectangle with rounded corners, a slab of black looking glass in front, and a slap of some other material in back. Yawn. Can we get over the idea that there's anything really unique about the style of smartphones today? From more than a few feet away, no one can tell the difference.

I like it. Time to wait for a release date.

I hate this glass back trend.

Back glass phones? No thanks.