HTC ThunderBolt poised for an update?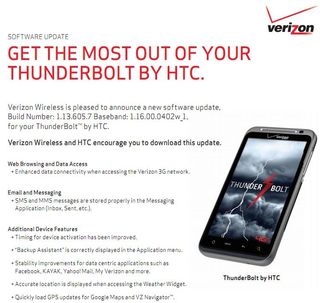 Remember that HTC ThunderBolt ROM that leaked out a few days ago? Looks like Verizon's getting ready to push it (or something close to it?), as Android Central Forums member jim302 spotted that the release notes have been posted in the usual place and the build numbers match up. Here's the changelog:
Web Browsing and Data Access
Enhanced data connectivity when accessing the Verizon 3G network
Email and Messaging
SMS and MMS messages are stored properly in the Messaging
Application (Inbox, Sent, etc.).
Additional Device Features
Timing for device activation has been improved.
"Backup Assistant" is correctly displayed in the Application menu.
Stability improvements for data centric applications such as
Facebook, KAYAK, Yahoo! Mail, My Verizon and more.
Accurate location is displayed when accessing the Weather Widget
Quickly load GPS updates for Google Maps and VZ Navigator™.
Look for it to push out, oh, any time now, we suppose.
Source: Verizon (pdf); via: Android Central Forums
Edit: Tweaked the story and headline a tad.
Android Central Newsletter
Get instant access to breaking news, the hottest reviews, great deals and helpful tips
Nice, im gettnig reboots on the leaked version. Might revert and try a combo pack of CDMA/LTE radios.

It better not break the HBO Go app :D

What a CROCK. HBO is owned (or a sub company of) Time Warner - yet HBO GO is NOT SUPPORTED BY TIME WARNER CABLE ON MY THUNDERBOLT!!!!!

I remember that rooting the TB requires a certain OS version. Will it be possible to root the TB after installing this update or are you going to have to downgrade again first?

rugbyua9 using the old radio with new software stopped my random reboot issue. Air Force One it doesn't break HBO go for I'm using it on new software update just old radio

Cool, thanks man. I'm just worried because my TBolt has been working perfectly...I'm always wary of updates when things are already not broken.

Interesting that it includes "stability improvements" for My Verizon when Verizon hasn't even released a version of My Verizon for the ThunderBolt yet. Maybe it will enhance the stability of Skype and Netflix too.

I'm interpreting that as "fix problems with apps that send or receive a lot of data", so there may have been a bug in the low-level transport layer.

There's a version of my Verizon that works for the tb on xda maybe they'll updatye the market version soon

FWIW, There is a MyVerizon apk at XDA that fixes it for the Tbolt already.

I wonder if this is the best time to be pushing an OTA, what with the network issues they've been having. Seems to me they should make sure everything is back to normal first.

How about getting something other than 1X on my TBolt in the center of LA? That's the update I want; been on 1X for the past day and a half.

It was fixed yesterday in Ohio.

I tried to check for a software update on my TB, but it says the service is not available? Maybe VZW is getting the OTA service ready?

I just checked and it says there are no updates.

does it fix blue tooth glitch when your using stereo blue tooth headsets and goes in and out

Just tried no updates. Boo Hoo??

why print something when its all rubbish! the link is not there no more!dumbasses

sam here in philly pa no update
Android Central Newsletter
Get instant access to breaking news, the hottest reviews, great deals and helpful tips
Thank you for signing up to Android Central. You will receive a verification email shortly.
There was a problem. Please refresh the page and try again.