HTC Runnymede stars in a new video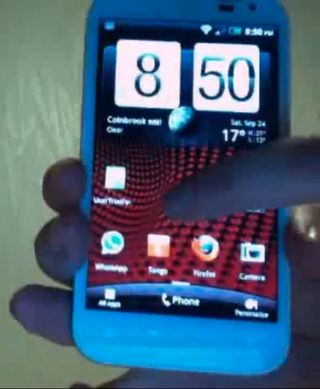 We've seen the HTC Runnymede, a 4.7-inch device with Beats Audio support and a 1.5 GHz CPU leak a few times now but the latest gives us a pretty good look at the device as it starts in its own Youtube video. The device has been reported to be launching as the HTC Bass but when, we don't know as of yet. The video shows "Vodafone" on the display but this shouldn't be considered branding or serve as any indication of carrier pick up -- that's just Sense showing what carrier the device is currently running on. So, what do you all think?
Update - And just like that, the video has been pulled.
Source: Youtube; via: Engadget
Android Central Newsletter
Get instant access to breaking news, the hottest reviews, great deals and helpful tips
This looks better than the [unreleased] Holiday for AT&T

Looks pretty nice actually. Doesn't look too big either.

The view from the front is really nice (LOVE it in white). Soft edges and a huge screen. The back is the typical new HTC look unfortunately. Scaled down Flyer tablet. If they mirrored the awesome look of the front onto the back it would be MUCH better imho. Get rid of Sense and I'm game.

Looks okay, but I was expecting better
Man , HTC needs to step up their design , it looks like an Android version of that new WP7 phone (not the Titan, the other one , cant remember it name)

The argument is getting so old. Every other OEM does the same. Look at the OG Droid,Droid 2, Droid 3 all look the same with slight differences. Droid X Droid x2, hell even the Bionic looks like a slightly different variation of the Droid X. Then Samsung with their Galaxy S and now the GS2. They all look the same. Maybe you should ask HTC or another OEM to make you a phone in the shape of an obelisk. Maybe that will tickle your fancy of not just you but all you haters that spew the same crap about HTC designs. Go buy an Iphone, they NEVER look the same!

The rumors are saying :
It will have a single-Core SnapDragon CPU clocked at 1.5 GHz , same one in the HTC Titan

Not bad but waiting for the Nexus Prime or HTC Amaze 4G

Looks like a cross between a Nexus S and a Sensation with a MyTouch 4G backplate. Now just make it dual-core and I'll buy it, and the white EVO 3D.

Hope this is not going to sprint. Too big for my taste. I am waiting on a dual core 4 incher, with awesome beats internal speakers.

Well I'm running a port of this on my og evo and it's quite nice! I am a sense fan and 3.5 is really looking polished... I tried the Epic Touch for a day but couldn't deal. I may be waiting for the Prime... Too muchvgood shit coming out!

1. it doesn't look like a 4.7" display. looks smaller.
2. when are we going to see phones without hard capacative buttons? i thought they were not needed with the new ice cream sammmmmich?

A prelude to the upcoming EVO BRAND of 2012...4.7 to 5 inch screen will be on the way in 2012 definately rolling with 1.8 to 2.5 Ghz quadcore processor. plus some lovely ice cream sandwhich nothing will be better....

It will still be as thick as a brick and come with a 1250 mAh battery that will not last 5 hours. Sorry for feeding the troll guys

Considering how the evo 3d isnt even the best phone on sprint the new evo will be the same way.

Yea its been removed by the user

Love white phones, need a nice one on VZW. Inc1 and 2 aren't white enough, been waiting for something good enough to put my Tbolt away and something like this may do it. Sick! Never owned a white one either!
Android Central Newsletter
Get instant access to breaking news, the hottest reviews, great deals and helpful tips
Thank you for signing up to Android Central. You will receive a verification email shortly.
There was a problem. Please refresh the page and try again.