HTC One M8 Developer and Unlocked Edition get Android 5.0 Lollipop!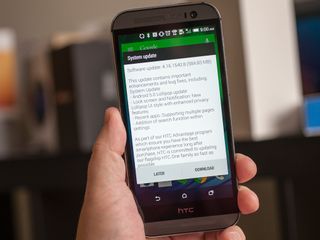 If you've got the developer or unlocked edition of the HTC One M8, check for a system update. Android 5.0 Lollipop is now available.
The update — software version 4.16.1540.8, if you're interested in such things — weighs in at 584 megabytes. The official changelog reads thusly:
Android 5.0 Lollipop update
Lock screen and notification: New Lollipop UI style with enhanced privacy features
Recent apps: Supporting multiple pages
Addition of search function within settings
The update was confirmed by HTC, which said it should start pushing "tonight." Obviously, however, we're seeing it a little sooner than that.
HTC One (M8) Unlock and Dev Owners! We have received TA from Google on Lollipop + Sense 6. OTA will be out starting tonight. #HTCAdvantageHTC One (M8) Unlock and Dev Owners! We have received TA from Google on Lollipop + Sense 6. OTA will be out starting tonight. #HTCAdvantage— Mo (@moversi) January 13, 2015January 13, 2015
We're loading this update as we type, so stay tuned for what's what. For more, be sure to swing by our HTC One M8 forums!
Thanks, Andre, for the tip!
Android Central Newsletter
Get instant access to breaking news, the hottest reviews, great deals and helpful tips
Today is a good day for HTC owners. Galaxy Note 4 Galaxy S III
LG G2

So it's all unlocked also outside us?

I think as longs as its the Unlocked Edition, or Developer Edition, purchased directly from HTC it should get the update.

Could you please send a screenshot of the multitasking screen? Is it from A5.0 or a A4.4 + sence version (9 cards)? I really hope for the 9 cars version...

http://oi57.tinypic.com/b85j7l.jpg Posted via the Android Central App

According to a leak video posted from vietnam u can choose between both versions of multitasking. Theres an option in the recents app screen to switch between the two interfaces

Yess!!! https://www.youtube.com/watch?v=RfdOleTXqEU - found it. I love you, HTC!

They gave you 2 options for the multitasking menu. one is the lollipop multitasking, two is the HTC sense multitasking but this time it allows you to have as many apps open as possible, you just have to scroll page to page. Very nice option to have cause I don't like the look and performance of the Nexus multitask

Sweet. It's good to see the Lollipop rollout continue. It got pretty stagnant for a month or so. Posted via the Android Central App on the 2nd Gen. Moto X

Except Samsung picking new countries to roll out, yeah you are right Posted by my soon to be retired Note 3

I can't wait for people to bitch about Samsung now. Good job, HTC.

I personally hope that Samsung delay's it until all the issues are fixed. Until then lollipop can be the people that want it now's problem.

They started a month ago, HTC is late Posted by my soon to be retired Note 3

Only 71 days since Android 5.0 Lollipop hit AOSP, both the unlocked and Developer Edition HTC One M8 are nowofficially receiving the update. It's definitely well before HTC's promised 90-day timing, with the 584.83MB update bringing the HTC One M8 to software version 4.16.1540.8 and Android 5.0.1 with Sense 6.0. http://phandroid.com/2015/01/13/htc-one-m8-developer-edition-android-5-0...

Kudos for that Posted by my soon to be retired Note 3

Have you received it? Still waiting on my note 4. Posted via the Android Central App

No but the s5 is rolling out pretty well so the note cannot be far behind Posted by my soon to be retired Note 3

I just read that some s5 owners in the UK started getting the update yesterday. Posted via the Android Central App

True
Lollipop 5.0
Users are claiming it's improving their Touchwiz lag issues. Snappier! And certain apps can now be moved to the SD card with Lollipop since the S5 has only 16 GB of RAM. Of course doing so presents security problems. Nevertheless, a welcome improvement.

I hope you meant 16GBs of internal storage, though a device with 16GBs of RAM would be amazing :P But yeah, I'm an M8 owner but I've had enough experience with an S5 owner to know just how big of a breath of fresh air L is with the lag issues fixed and all U WOT M8

A few other countries got it before then. Poland for one. Posted by my soon to be retired Note 3

I want my Lollipop and I want it now!!! Sent from my HTC One M8 on the Now or Later Network

I want M7 update for UK unlocked Posted via Android Central App

Same here, any word on when it will be available?

I am M8.tonight lollipop android 5.0 enter in Romania?

"I can't wait for people to bitch about Samsung now. Good job, HTC." Didn't you get the memo, the Nexus 6 is the new device everyone loves to bash...

Waiting to hear from those who are running this how it goes... Posted via Android Central App on my HTC M8

Just checked the HTC updates page, but nothing to look forward to there. In fact, somebody needs to update that page. It still lists the M8 Devleoper Edition as at "Certification" Stage (stage 3 of 4) and the Unlocked Edition at the Stage 2 "Integration" stage: the same stage where all of the Carrier versions of the M8 are alleged to be circling.

Getting my phone ready for the update now, already flashed the lollipop firmware!!! Sweet!!! Posted via the Android Central App

Took a while to install and boot back up. but looks great so far. I like the blending of the two. It feels just right. Not too much in either direction. I like it

Has anyone heard anything on the lollipop update for the M7?

I believe it was supposed to come on the heels of the M8, akin to how quickly the GPE M8/M7 got theirs; I'm not sure on that, though. My best guess is that it'll start rolling out in the weeks after most of the M8 variants have it, but it's really hard to say for sure.

I have a sim free, unlocked M8 and checked for updates, nothing there...

Nothing for my European unlocked version...

Update available for download according to my M8 unlocked version's persistent notification, but am waiting for feedback from those daring to install it and how it is blending with Apps already in use.
Question: can you go back to Kit Kat if things not working properly? Posted via the Android Central App

United States, New Mexico Posted via the Android Central App

Ah thanks still waiting in UK

I planned to do the same but could not resist the taste of lollipop. So far everything works great like before but even faster and smoother now. The battery seems like normal too. Nice update so far

Did it this morning... so far all apps seem to be operating properly (concern was with business income apps I use)... the "old" dashboard disappeared (quick access toggle buttons) ... The Lollipop version took some detective work to locate and customize, it's location /access will require a bit of learning curve, but it does free up valuable screen space.
Initial opinion is good. Posted via the Android Central App

I want my Lollipop and I want it now!!! Sent from my HTC One M8 on the Now

can someone tell us if it is 5.0.1 or 5.0.2? Really excited once Tmo pushes it out!

Mine is 5.0.1 Posted via the Android Central App

so the update is only available to those in the US. Would be nice if you guys were clear on that, not everyone lives in the US.

Great! Hopefully next step is carrier customizations. Can't wait til my Note 4 gets lollipop. I'm getting excited. Posted via the Android Central App

Mine arrived too. (Phone purchased outright direct from HTC).
I'm holding off for a couple hours, because I need the phone for calls, but also to see if the complaints start showing up. Anyone seeing any BAD News? I've never had an HTC update go bad over the years.

Ok, I put on my big boy pants and did the update. So far so good.
For those that were asking, Sense 6.0. Android version 5.0.1 and htc-Software number 4.16.1540.8 took about 30 minutes.

UPDATE: My battery runtime has dropped dramatically since this upgrade. I'd say its cut almost in half, down from two days to about 18 hours,. Also, under security there was a category called "Apps with usage access" which included only one item, DemoFlowPackageInstaller. It was on, I turned it off. There is zero information about this package on the web.

Could I upload this to a Verizon m8? What would happen? Posted via the Android Central App

Brick at worst, no radios at best Posted by my soon to be retired Note 3

No update available yet for me, unlocked HTC ONE M8

#HTCAdvantage. Getting it more than a month after others. Posted via my LG G3

You sir are so wrong.
HTC Advantage, among other advantages, is ahead of promised update schedule. Whereas no other manufacturer has publicly issued a update schedule commitment. " Lollipop still isn't available widely enough to register as a blip on this chart..."
http://www.androidcentral.com/kitkat-loaded-nearly-40-android-devices

Nor should they HTC has it sorta right this time, but the last two times they set a deadline they failed Posted by my soon to be retired Note 3

The update is available on the sky dragon ROM for sense 6

Have you got a link to that please? Updated to 5.0.1 Skydragon GPE and must admit I am missing the sense features alot!

I purchased my M8 from the Carphone Warehouse SIM free, not tied to any network, and as expected there is no update available.
Whenever there is an announcement from HTC that an OTA is rolling out to unlocked handsets I ALWAYS have to wait 3-5 days longer to get it. Why?
Are these rolllouts done in stages, by territory or in batches of IMEI's? GAH, I want my fucking lollipop!

Update rollouts are always staged in order to prevent server stress from multiple users downloading from HTC servers at the same time (Though tbh, there aren't even enough owners of the M8 to put that much network stress anyways, at least as far as Houston is concerned). U WOT M8

I converted back to sense from gpe. Posted via the Android Central App

I don't even know what developer edition is. I know I have AT&T locked phone. No way to get it now is there?

I have a att phone but I unlocked and rooted it. I turned my phone into the true unlocked edition by changing CID to match official unlocked phone. Got the update instantly. Bad battery life though charging multiple times a day compared to once a day. There's a app called sunshine (not in play store) download directly from website just Google sunshine

They didn't change the navigation buttons to the cool new lollipop shapes. Very disappointed. However, I think the Google keyboard now works with the dictionary on the phone. And the pinyin keyboard interfaces well now.
But was hoping for a bit more. But I guess most of the new stuff will come with Sense 7.0. Just really happy I have a normal recent apps screen instead of the awful thing HTC came up with. Posted via the Android Central App

got dev ed m8. converted back to sense. got the donwload immediately. Vancouver Canada on Rogers net!

I have a question, and it may be stupid but I'll ask it anyway. I originally bought my phone from T-Mobile, if I unlock it will I get the update any faster? Thanks guys.

I believe this will make no difference as you will still have t mobile software on phone Posted via Android Central App

Google turn m8 into unlocked edition. You must be S-OFF which is very easy with sunshine If your good at flashing roms you can flash the room provided and change Cid of your phone to match unlocked Cid and you'll receive 5.0 update. That's what I did today with my att m8

So if i make my device S-OFF, will i get the lollipop update then? Does making the device S-OFF void my guarantee?

Guys i have the unlocked edition and still didn't receive the update till nw , is there something wrong with my device ?

Me neither, but a.t.m. the updates are only in the us availible, and i've seen in mexico and canada also now, just be patience, i have to be to, and live in belgium. :) Posted via the Android Central App

What does an unlocked version mean? I bought an ordinary M8 in Norway which i can us by any carrier, is my phone unlocked? I haven't gotten my update yet...

Yes, you are a owner of a unlocked version, most of the time are these carrier things in the U.S Posted via the Android Central App

Then i just have to wait ti'll they update M8's in norway?

Yes, me to here in belgium Posted via the Android Central App

Still no lollipop update available... weird

I'm getting bad battery drain since update to unlocked edition. 1% every 5 mins. Not happy

I completed the update and it seems that the "quick boot" feature is gone. Previously when I turned on the phone, the chime would sound in two seconds and the lock screen would appear in six or seven seconds. Now the chime takes 21 seconds to sound and the lock screen doesn't come on until 24 seconds after that. A 45 second bootup? Not good. It now takes thirteen seconds to power off, compared to six before the update. There was a check box somewhere to turn the "quick" feature off and on. Does anyone know how to restore this? Or is this feature exclusive to HTC One M8 regardless of the Android version? Thanks for helping!
Android Central Newsletter
Get instant access to breaking news, the hottest reviews, great deals and helpful tips
Thank you for signing up to Android Central. You will receive a verification email shortly.
There was a problem. Please refresh the page and try again.