HTC One Android 4.3 + Sense 5.5 update lands in the UK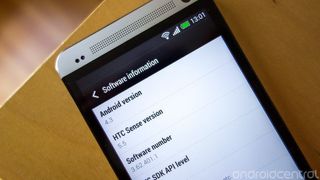 HTC UK has announced that HTC One devices in the UK should begin receiving their update to Android 4.3 and HTC Sense 5.5 from today. The update brings the HTC flagship up to software version 3.62.401.1, including updated video highlights and gallery app, new features in BlinkFeed (including the option to turn it off entirely) in addition to the newer version of Google's OS. The UK rollout follows a limited launch on some European devices a couple of weeks back.
What's next? Well, HTC's already hard at work getting Android 4.4 KitKat updates ready.
We've got the changelog for today's 4.3 update after the break.
Source: @HTC_UK (opens in new tab)
HTC One 3.62.401.1 Changelog
System improvements
Android 4.3 and HTC Sense 5.5 update
Video Highlights improvements
Updated interface
Add soundtracks to videos
BlinkFeed improvements
Access recommended news from your social network
Additional global news sources
Save articles to read later or offline
Create custom feeds from news media, Twitter and YouTube
Music improvements
Updated interface
Embedded music channel with new scenes
Sense TV improvements
Updated interface
Add My Picks Page to improve program management
Alex was with Android Central for over a decade, producing written and video content for the site, and served as global Executive Editor from 2016 to 2022.
Downloaded a few hours ago. Very nice Posted from the ONE

when it this coming for HTC one on ThreeUK?

Same here would like any word if any other HTC One Three UK (Hutchison) network users have gotten this update. Kind Regards

Just got 4.3 on ThreeUK :-D

How do you do this please? I can't seem to get on threeuk :(

My One (CID: HTC__001) does not have an available update at this point (14:45 CET), do you have any info on which CIDs this update is for?
It is bought in Norway though, but I seem to recall the Nordic countries got the update a while ago?

Just kidding, got it now. *happyface*

Download aptoide from playstore or from net..and go to update tab in aptoide and update htc syn..tgen try to check for update.. Posted via Android Central App

Today I got this update but I live in pakistan...cant understand it... Posted via Android Central App

Because in Pakistan UK version is available...most probably you have a UK version too... Posted via Android Central App

Because in Pakistan UK version is available...most probably you have a UK version too... Posted via Android Central App

Unfortunately, for a few of us, the update hasn't happened at all. This afternoon, I downloaded the update and then restarted my phone when requested. The phone restarted, however the update hadn't been applied, and now when I check for update, it checks for an eternity and does nothing. I am inconvenienced.

yes HTC keep it up. poor samsung owners samsung don't give f about them anymore after they made there money.

What????? Samsung has 4.3 ... And updates are rolling out going back to the Gs3... HTC is the one with something to prove .. thats why I was scared to buy my HTC one .. so far HTC has improved on updates but your comment was silly! ... Samsung isn't having issues updating phones for Android builds compared to any other OEM, the problem I have is they need to revamp touchwiz.. Posted via Android Central App

In the US 4.3 is only available for the GS4 (for a few days) and for only two carriers (other than the Google version) where the HTC One has had it for a month now. HTC has always been up to date on updates, it's the carriers that have the problems. HTC and Sprint are always on top of updates.

still waiting on sprint GS4

Wasn't that out a week ago? Posted via Android Central App

Nice. I have been running it via custom ROM on my att HTC one. Sense 5.5 is nice. Posted via Android Central App

Just downloaded it . Thanks for the update looks and works good Posted via Android Central App

Waiting patiently for the update, lol.

Yep, Vodafone still not rolled out 4.3..... come one Vodafone!

I'm hoping that the delay on the VZW update is the wait for 4.4 ;)

Got just this evening on my UK HT One SIM free variant, very nice update which immediately followed me removing Nova as it is saweeeet

Got it on my HTC One, 4G, in Egypt.
3G models still await the update :)

Finally the long awaited update...now to wait for 4.4 Kit Kat :) the cycle keeps circling.. Posted via Android Central App

so evo 4g lte ya know i heard something about end of the year. so ya. i want it now tho. un less we get 4.4, in which case i can wait.

Just got 4.3 sense 5.5 on HTC One on ThreeUK. Yay :-) Posted via Android Central App

Has anyone else noticed that after updating to 4.3 you can no longer change the text input method to a third-party keyboard app, such as Smart Keyboard Pro? A long press in any text input box used to bring up the option to change input method, but nothing happens now. Any help appreciated.

Download and all ok, except on camera zoom bar is gone...anyone has same problem? Posted via Android Central App

If you use two fingers and seperate to zoom then the zoom bar appears, after a few seconds it will hide again. Posted via Android Central App

I've noticed this too, since the camera is now Zoe only the zoom is much poorer, I want the old camera settings, any idea how?

I'd like the old settings back too. This is horrible. The camera was one of the best things on this phone, but now it has been ruined by being stuck in Zoe mode. Bad call by HTC

Yep ..just got it ..doesn't seem much different to me ..apart from the photo gallery... phone is still silky smooth though.. Posted via Android Central App

Just updated to 4.3 with sense 5.5, where is panorama+ and dual camera mode in settings? And that they havent fixed the pink color hue in low light images, i even think it got worse.....

I got 4.3 and Sense 5.5 downloaded yesterday. The only problem is that it's replaced the Handcent icons witb Emoji ones, which don't show up in the old messages. I don't like the new emoticons at all and would rather have the old ones back (though they do show up in the Handcent SMS spp).
Android Central Newsletter
Get the best of Android Central in in your inbox, every day!
Thank you for signing up to Android Central. You will receive a verification email shortly.
There was a problem. Please refresh the page and try again.