HTC Flyer 'Magic Pen' gets priced in the UK and Europe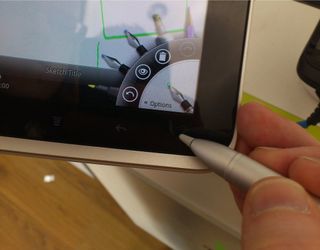 The first European pricing information for the HTC Flyer's "Magic Pen" has emerged over at the manufacturer's European accesory store. The stylus (and AAAA-battery) will set you back £47.99 in the UK, and €49.99 in the eurozone.
This fits with the recently-revealed US pricing information for the stylus, which Best Buy is listing for $79.99. Like Best Buy, the HTC accessories store is also selling cases and screen protectors for the Flyer, which range from £15 through to £26. If you plan on picking up a Flyer over the next few weeks, let us know in the comments whether you'll be splashing out on any accessories to go with it.
Update: It's worth noting that a pen will be included with the Flyer when purchased -- these prices are just for replacement pens.
Source: HTC Accessory Store; via: TabletCommunity; Thanks, Jakob!
Android Central Newsletter
Get instant access to breaking news, the hottest reviews, great deals and helpful tips
Alex was with Android Central for over a decade, producing written and video content for the site, and served as global Executive Editor from 2016 to 2022.
Hear that? It's the sound of fail for charging for the damn input device. It may only be 80 bucks, but it just feels like a gouging to me.

This is a huge fail on HTC's part. Not including this in the box is really gonna hurt this tablet.

The one forgiving factor for this tablet being 7" was the unique stylus/pen. The device was marketed for having a new and convenient use for a stylus. To expect people to purchase the pen separately is criminal, then to add insult to injury, they want people to pay $80! That's outrageous! If manufacturing etc costs demand the cost then you bundle it all together. The pen goes in the box. The whole box price accommodates the cost.

So, if the pen is sold seprately, would that imply that it could be usable with other tablets, or is there flyer specific software needed to support it? I believe I read that it is a bluetooth device, so it would be interisting to see if it could work on other platforms.

The pen communicates over Bluetooth, but I do recall Engadget saying that the screen itself also contains a special N-Trig designed panel.

This is the million dollar question.

Interesting bit I just noticed -- if you click the HTC Accessory Store source link, it actually says in the item description that the pen is a "replacement for the inbox Magic Pen supplied with the HTC Flyer." So it seems that, at least in Europe, the Flyer is still slated to ship with a pen in the box.

the plot thickens... So although this is the UK version, I find it hard to believe that HTC would include the pen in the UK but not in the US. The nerd rage from that would be unlike anything ever seen before in heaven or hell. Even HTC isn't that stupid.

I wouldn't bet against company stupidity... all it takes is a bunch of out of touch decision makers to magically pull numbers out of their behind to make idiotic decisions.

I guess we'll have to see. Either we'll get the pen, or a good show. Either way should be interesting ;)

VERY NICE mulberry bags
mulberry alexa
mulberry handbags

HTC Flyer sets sail,How high can it fly with a magic pen? Android 3.0 seems to be the "killer feature" that has grabbed the attention of the tech media.HTC Flyer is also euiped with a Android 2.3 Gingerbread operating system.Maybe it is really a tablet like no other–a sleek tablet and a magic pen that transoforms any situation http://portable-media-device.com/?p=453
Android Central Newsletter
Get instant access to breaking news, the hottest reviews, great deals and helpful tips
Thank you for signing up to Android Central. You will receive a verification email shortly.
There was a problem. Please refresh the page and try again.