HTC U12 Life announced with funky design and dual cameras, starts at £299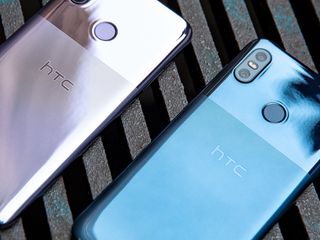 A few months back, HTC unveiled its flagship phone for 2018 in the form of the U12+. The U12+ got off to a rough start, but software updates have since made it a pretty decent handset. Now, HTC's setting its sights on the mid-range market with the all-new U12 Life.
When you first look at the U12 Life, its design sticks out as one of the most unique we've seen this year. HTC decided to go with a two-finish look, featuring "soft, subtle stripes on an acrylic glass unibody with a metal-like design." Thanks to this and the two available colors of Moonlight Blue and Twilight Purple, the U12 Life is easily one of the best-looking phones in its price range.
Around front, you'll find a 6.0-inch 18:9 display with a resolution of 1080 x 2160. The front-facing camera is 13MP with an f/2.0 aperture while the dual rear cameras consist of 16MP + 5MP sensors that allow you to capture portrait shots.
Inside of the U12 Life is a Qualcomm Snapdragon 636 processor, 4 or 6GB of RAM, 64 or 128GB of expandable storage, and a 3,600 mAh battery. The phone also has USB-C, a 3.5mm headphone jack, NFC, and Android 8.1 Oreo with HTC Sense on top of it.
HTC says pricing for the U12 Life will start at £299 in the United Kingdom. Unfortunately, there aren't any plans to bring this to North America.
See at HTC (opens in new tab)
Joe Maring was a Senior Editor for Android Central between 2017 and 2021. You can reach him on Twitter at @JoeMaring1.
For me use love to see HTC, LG, Sony and others take on Google and Samsung a little more. The low end phones are amazing but it's the high ends that let them down. Ide love to see someone make a note competier to. Just upgraded to the note 8 from my xz premium and although I don't like the boltware one the device the phone it's self is a joy to use and the pen makes a big difference to the work I do.
If someone else offered a phone like this without the boltware use definitely look at it.

They copied the x and pixel in that design. But somehow, it looks better than both!

They created the Pixel look

Look, another iPhone X wanna be.

There's nothing about the back that looks like the X except the camera module, and HTC can clone that if they want because Apple and HTC have a ten year cross-licensing agreement.

I thought I was looking at a pixal? The 636 instead of the 660processer. No carrier support. No US release? But they brought back the missing headphone jack. Well, at least they are still trying!

Dave - I immediately thought of the Pixel as well. For some strange reason I really like how this looks, and I still dislike the looks of the Pixel. I doubt the SOC will be an issue. The BlackBerry Key2 LE uses the 636 for battery life, and I bet no one will complain about BB using it. Of course there will be no US carriers because it's not coming here (yet), which is our loss. The 3.5 headphone is a downgrade from USB C USonic, but it's cheaper than the extra technology, and I'm sure college kids are fine with headphones they buy in the convenience store.

Why does HTC hate North America? I would have seriously considered buying this phone for a second phone if it has real buttons. HTC purposely makes it hard for you to buy their phones.

I wish you weren't right, but you are.
Sigh...

I think it's the other way around. North America hates HTC.

Good cameras, shoots video in 4k, front flash, decent SOC, big battery, symetrical front with no notch, NFC, and a back that reminds me of the Pixel... except it looks cool. And not available in the US. I know a couple of people that this would be great for. My friend just started college and her Samsung is a janky lag-fest. I walked halfway across the campus looking for her Monday because the phone battery died, and she told me point blank she needs a new phone. This would check all the boxes, and I could probably make it a high school graduation gift for her, then buy a second one for my wife who also needs an upgrade.

HTC properly pricing their mid-range phone? Now thats a good value and its pretty sweet looking too.

I really like how that silver phone looks

I think I'd like this a lot. Too bad it won't be released in North America.

If this came out in the US, it would kill the pixel 2 in terms of practicality. (Is that even a word?) Manufacturers continue to prove that the latest high end SOC isn't a must have to achieve a lag free experience. I feel that they're getting smarter with software while creating a nice balance with RAM and processor. Even though alot of us are techies, I don't think gaming capabilities are a must have.

Apparently, it also has stereo speakers. All my boxes ticked. Headphone jack, NFC, SD support, FP unlock and a half decent SOC. Also seems to have a reasonable camera. At £300, this is a steal.
Android Central Newsletter
Get the best of Android Central in in your inbox, every day!
Thank you for signing up to Android Central. You will receive a verification email shortly.
There was a problem. Please refresh the page and try again.