Is the HTC 10 water resistant?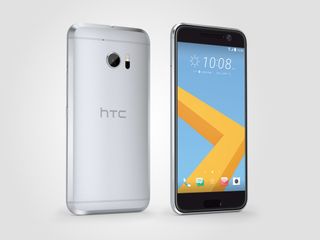 There's a lot to like about the HTC 10 so far, which has been catching quite a few people by surprise. The phone looks like a top competitor, and that's fantastic news for anyone looking to buy something from HTC this year. One thing you can bet on with the HTC 10, you won't see Lil Wayne staring in amazement as he pours champagne on the still perfectly functional phone. The HTC 10 is rates IP53, which means not only is it not completely dust tight, but the phone can be damaged if it is sprayed with water.
To put that IP rating into perspective, recently what we've seen with phones and smartwatches is an IP66 or IP67 rating. That first number means the phone has been rated to be dust tight, so there's no concern of particulates damaging the inside of your phone. The second number is all about how much water the phone can handle safely. A 6 in that second number means it's ok if it gets splashed or hit with a super soaker, but can't handle total submersion. A 7 in that slot means the phone can handle brief submersion, but nothing on purpose for any extended period of time.
As you can imagine, a 3 in that second number is not great. That means the phone can handle sprays up to 60 degrees from vertical, but cannot handle sprays of water from every direction. You'll be fine with the phone in your pocket should you be caught in the rain, but you'd better steer clear of water if your phone isn't being covered by something.
This obviously isn't ideal, especially compared to phones that are either waterproof up to several feet or coated in a superhydrophobic layer to move water away from electronics, but is this a deal-breaker for you? Sound off in the comments.
Be an expert in 5 minutes
Get the latest news from Android Central, your trusted companion in the world of Android