HTC 10 supports Apple's AirPlay streaming standard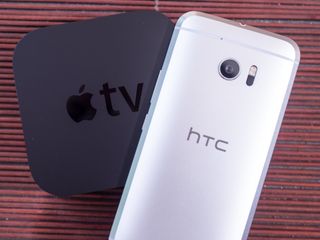 Funny thing about standards — there are so many of them that you've got a pretty good chance your device supports at least one. But when it comes to Apple's AirPlay, Android devices haven't been invited to play. At least not out of the box. Third-party apps can get the job done, but there's something to be said for a phone supporting standards natively.
And the HTC 10 supports Apple's AirPlay standard, out of the box.
That's a big deal for a few reasons. One is that supporting more standards is almost always better. (Not to be confused with there being too many standards in the first place.) If you live or work around someone who uses an iOS device, this puts you on the same playing field, at least in that regard.
The other is that AirPlay is baked into all sorts of things. Apple TV (opens in new tab) is the obvious one, of course. With it you can push apps and displays from iOS and OSX devices (as in Macs and iPhones and iPads) to a television a lot like we can with Chromecast and Android. But loads of stereo receivers and speakers support AirPlay, too. (Again, just as more are starting to support the Cast protocol natively.)
HTC Connect — which you activate by swiping three fingers up on the display — is one of those criminally underrated features on HTC's past few phones. It's a great thing to have. And with the addition of AirPlay it's only getting better.
So it will send any playing audio - from any app? - to AirPlay receiver? If so, this is massive.

Who cares about air play when chromecast is so good and cross platform Posted via the Android Central App

Some people have an Apple TV or other AirPlay-enabled device alongside a Chromecast. Supporting more streaming standards is a good thing, since I can use the Chromecast to stream content to my TV or I can use AirPlay to stream my music to an AirPlay-enabled speaker that I got for an iPod. More choice, which has been the Android mantra for some time.

Because some people live on both ecosystems and have an Apple TV. Is that hard to understand Posted from the Millennium Falcon

Strange Posted via the Android Central App

A lot of us are platform agnostic tech enthusiasts who like all things tech and can't stand to be limited to one single platform.

Did you read the article you're commenting on?

If only my freakin' Apple TV didn't die a "shocking" death due to a powerful AF lightning strike.....

rip Posted via the Android Central App

I've seen you around, just wanted to say, LOVE your taste in avatars. Especially the Akame one.

This and the closer working with Google on the whole notification front, seem to suggest that HTC may have a winner in a number of ways. Posted via the Android Central App

Say WHAAAAAAT?! Cool though. I won't use it, but hey, some people will and it's nice to have the option. Posted via the Android Central App

I wouldn't use it at home, but I know a ton of people who have Apple TV. I can absolutely see myself using this while visiting friends.

Wow, that is awesome! Posted from one of my various Nexus devices.

How??? Sprint LG G4, ZVA.

Not understanding the question. AirPlay is a standard that many third-party apps already supported. So it's apparently not difficult.

HTC entered into a cross-licensing agreement with Apple back in 2012 after the whole EVO 4G LTE/One X debacle.

Because I like Apple TV as well as Android. I use Android TV as well, though. Gotta have a bit of everything! Posted from one of my various Nexus devices.

So this device can essentially cast to anything under the sun, universally? Roku, Miracast, Google Cast, AppleCast, unicast, multicast, plaster cast? Awesome. :)

Audio only though Posted via the underrated M9

That's what I was wondering. Although I know there are many that this will appeal to, I would really love to see screen mirroring to Apple TV. I am a teacher and my district has installed Apple TVs in all the classrooms. It would be nice if we had an option of using iPads or Android tablets in our classrooms at any time. Since I primarily use my Android tablet, I unplugged the Apple TV and bought my own chromecast, but it would be nice to easily switch between the two platforms in the middle of a lesson.

Sounds nice until carriers like Verizon disables the feature like they did the fm radio on the M8 a few years ago. Posted via the Android Central App

Hence the unlocked version.

You are so right. Posted via the Android Central App I am referring to the carrier locking crap but my comment landed below my intended mark

Nice, unexpected feature.
Android Central Newsletter
Get the best of Android Central in in your inbox, every day!
Thank you for signing up to Android Central. You will receive a verification email shortly.
There was a problem. Please refresh the page and try again.