HTC 10 owners, how's the Nougat update treating you?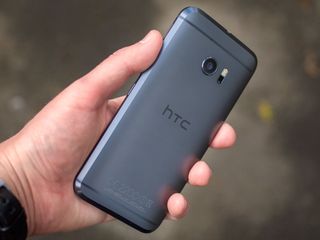 The HTC 10 was one of the more underappreciated phones of the past year. HTC's 2016 flagship didn't flash about too many gimmicky features — instead, it just focused on being a great all-around phone. And the '10 has gotten even better recently, at least for some owners, with the arrival of Android 7.0 Nougat for the U.S. unlocked version.
As with Marshmallow, HTC isn't messing with Nougat too much. Android 7.0 on the HTC 10 is a clean, uncluttered experience with just a handful of visual tweaks compared to older versions. So you're getting vanilla, Google-flavored Nougat, with a handful of HTC features, like the BlinkFeed-equipped launcher, the manufacturer's messaging and dialer apps, and under-the-hood optimizations.
If you're one of the lucky ones to have already received the update on your HTC 10 (or you've manually flashed the RUU), we want to hear how you're getting on. As the year closes out, has your HTC 10 stood the test of time? Have new Nougat features like split-screen multi-window and bundled notifications revitalized your device? Or were you hoping for more from the update?
And if you're still waiting, are you happy with the phone as it is on Marshmallow, or are you chomping at the bit for a taste of Nougat?
Share your thoughts down in the comments, and be sure to head over to the HTC 10 forums for more discussion!
Get the Android Central Newsletter
Instant access to breaking news, the hottest reviews, great deals and helpful tips.
Alex was with Android Central for over a decade, producing written and video content for the site, and served as global Executive Editor from 2016 to 2022.
I'm waiting to open my 10 on Christmas day. It's killing me to not use the phone yet.

Wish i could try nougat on my verizon 10🤔

so when will nougat be out for the locked user of htc 10?!?!?

The phone has been flawless on Nougat. OTOH, I haven't used ANY of the new features mentioned above. Why would I? My only complaint about anything on this phone relates to recent fake news and clickbait in Blinkfeed, but that's the result of a very recent update to News Republic, the news aggregator that feeds Blinkfeed. Not Nougat's fault, and not HTC's either.

Got so irritated with the Blinkfeed BS I finally disabled it. It's gone straight downhill since the early days.

It was actually working very well for me - with content that I WANTED - up until the early December update. I've also disabled it for now, but News Republic claims that their next update will fix this latest content fiasco. It's due next week as per their Play Store comment replies. We'll see....

Working great! Just got monthly security update today.

Generally really good. I've had this recurring scrolling bug where occasionally a list or page won't let me scroll up or down. It'll start to scroll then stutter back to the original location. It goes away when I switch to another app and switch back.

I've noticed the same thing but only in chrome. If you click on something that may expand, or take you to another page, say like if you click on the product description on Amazon, go back it'll lock me to that section unless I click on an area that doesn't relate to it, such as the title of the next session. I thought it was a chrome issue but now wondering if it's a nougat thing - I'm using a pixel xl. My partner has the htc 10. He was upgrading as he went to bed so I'll have to see if he's seeing the same thing.

I bet your partner is constantly rubbing it in your face how their 10 has OIS on both cameras.. The 1st phone in the world to do so while yours doesn't even have OIS at all. As well as the dual speakers and 24 bit studio audio.. HTC BoomSound™ Hi-Fi edition speakers feature the same separated tweeter and woofer design as leading acoustic systems, with a dedicated amplifier for each speaker.. While you have a single mono run of the mill speaker. At least you get to look at it!

Ocasionally notifications just disappear. (I suspect it's a whatsapp issue since it happens mostly with that app). It plays the sound and vibrates, but there is no notification in the notification shade, you have to open directly the app.

I have the opposite with Whatsapp. The messages are delivered but the notification only sounds about 5 mins after. I only know its there because I see the Pushbullet notification on my desktop. But this is the only issue that I have with the phone (I'm still on MM at the time of writing).

Still patiently waiting on my VzW 10. Very happy with Marshmallow, and I'm in no big hurry to get Nougat as long as it's coming in the near future. For perspective, my backup phone (Droid Turbo, left it for my 10 since I got tired of waiting for MM) received the MM update a couple of weeks ago, so I've gotten my "update fix" for now!

I've had Nougat since before Thanksgiving, and it's been treating me exceptionally well. I really like the look of the notifications, the quick settings area is growing on me, and it seems as if Google's Doze improvements have yielded some nice benefits to battery life. Whereas before I would get 36 hours with power saver enabled, I am now getting 30 to 36 hours without power saver - about 3:30 SOT, much of that gaming and often in an area with very poor cell coverage. Split-screen works great, just that the 5.2" screen limits its usefulness. And just this morning I received another OTA with the December security patches and system improvements. Have to say, HTC delivers when it comes to after-sale support.

3:30 hours of SOT? Really?

Maybe not be playing resource hungry games.

Still don't have it. Belarus.

Like my ex girlfriend. Never there.....

You mean the twelve people that bought one ?

That's funny.. your mom sure seems to like hers.

Wow didn't know there were any HTC users left lol. They're **** now and most sensible Android users wouldn't buy anything HTC now a days when there are way better phones like the OnePlus for much cheaper or pay a little more a buy the S7 or S7 Edge which are superior to any lame HTC phone.

I want a phone with an microsd card slot and with the back button on the "correct" side of the phone

Well HTC is the place to be especially with Samsung's pyro gate

Even the Note 7 debacle (which most of it was false and hyped up by the US media) can't save HTC from being lame and becoming irrelevant against Samsung, the rapidly rising OnePlus and most Chinese OEMs.

lol it's always funny when someone says this and haven't experience the phone... try it and you more than likely will see what you have been missing

Missing what? TouchWiz and it's enormous amounts of bloatware?

TouchWiz is Samsung, not HTC. Go troll somewhere else, like maybe in a critical thinking class.

I wouldn't buy any of the phones you mentioned. The 10 is a great phone and I would only change it for one of the pixel phones. And yes I am a sensible android user.

I'd pick the Pixel or any HTC phone over the best Android phone of 2016 or ? You don't sound like a smart Android user, HTC phones no longer stand out and have that same lame iPhone design, I'd rather buy a OnePlus which does way more than HTC phones for a lot less.

Whats the way more that the oneplus does.. Please continue. I'd rather have, the best build quality of any oem. The look and features that apple, and oneplus try to emulate and fail at. Thats HTC.

I got the Nougat update on my M9 and so far so good, except one issue with the system volume and the music volume that I posted on the M9 forum here. I didn't have any feedback so far and I don't know if anybody around here got the update as well.

My HTC 10 has volume issues after update. Any trick to increase the volume without bluetooth devices ?

So I bailed on Android and went all in on iOS. Wanting to have a cheap Android phone around, I almost bought the Nextbit..until yesterday. I walked into a pawn shop (yeah, I know) saw a pristine HTC 10 in the case for like $479. Haggled with the manager and got it for $290. Still had the stickers on it. They couldn't power it up because they didn't have a USB-C cable (that was part of my leverage...but I had a charger in the car). Risky purchase, but I got lucky I guess (no password, Google lock, none of it). I don't think it was ever used. It is a T-Mo version, clean IMEI, been at the pawn shop for 5 months (so not reported lost/stolen). I unlocked the bootloader, gained S-Off, converted to an unlocked CID and am running full Nougat. So far, and with today's huge update, it's a very nice phone. I recommend anyone with a carrier version to convert to an unlocked RUU. It flies. Yes the Pixel is better, no the Pixel isn't $290.

But the HTC 10 isn't 290 as well, you just got lucky. Good purchase 👍🏻

True. If I could have found a Pixel for this cheap I most certainly would have bought that instead.

damn! what a steal. It's really a great phone. Not the most flashy phone (sadly in 2016 it has to be) but does everything you expect well.

HTC does it right unlike useless Samsung treating unlocked US version like crap. Why bother selling even.

I'm still waiting on an excuse why the my Euro unlocked version hasn't been updated ...

Damn right... i've been wondering the same...

HTC's twitter account just says "keep an eye on our social media!" https://twitter.com/HTCHelp/status/806329243579846656

Can you guys please stop rubbing salt in my eyes? I'm in the EU with an UK Unlocked handset and i still don't have 7.0 on my HTC 10... Maybe we'll go directly to 7.1.1.... yeah right!

Same, EU HTC 10 with me tapping on "Check Now" everyday. I really would not mind to wait if they directly gave us 7.1.1, but that is wishful thinking.

Well, I am here in the US and I have a Verizon HTC 10. Still no Nougat Update. Perhaps in January. -But- I have seen to many having problems listed on the Net by others so maybe a little delay will get them fixed before I receive a copy. However, even though I check almost everyday I am not in any great hurry. Marshmallow is working fine for me.

hi all, just seen the USA update is available to download..what will happen if i try it on a UK htcM9????

It will not work obviously...

Works great. Split screen is nice, not highly supported in apps but it's nice. The speed is great and everything is very smooth. It works wonderfully with Nova Launcher and Sense. Anyone posting about getting a cheaper better phone is just being silly. I had a issue with the update and support was very helpful and got it cleared up.

Someone else besides me bought the phone?!?!? lol The update is working fine. I'm not a super user or anything so I don't notice many of the new features, just the layout. I do admit I don't particularly care for the new notifications tray. It doesn't seem to list thing chronologically just kinda blends together compared to how it was before. The tools being a second swipe above the notifications is a nice touch though so I don't have to go to the app tray to use the calculator and flashlight (I know, I'm pushing this thing to it's limits, ain't I?).

You want to complain about notifications? Get an iPhone. It's a total mess over here.

Agreed. I'm using an 6s+ as my primary device right now and definitely preferred iOS 9 notification UI. I love using Nought on my N6 and the notifications UI is one of the main reasons.

Still love this phone, for the record... It is truly underappreciated. On another note, snagged an M9 for a decent price for my son this Christmas (upgrade from my old M7 he's had for a while now). He's a big fan of the front-facing speakers so I figured I'd get him the last one to have them so he can ride it out before it's too outdated.

Worked great until last week when it started hard system crashing and could no longer store google credentials on the phone. I had to reset to get it working again, only to find adb backup / restore don't work and sometimes cause more crashes. :-( It has a cracked screen, so time to cash in that uh-oh protection anyway...

Since the update my finger print scanner isnt as accurate . previously the phone unlocked on the first try now ihave to use my secondary method about 90% of the time.

Nougat has been working great. I use the google now launcher, so I can't comment on the Sense launcher. Only issue I'm having, but I'm pretty sure this same issue was occurring on Marshmallow, is apps that have a persistent notification seem to close at random. I have ampere, internet speed, and pie control running at all times, and keep a notification in the shade. They just close out, and the notification disappears. Have to restart them. Kind of annoying, but that's my only real complaint. I wish the auto focus would be faster, and snap a photo faster. For having OIS, I tend to get a lot of blurry photos, that never happened on my non OIS phones.

Can't tell the difference between 6 and 7.

Using the US Unlocked edition I can say that the radios for the US are absolute garbage. The carriers have way too much control over the FW. I have moved to the EU FW and the radios work much better, battery life is better for me, and the device is more efficient in general...

Still disappointed that the HTC weather clock widget does not work in Nova Launcher since I've upgraded to Nougat.

Yeah I noticed that same problem when I use it on the google now launcher as well. Hope it gets fixed.

Yup, my only complaint about Nougat on my 10. I really liked the widget.

Totally have same issue, but with 1 Weather weather widget (Nova Launcher as well). Also having issues with fitbit all-day sync (it just stopped working) and my feedly widget won't update either, but the feedly issue may actually be an update they released around the same time. Overall, pretty underwhelmed and disappointed that the update broke all of my widgets to the point where I wanted to roll it back.

Well contact the Nova Launcher Developer since it's their problem!

Been running butter smooth since I got it day 1 of release.

I got the update today for my 10. I purchased the phone in Hong Kong and I am currently in Ukraine.

it must be out as i have locked ee phone and its on nougat

Bought in Canada, unlocked from HTC. Love my HTC 10. I agree, this device is very under-appreciated. Very solid build (chassis, buttons, everything), great battery life, nearly stock Android, timely Android 7 update, timely security updates.
My only complaints are fears of using the wrong charging cable, since this is Qualcomm proprietary quickcharge (gonna have to splurge for a backup cable, I guess), and some missing features that are available on standard Android, like:
- multiple Android users (yes, I use that)
- "OK Google" voice commands while off-line, like unlocking the lock screen
- System UI tuner
- same range of "Display size" options, although the feature is present and very usable as-is

I don't think there's anything to fear about picking the wrong cable. QC is backwards compatible with standard charging to of you plug it into something that doesn't support quick charge it will just fall back on slower 'normal' charging.

Thanks for the reply. That's good to hear.
HTC recommends using only their charger and cable, though that's not unexpected for any manufacturer.
The following also recommends using only the original equipment, too:
From http://www.trustedreviews.com/opinions/what-is-quick-charge-3-0
> "When it comes to your new handset, we'd recommend sticking with the charging equipment supplied or recommended by each manufacturer, as third party USB Type-C cables can vary massively in quality and permitted voltage." Neither of these confirm or deny what you've said (assuming a quality cable), so I appreciate your option, in a pinch. I still feel the need to get an (overpriced) backup cable from HTC, though.

Gotta update my, "timely security updates" comment. My last security update was late January, 2017 (Google's Jan. 1 patch level).
I've read that a lot of people are receiving Nougat lately on HTC 10 lately. But skipping 2 months of security patches because OEMs are finally deploying the Nougat update doesn't make me feel at all secure (if that's even the reason).

Got my March 1 Security patch on the weekend (April 9).
Very happy about it. Hope HTC is back to their more diligent update schedule, even if it does seriously lag Google, not to mention Blackberry's Android efforts.

I have found several things not working properly with the newest update. All the games I have loaded lock up after a couple of seconds. SMS messages that have been read appear as new. I clear the flag; within a few minutes they appear as new again. Live wallpapers are missing.

I have the Nougat update on my Verizon device (finally) and so far the only issue I've had is that Photos no longer allows me to delete device photos from my SD card. Must be something to do with how Nougat interacts with SD cards at this point.