HTC 10 audio testing — BoomSound evolved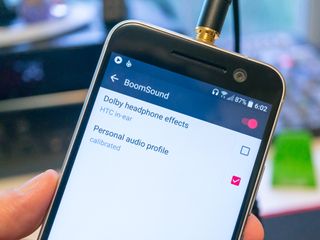 When HTC first announced the HTC 10, we learned that the traditional audio setup we saw with the last few high-end models was gone. With a new external speaker configuration and a promise of better audio tweaks for listening through both the speakers and with headphones, we weren't quite sure what to expect. I've got some really good news — the new BoomSound is the best BoomSound. And I don't mean just the outside speaker configuration.
The HTC 10 speakers
The HTC 10 uses a new speaker configuration where a full range speaker is placed at the top of the phone (where the earpiece is positioned) and a bottom firing speaker for lower frequency sounds. This means things aren't as loud as previous models that had two front-facing speakers, but the tone is better balanced and has more separation. It's the same idea as putting a subwoofer behind the couch or under your desk while having full-range speakers pointed towards your ears.
HTC gives you two software modes for BoomSound when using the built-in speakers — Music mode and Theater mode. These do a decent job of emulating 2.1 channel and 5.1 channel audio, and flipping between the two you can hear the "spatial" difference. Theater mode sounds like you're using three other speakers placed around you, firing from different angles, while Music mode is more of a straight blast out of the front of the phone. In both modes, the bottom-firing speaker isn't a problem and you'll need to physically block the speaker port to muffle it.
Let's be clear here — I still think music played through tiny electronic speakers with no travel and a very limited cabinet still sounds horrible. But the new BoomSound is far less horrible than the distorted loud sounds that came from phones like the M9 with two full range front-facing speakers. A good part of this is because the volume is more limited and has better adjustment, and the system itself responds very well to tone and equalizer adjustments from your music player. The speakers also do a pretty good job while watching video, because the separating makes dialog and speech sound more clear.
If you liked the BoomSound speakers on HTC's prior phones, you'll probably like the new BoomSound speaker setup even more. I certainly do.
Headphone audio
I was very skeptical of HTC's claims of excellent headphone audio on the HTC 10. Not only was I surprised at the results of both audio benchmarking and listening, but I found out my skepticism (as well as most everyone else with the same concerns) was unfounded.
Qualcomm's Snapdragon 820 does a lot of things right, but clear audio isn't one of those things. Something in the digital to analog converter circuit introduces an extreme amount of noise and crosstalk into the analog output, and phones like the U.S. Galaxy S7 and LG G5 sound pretty poor because of this. After doing some testing, I was presented with results that just didn't make sense from the HTC 10 — it was better than it should be, even with extra work and attention to the analog circuit that brings signal from the DAC output to the headphone jack. You can only do so much magic to a bad signal. I asked HTC how they did it, and found out that some assumptions about the HTC 10 audio hardware that the internet (and myself) has are incorrect. The HTC 10 uses a stand-alone DAC as well as headphone amp and isn't using the Snapdragon 820 DAC. This is pretty important, and why the HTC 10 sounds as good as it does.
So much for relying on the internet. That's a mistake I won't make again.
Needless to say, the results of my benchmark testing with the HTC 10 are pretty damn outstanding.
Swipe to scroll horizontally
| Category | Base testing equipment | HTC 10 | legend |
| --- | --- | --- | --- |
| Frequency response | +0.00, -0.00 | +0.02, -0.03 | closer to zero is better |
| Noise | -146.4 | -94.4 | lower/further from zero is better |
| Dynamic Range | 133.2 | 94.1 | higher is better |
| Total Harmonic Distortion | 0.0000 | 0.0044 | closer to zero is better |
| Intermodulation Distortion + Noise | 0.0002 | 0.0088 | lower is better |
| Stereo Crosstalk | -147.8 | -91.0 | lower/further from zero is better |
Let's explain what you're seeing here for those folks who aren't doing audio benchmarks. The first column is the testing parameter. The second column is the audio equipment I'm using to benchmark the HTC 10 — the equipment itself will inject it's own noise and distortion into the software, and knowing how much and where is important. The third column is the result from the HTC 10, and the fourth column tells you how the numbers should look. Also, remember that -100 is a lower number and further from zero than -90 or nothing here is going to make sense.
It's worth noting that my testing equipment shows as "perfect" in some tests, but that only means the software used isn't able to find the flaws. Hooked up to a scope or more sensitive (and expensive) audio testing hardware, it would show a much different picture. What's important is that it is better than the devices being tested.
For folks who would like to perform their own audio hardware benchmarking or talk about the equipment used we can discuss that in the forums. It's pretty fun, but a bit more complicated than something I'd want to write in a blog post.
The ultimate Android phone audio benchmarking thread
I can make it easy for those who aren't quite sure what words like crosstalk or harmonic distortion mean — the HTC 10 audio hardware scores as good or better than the LG G5 with the B&O HiFi audio module installed, and there is little discernible difference when compared to the LG V10 — a product that most agree offers some of the best audio hardware available in a phone. On the hardware side, the HTC 10 will satisfy almost anyone, and the RightMark Audio Analyzer studio gives every category an "excellent" rating. So do I.
Listening tests
Benchmarking audio hardware is just like benchmarking any other hardware — it only tells part of the story, and often does even that poorly. As an example, the HTC M9 spat out numbers better than the HTC M8, but most audio nerds would say the opposite was true and the M8 had a much better sound. What's important is how it actually sounds through your favorite headphones. (Spoiler: it sounds good. Damn good)
I installed PowerAmp, loaded some of my favorite HQ FLAC files (24-bit/48kHz or higher) and used my favorite mobile headphones — the Sony MDR-7506 (opens in new tab) studio model. I then kicked back and played some music for a bit while the wife and dogs were out having fun. As expected, the results were great.
Part of the equation here is what happens the first time you plug a pair of headphones in. The HTC 10 allows you to set a personal audio profile, and let's you do it by actually listening to reference tones if you like. You start the calibration, adjust things until you hear the sounds (both low and high frequency) then save it. You can choose this audio profile in tandem with HTC's Dolby effects, or choose one or the other. I choose my own profile but didn't apply the Dolby effects.
Of course, you can also do this with your own reference tones and an equalizer, and maybe get even better results if you know what you're doing and don't mind spending the time doing it. But the way HTC does it is simple and still very effective — especially if you want to use "flat" sounding headphones and adjust things to your liking by hand. Which I do. After setting things up, I made sure any eq and tone adjustments in PowerAmp were shut off and just listened.
All the music I tested — old "classic" Country and Western, heavy Rock and Metal, Classical and golden age tunes from Sinatra and the like as well as remastered songs from the '70s sounded great. Music sounded clear, with little to no distortion even at the highest levels, background noise was almost non-existent and the separation (hearing each tone and frequency without them blending together) was really nice. Even testing with a self-generated 30 seconds of silence or a track with quiet single instrument portions has no hiss or noise to drive me crazy. It's not perfect audio, but that's something I've never been able to experience from a handheld player (or any home audio equipment I can afford to buy). I'm sure someone out there can find fault with it, but in my experience it's every bit as good a music player as the V10.
If you're thinking about buying an HTC 10 and great audio is on your short list of must have features, you're good to go. If you already have an HTC 10, go ahead and snag a good pair of headphones and fill your SD card with some hi-res music files — you'll like what you hear.
Android Central Newsletter
Get instant access to breaking news, the hottest reviews, great deals and helpful tips
Senior Editor — Google Ecosystem
Jerry is an amateur woodworker and struggling shade tree mechanic. There's nothing he can't take apart, but many things he can't reassemble. You'll find him writing and speaking his loud opinion on Android Central and occasionally on Twitter.
Brilliant phone and amazing audio, absolutely loving mine.

Same here Posted via the HTC 10

Yeah I finally got to play with one at Verizon yesterday. As the people on strike gave me the evil eye I dazed of for about 45 minutes just loving every second of it! Posted via the Android Central App

Huh? You get off on watching people fight for better wages and benefits (Those bastards!)?

Nice !!! Great overall phone and thoroughly enjoying it. Should be my main Android daily driver for a few months. HTC did all the things mostly right this year, just unfortunate that they will probably not sell enough handsets to gain any traction. Posted via the Android Central App

Glad to hear it. Posted via the Android Central App

I see what you did there....

All I have to say is that American Beauty is one of my favourite albums. Nice choice.

The audio quality on the M9 was the reason I recently sent it back to my phone insurance company, and fixed my damaged M8 instead. Numbers don't tell the story indeed, and Jerry, I apologize for backing up the M9 numbers as support for the assumption that it sounded like the M8. It does not. Posted via the Android Central App

To hear that sweet voice clear as a bell when Toni Basil sings "Oh Mickey, you so fine..."

That would actually be a really good way to test for background noise/hiss.

You so fine you blow my mind Jerry.... I've had the Evo, The Evo4G LTE, The M7, M8 and M9. I'm just twiddling my fingers until Sprint busts out my 10. OPEN OPEN OPEN. Thanks for the great audio assessment.

Loving this phone also, looking forward to Verizon update! Great gym companion my tunes matter to me Posted via the Android Central App

Verizon and update together, I think not.

Looks like we've got another one for the audiophiles. Looks like better audio might be a trend.

I'm hoping you might be right. Audio quality isn't as eye catching as other design aspects, but to me it's quite important. It's certainly more important than the camera, in my humble opinion.

Audio vs Camera is certainly based on opinion and will depend on which you value more. I am with you that audio is more important, hence my choice for the HTC. I am just glad it can also take pictures well, and that is something I haven't been able to say about HTC for a while.

I think we can all be glad the camera is not a reason to skip it this time :)

Great info about the DAC. I also assumed it was using the Snapdragon DAC, glad to hear that isn't the case

I'd still rather see a front-firing speaker below the display in addition to the small-s subwoofer at the bottom, but I'm all for getting the best sound possible out of a device that you specifically buy to listen to (and talk into). Welcome back, HTC.

Drives my DT770 250 ohms pretty well. Won't tear your eardrums, but loud enough deteriorate it.

came here to ask about high impedance cans, thanks!

Please keep these audio tests up, the OEMs should be rewarded for spending cost and time to implement excellent audio. Something that they usually didn't care about a few years ago.

Absolutely! Make sure manufacturers know what we like and ensure they keep making these parts of our favorite devices even better. Posted via the Android Central App

Audio-wise, direct V10 rival Posted via the Android Central App

Yes but V10 is not loud even Moto X pure sounds louder

I think he is talking about the audio quality with headphones Posted via the Moto X Pure (2nd Gen.) running CM13 w/ Nova Prime & Xposed

Not really, as you're talking about volume. Volume doesn't equate to audio quality. Posted via an LG V10

Not if you get the V10 into high gain (high impedance mode). If the V10 is only on low gain (normal audio mode), then maybe

Can you still not get rid of the boomsound notification when you have something plugged in? Posted via the Android Central App

HTC loves their notifications. The WiFi calling one is always up there too.

I wonder if there's an app who's notifications can be blocked?

I agree Jerry... Audio on this phone is top notch! Posted via the Android Central App

How does it compare to the iPhone 6S? Posted via the Android Central App

The iPhone 6S doesn't sound quite as good. You have to compare the HTC 10 to another HTC to have a fair fight.

What messes things up for the iPhone 6S is the lack of detail and stereo separation. When switching from the HTC, the iPhone sounds dull with a narrow sound stage. Same headphones. same music track, same bitrate. Really, there is a big difference and it stands out immediately. For example, in one movie I have on both phones, an actor speaks from the far right before appearing in the scene. On the iPhone, it does not even stand out. When I watched the same part on the HTC, I was startled and turned my head to the right.

the thing is the iPhone 6 and 6S is not indicative of the sound quality of previous iPhones. Some users have complained about hissing and interference noises in the 6S using balanced armature IEMs. I would like to see a comparison with the iPhone 4 or 5 which some claim has a better DAC than the 6/6S.

@birman_38, the HTC sounds nicer and has a better camera too.

Glad to see the DAC is nice. Still would never use my phone as a portable boombox...

Well, I still miss my Z30 sound, hope that Samsung brings two front facing speakers to the Note 6... Posted via my Note 4, missing bb10...

A Real contender. I hope it helps the companies bottom line.

I am glad you were able to give the 10 a go, Jerry and hear for yourself, as AC's resident audiophile. Having had the opportunity to listen to music on the 10, it has made music I've heard a zillion times sound fresh again, and it was the tipping point for me in deciding that I had to have the phone as my new daily driver.

See it is stand out features like this that are making it hard for me to justify not buying this phone. I'm no audiophile but I can definitely appreciate the difference in quality if it really is this much better. Not to mention even after this device gets retired from phone duties someday this is could still make for a compelling stand alone music player which could help justify the upfront cost. The more I read about the HTC 10 the harder it is to resist.

It's a great phone, it really is. It kinda reminds me of my 6p, in that it's does everything really good, and stays clean and simple. IMO this is what the 5x should've been more like. Posted via the Android Central App

I'd love to have this phone. Just can't afford it. Posted via the Android Central App

oh come on dude, you can always scrap up a few bucks somehow ... do some power washing or rob an old lady! Posted via the Android Central App

Reminds me of that Seinfeld episode when Jerry steals that loaf of bread and dashes away from that old lady. "Give it here ya old hag!" Posted via Xperia Z5

lol, great episode! Posted via the Android Central App

Let's hope the htc nexus rumors are true and they use the same DAC.

IMO after the 6p the expectations for their next device will be unrealistic, and a lot of people will be disappointed. I just can't imagine THAT much of an upgrade in any department. Plus they'll be a sacrifice or two that people won't like. Posted via the Android Central App

@Jerry
My [uneducated] understanding of the Sound Quality from headphones
- better than iPhone
- pretty even w v10 besides the fullness , simply due to the lack of 32bit.
Would that be correct? :) Moto XPE/VZW Moto X DE/N7

I can't hear a difference between 24 bit audio and 32 bit audio. I'm not saying there isn't a difference, only that I can't hear one. Everyone's ears have different limitations. If you can hear the difference, then yes, 32-bit will offer better clarity and soundstage overall.

Thanks
My hearing is far from excellent so I should be totally fine :)
It was more to pass the accurate info to my audiophile friend (using iPhone). Moto XPE/VZW Moto X DE/N7

I'd find it hard to make any more of a comparison with 24-bit and 32-bit as there's not enough music out there (at least ones I can find) which are encoded at 32-bit. Posted via an LG V10

I have no doubts about the headphones but when testing the phone speaker in the store I was a little disappointed. M8 sounded better in that area to me. Posted via the Android Central App

The M8 had the best pre-10 speaker setup. The M4 and M7 were good, but the M8 had more volume and a touch better bass. The M9 was louder, but thin and harsh, and more prone to distortion. I would have to listen to both the M8 and the 10 with a variety of material before I form my own opinion. Some like the M8 speaker sound better, some like the 10 speaker sound better. It depends on material and the acoustic environment (in hand, on the desk, propped up, flat, etc), and those differences are most likely why the opinions vary.

I've only had my HTC 10 for 2 days and as soon as I plugged in my headphones and calibrated them and listened to a few tracks, I knew this was the best audio I've ever heard from a cell phone. Although I don't use phone speakers often, I've found them to be excellent too. In my opinion, this is a great phone that is not getting enough praise by many of the tech press.

Actually I've found that it's getting high praise by the tech press. The problem is how do they get your mom or sister to know about how good this phone is as well? That is what they need to do better.

I'm surprised that you like the speakers better than the M9. Most people say they're not nearly as good. I only care about the speakers for videos, so I wonder what I'd think of them compared to the M9.

I have the v10 right now and the audio is great. The htc10 might be my next phone depending on how the next v10 looks. Posted via the Android Central App

Unless I'm listening to Beatles mono vinyl records or something like that, I'd still very much want stereo speakers on my device, even if that means less bass. I find them quite immersive for watching videos or playing games.

Does the DAC play any part in the call quality? Is the m10 any better at phone calls than the m9? Posted via the Android Central App

No, the DAC is linked to the headphone jack. As for call quality, that's highly dependent on your reception and carrier. Posted via an LG V10

Easily one of the most pleasant surprises I've gotten out of this phone. My music on the train is one the primary functions for any phone I have. Was really close to getting the V10 when I read up on it, but really glad I held out to see what HTC was cooking up

Sorry to hear about the Snapdragon's bad DAC, since my next phone will probably be powered by the 820. Posted via the Android Central App

It's not necessarily "bad", it's just that you get better quality with dedicated audio components. The SD DAC would be ok for the average user.

Can't even buy the HTC 10 here in New Zealand. I asked Vodafone about it. They hadn't a clue.. Posted from Middle Earth

Jerry,
Thanks for the review! Glad I went ahead and pulled the trigger on the HTC 10. Was going for the V10 but couldn't get a deal on the phone. Went with my guts and preordered the HTC 10. Can't wait to purchase some 24bit flac files and listen for myself. Have you ever tried playing the flac files on your phone through your home audio equipment? I have some pretty esoteric high end audio equipment and was hoping to use the phone as a media source. Want to compare the flac files to my reference external DAC playing CD's. Thanks again!

The Grateful Dead.. very nice.

Nice to see HTC essentially match the audio quality of my V10, a phone which destroys most other phones in terms of audio quality except for a select few. Posted via an LG V10

Very nice article, congrats! Owners of the HTC 10 coming from the m8, how to they compare regarding other stuff? Is it really much faster?

Feels about the same to me. I'm pretty sure we've reached parity as far as app speeds go. Anything in particular you're interested in badelhas? I have both the M8 and the 10.

Thanks for your answer. I've been pretty happy with my M8 performance, looks, camera (love it, to be honest, smoothness, ecr) , apart from the battery life, which of course is not the same after almost 2 years of heavy use but 45 euros spent on a repair shop would fixed that. Even so, I am debating if upgrading to the HTC 10 would bring me enough real world gains. Are you missing something? Are you feeling it's much better? In what departments?
Cheers

I have both the M8 and the 10 and there's definitely an overall performance upgrade on the 10. The M8 is still the best of the One series, bought and ended up returning the M9. The 10 still has better audio even though they moved the bottom speaker from the face of the phone. The 10 runs games and plays movies faster and clearer with minimal battery usage. Camera is amazing upgrade and the phone itself operates much faster and smoother. Only downside I know of is it takes longer to boot up and load. Longer than any other phone actually. I've had mine since the 4th and have been ( dog.ging) it as a test and it's holding up great. Play demanding game while charging and it still charges fast without overheating. Amazing device, would say phone but it's so much more than that.

Yes Posted via the Android Central App

Where do you get HQ FLAC files? Posted via the Android Central App

HDtracks is a great source. They can be a bit pricey, but the quality is usually quite good Posted via the Android Central App

Enjoy lindsey...................... http://www.head-fi.org/t/751318/sony-walkman-nwz-a17/150#post_11861075 (Just see the bottom half)

I dropped spotify and signed up for Tidal. Well worth the money with this phone. Everything sounds so crisp on my V-moda headphones and in my trucks sound system. Very happy with my decision to preorder this phone. Posted via the Android Central App

that actually seems interesting, im curious as to what dac theyre using in it

What kinda DAC chip does it have? Posted via the Android Central App

I may have to run tests on my Exynos Galaxy S7. I think it sounds fairly good with my Audio-Technica ATH-M40x headphones, though of course running through the Fiio E07K DAC sounds better. Of course, how it sounds to my ears is the most important thing, but sometimes seeing the numbers can be fun too! (Yes, I finally settled on a pair of headphones and love them!) Posted via the Android Central App

I've got the exynos S7 also. I think it sounds amazing with my Sennheiser Momentum headphones. Very very happy with it. Posted from Middle Earth

Jerry, I have a lot of live music(bootlegs) in Flac files and definitely not always the best recordings, will this phone also help? On a LG G4 now with boost from Neutron Music App is the best that I can do currently. Posted via the Android Central App

htc m10 Posted via the Android Central App

Don't know if there is root for HTC 10 yet but if there is has anyone successfully put viper4android on it and does it ruin the sound quality due to I would assume getting rid of the boomsound eq or just sound amazing Posted via the Android Central App

Great write up! I believe HTC used a ESS DAC and AMP similar like ones found in the DragonFly Black and Red (Red has a ESS9016 and Black has a ESS9010). I am currently running DragonFly Black w/ OTG USB on my HTC M9 paired with either VModa M-100 or Sennheiser Momentum In-Ear. I can't wait for T-Mobile to release the HTC 10 on Wednesday May 18th here in the US.

Great write up indeed! Currently have a V10 and not sure if I should switch to the HTC 10 instead. I have my V10 rooted with V4A installed. Using that with the ESS DAC is perfection imo - although wish it had more gain. I also have a Dragonfly v 1.2 (not sure if that's a Red or Black??) and love the sound out of that thing. I'm pairing it with B&O H6 cans and Westone 4r IEM's. The flaw of the V10 is the gain when going through the ESS DAC. The best part is you can disable the internal DAC and go through the 808's SoC DAC and get much louder volume for when you're on flights or just want to really jam out. I can't upgrade to 6.0 because I'll lose root and I've always been a fan of HTC phones aside from their silly flaws. This one looks like a winner. Can anyone confirm what DAC it's really using? I've grown to V4A as a must have, therefore need root - which I see is available for the 10 already. So many questions I wish I could ask here. What DAC / Amp combo is it using?
Has anyone confirmed root / V4A functionality?
Is the bootloader locked on US carriers?
What's the mW output of the Headphone jack?
Can you enable/disable the DAC and use the SoC DAC like the V10? Thanks in advance!

I completely agree with Jerry on the headphone implementation, the audio is outstanding especially if you go through the profile setup (unfortunately I learned that at 52 years of age I can't hear that highest frequency except at the loudest setting!). However I disagree with the new "Hi Fi" Boomsound external speaker configuration being the best. It seems to do strange things when you drive the speakers hard/at max volume (even possibly reducing the output), and when playing the same tracks side by side with the same audio player on the LG G5 and the HTC 10, I thought the G5 sounded a little better and it was definitely louder at max volume settings. That said, I don't buy phones for their external speakers, I'm much more interested in their headphone and Bluetooth audio (aptX) performance, and the HTC 10 excels in that regard. I do feel a little mislead by HTC USA PR though, who told me I'd be able to create audio profiles for my Bluetooth headphones (which you can't, it only works with wireless). For this and a lot of other reasons, I'm keeping my HTC 10 and returning my LG G5.

Before I continue reading the article, gotta say I love your choice of music :-)

Wait...a DAC and amp are different things? I thought they were the same. Could someone please help an uneducated soul out? Posted via the Android Central App

DAC is short for Digital-to-Analog-Converter. It is the part of the electronics that turns the digital data into a usable signal that the amp can process. Amp is short for Amplifier which takes the analog signal and makes it bigger so that your headphones or AUX unit can make sound from it.

Has anyone confirmed which DAC and Amp combo they are using?

Hi Guys, wanted to know one thing. There is news that the FM Radio in the SD820 version of Galaxy S7 has been unlocked by T Mobile and also for the AT&T version, people are just able to download the nextradio app and able to use the FM radio chip present on the phone to listen to FM radio without neededing data connection. What I was wondering was, if someone has tried something like that with HTC 10 as well ? Has T Mobile unlocked the FM chip for only S7 or other phones (like this HTC) too ?

Wonder if the V10 was just a 1 time thing or if LG's planning a successor? People really seem to like it.

I love PowerAmp very much but I know PowerAmp uses Android Direct Volume Control and so might not use the external DAC hardware, and even thought you turned off Tone and EQ it might be still using the DAC on the 820 SoC. You should try the listening test with the default internal player which should be customised to take advantage of the external DAC. Anyone know what particular DAC chip is used in the HTC 10? I know the Vivo X6Plus uses the ES9028 DAC.

The audio on the HTC 10 is phenomenal. We have sacrificed sound quality for years for convenience of phones and most people don't ask why. Sadly, HTC has a poor marketing budget and doesn't do well enough to get the word out. I bought this phone for the audio alone. Posted via the Android Central App

My question is: would it be able to drive demanding headphones such as my Sennheiser HD650, or would I still need to use an external amp?

It will drive them as long as they are wired.
Android Central Newsletter
Get instant access to breaking news, the hottest reviews, great deals and helpful tips
Thank you for signing up to Android Central. You will receive a verification email shortly.
There was a problem. Please refresh the page and try again.