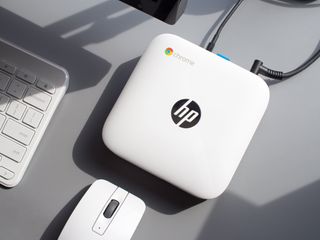 It's not going to be your main machine, but the HP Chromebox could be a simple and inexpensive choice for the right person
Chromebooks may be the talk of the town when it comes to Google's Chrome OS, but the tiny desktop-class machines called Chromeboxes have carved out their own niche as well. While they're primarily focused on education and business applications as video Hangouts machines, Chromeboxes are a great go-to choice for a cheap computer just like their laptop-style counterparts.
Several different manufacturers are in on the Chromebox game, but the most affordable model right now is the HP Chromebox starting at just $159. It's not as easy to pick up and get to computing right away as a Chromebook is considering you'll need to add your own screen and in some cases peripherals, but for a few specific use cases a Chromebox may be just the right tool for the job. Read along for our full impressions and review of the HP Chromebox.
Hardware, ports and connections
The HP Chromebox is a pretty unassuming device, made to be compact and easily placed where you aren't going to see it. At 4.88 x 4.96 x 1.54 inches it's incredibly small for a desktop machine, easily stowed in a drawer with just a couple cables leading to it if you so desire. It's a square with rounded edges and few design flourishes, but it isn't ugly by any stretch (though it might be if you choose the turquoise color option). Even the power brick is small — about the size of a standard laptop one.
It also isn't particularly heavy and is built quite solidly. There's just a single vent on the back for cooling, which will kick out some hot air from time to time if you put your hand against it, and is all but silent in operation. There's just one button on the this little box — the power button on the front.
I quite like the look of the HP Chromebox, and the size is really something you can admire when you realize it contains an entire computer worth of components inside. It's notably smaller than even a Mac Mini, inching more towards the size of small set top boxes instead. I'm sure more than a few people will consider putting the HP Chromebox behind a TV for media purposes because of this.
Considering its size, the HP Chromebox isn't light on ports. There are four USB 3.0 ports (two front, two back), both HDMI and DisplayPort out for video (including dual monitor support), analog audio out, an SDcard slot, Ethernet port and a security lock slot. There's also 802.11b/g/n Wifi and Bluetooth 4.0 inside for connecting to networks and peripherals. That's more than enough connectivity for a low-end desktop machine, and it's all stuffed into such a small package that you wouldn't expect much more.
On the inside you'll find a very basic set of internals that could be found in any Chromebook from early in 2014. An Intel Haswell Celeron processor at 1.4GHz, backed up by 2GB of RAM and 16GB of storage. Not your standard set of desktop internals, but enough for Chrome OS. I'll get further into the performance of this machine below, but it's important to point out that you're not getting anything revolutionary inside the HP Chromebox — it's just a modern Chromebook in a different form factor.
Keyboard and mouse
If you're not interested in buying a separate keyboard and mouse (or repurposing one you currently have) to go with your new Chromebox, HP also sells a bundled version of its Chromebox that comes with a Bluetooth mouse and Keyboard. The MSRP of the bundle is just $20 more than the stand-alone computer, which should set your expectations for the quality of these peripherals, and only comes in the white case color.
Although the HP Chromebox itself has Bluetooth, the keyboard and mouse actually connect via a small Bluetooth dongle that's included in the box. It's a bit odd at first to "waste" a USB port on a dongle when the machine has Bluetooth inside, but the nice thing is that the dongle and peripherals are pre-paired giving you a "plug and play" experience. If it wasn't pre-paired, you'd have to first use a wired keyboard and mouse to boot up and then pair them — not the best experience.
Image 1 of 7
The keyboard is of the compact variety, no larger than the one on any Chromebook out there and is actually almost identically sized to the Apple Bluetooth Keyboard. It's plastic, of course, but has a nice feel to the keys and has a good angle on it to keep your wrists at a (more) comfortable angle. It's actually heavier than it looks, which helps keep it planted on your desk with some help from rubber feet. It runs on two AAA batteries (which are pre-installed). The one annoyance I found with the keyboard was how quickly it went to a "sleep" state while you're using it. Spend a couple minutes without touching the keys, and it'll turn off, often making the computer miss your first keystroke. Likely a major power saving feature considering it has just two AAA batteries, but still an annoyance nonetheless.
The mouse is the same mix of shiny and matte white plastic, and curves nicely to fit in your hand. It's basic and light — though far from ergonomic — with two buttons and a basic scroll wheel. It's powered by two AA batteries, again also included. It doesn't seem to have the same sleep issues as the keyboard, thankfully, and actually has a hard on/off switch on the bottom, unlike the keyboard.
There's not a whole lot to write home about here on the keyboard and mouse, although I'd still recommend picking up the bundle if you plan to get the HP Chromebox. The biggest differentiator with this keyboard is that it has a proper Chrome OS layout, with the search key and OS-specific function keys that work with the Chrome system. Sure you could find other keyboards and mice to save a few dollars, but the experience just isn't the same.
Performance and daily use
No surprises here — the HP Chromebox performs the same as a modern-day Chromebook with the same specs. There's no additional power being pumped into this thing just because it's a desktop, you'll simply get the same experience here as you would if you plugged an Acer C720 into a larger monitor. The machine handled my ASUS 1920 x 1200 resolution monitor with ease — including carrying sound over HDMI — and Chrome OS scaled appropriately.
The only issue I found with using a Chromebox on a large (in this case 27-inch) monitor, compared to an 11-inch Chromebook, is the perspective of what you expect to get done. The large display (or two displays, if you'd like) give you so much room to work with that you may be doing more multi-window browsing, multitasking and generally pushing the machine harder. Desktops just seem to be asking to be used harder than laptops.
I found the 2GB of RAM to be the only limiting factor here, as the HP Chromebox got sluggish running my usual setup of roughly 12 open tabs. Individual pages were responsive, but I'd often see tabs get killed in the background due to a lack of RAM. It's unfortunate that additional RAM couldn't be put into a machine that's surely capable of handling more work. (HP does list the Chromebox as being upgradeable to 4GB of RAM, but that's the topic of another article.)
Aside from the extreme power-user case of using dozens of tabs and heavy multitasking, the HP Chromebox held up admirably as a light use desktop machine. It comes down to reminding yourself that even though you have a large monitor in front of you with plenty of room to work, this is still an overall underpowered machine in the grand scheme of desktop PCs.
Bottom line
Before you decide that the HP Chromebox is the small, inexpensive desktop computer for you, you have to first figure out if a Chromebox in general is the right choice. While Chromebooks have proven their value in the market as inexpensive all-around machines with a variety of uses, the Chromebox market still has a bit more defining to do. Aside from education settings as simple clients and enterprise setups as video calling machines, Chromeboxes are really applicable to a much smaller segment of the market.
Desktop PC sales as a whole are declining, the draws of Chrome OS power efficiency and simplicity are somewhat put to waste on a desk-tethered machine and many will find the specs under the hood to be lackluster for a machine that's going to be running with a large monitor or two.
But still, there are some people for whom the Chromebox is an excellent choice. It's easy to set up, hide away in a drawer or an entertainment center and access for some light computing when needed. It also can't be overlooked as a great first computer for a child that isn't quite ready for a laptop.
If you've made the decision to give a Chromebox a go, then it's hard to recommend against HP's offering here. At just over $150 without peripherals, or somewhere around $180 with a keyboard and mouse, it's really hard to go wrong with this setup. Plug it in, attach a monitor and you've got a very capable machine for a fraction of what a full-blown desktop would cost you. There's something to be said for that simplicity, and HP is doing it well with this Chromebox.
Sign up for Black Friday email alerts!
Get the hottest deals available in your inbox plus news, reviews, opinion, analysis and more from the Android Central team.
Andrew was an Executive Editor, U.S. at Android Central between 2012 and 2020.