How's the Essential Phone doing in 2022?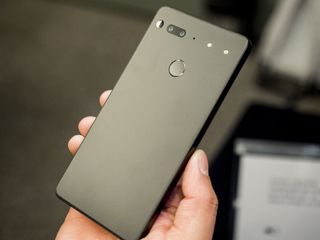 The Essential Phone was one of the most polarizing smartphones of 2017. We were expecting big things from Andy Rubin's new startup, but unpolished software, a less than sub-par camera experience, and an expensive price tag gave a lot of early adopters a bad taste in their mouth.
Thankfully, the state of the Essential Phone is much different in April of 2018 compared to when it first launched. Essential's released countless software updates for the phone over the past few months, and this has slowly turned it into one of the better mid-range options available right now.
Some of our forum members recently started talking about how they're liking the phone at this point in its lifecycle, and this is what they had to say.
Now, we'd love to hear from you – If you still have an Essential Phone, how are you liking it?
Android Central Newsletter
Get instant access to breaking news, the hottest reviews, great deals and helpful tips
Joe Maring was a Senior Editor for Android Central between 2017 and 2021. You can reach him on Twitter at @JoeMaring1.
Just sent mine packing a little while ago. It's a cool device and the Sprint pricing (around $150) made it irresistible, but it simply fails as a phone on both T-Mobile and ATT networks here in Atlanta. I missed tons of calls and texts, and often had to go outside of buildings (or in rooms right next to a window) to make calls. The reception simply isn't strong enough. That being said, they finally did get the camera to a pretty good place and fixed a ton of other issues. They just were unable to get the weak reception taken care of....

Thankfully I haven't had reception issues on mine. Really enjoying it on T-Mobile and at&t in Houston and South Texas. So much so that it has taken its place as my primary phone over the S9, IPX, and XZP. Reminds me I need to sell the XZP and pack up that X to turn it back in (JoD).

After the camera being a flop it has been improved. It's had a total of 12 updates to the camera. Well I think Andy will improve the camera on the ph-2. The build quality is excellent. I think the ph-2 will be much improved with the camera the focal point. All & all is still a very good phone. Andy, keep the price down!

I hope they knock it out of the park with this next version. This is the only Android phone that I'm willing to try that is not a Pixel at this point. Here's to hoping that I have two awesome phones this year to play with.

If they continue with the speedy updates, I will remain a loyal customer. Best smartphone I've ever owned.

I had the reception issue, and was about to send it for a replacement, but the latest update, that was 3-4 days ago fixed. Now it's perfect, especially with the new nothing settings.

I've had the Sprint 8.1 update on my Essential ph1 for 3 weeks now. The phone is now a flagship killer in every way but the camera. Fast ,fluid, no touch issues (with mine, anyway). In many ways better then my Note 8. Love it.

Unlocked Pixel 2/XL and Essential are the only phones on my list to consider, primarily because of updates. When I was dropping my cash a month ago, Pixel won me over because of Essential's issues with T-Mobile frequencies. Looks like that may be improving, and if so the next member of the family due for a phone might be headed toward Essential.

I've said it before and I'll keep saying it, the best phone available (if you don't look at the camera). Seriously looking forward to version 2.

Purchased the phone outright in Canada when the price dropped from over 1k to $460. Really pleased in every way. Responsive and gorgeous. Fast everything with lots of elbow room even without a micro SD slot. Have impressed many (even those with an S9) and have had only one consistent negative comment - a bit on the heavy side (without a case!). Love the battle of the notch and am enjoying the experiment of customizing which apps look best wrapped around it (a new feature provided in the latest update). So far a keeper!

I've been using the phone since November and I love it. I use it on the T Mobile network and haven't had any issues with it. Camera is clearly not the greatest, using the gcam. Everything else is awesome.

It's a great phone. I've had it for about 2 months and am happy with just about everything (yes, even the camera). The main thing I love is how fluid everything runs. There are no slow downs or hiccups on this baby. I've also been impressed with the battery life. I don't feel the need to charge my phone nearly as often as with my V20.

Essential, if you add dual SIM's to the next phone I promise I'll buy one.

I would still use mine if it wasn't for all the missing features when using it on Verizon. If they can get Verizon to sell their next one, I'll be the first to buy it.

Still using and loving my Essential in 2020. Am anxiously waiting to see exactly what they are coming out with to replace PH-1. I really, really hope that project gem is a companion device for a PH-2 that will come out...

It's really lame that you've changed the headline on this 2018 article to 2022. I guess that must reflect Future as a company. Mobile Nations wouldn't have done this.
Android Central Newsletter
Get instant access to breaking news, the hottest reviews, great deals and helpful tips
Thank you for signing up to Android Central. You will receive a verification email shortly.
There was a problem. Please refresh the page and try again.