How to use Spotify for your alarm on Google Clock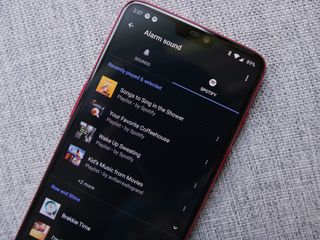 Trying to silence your phone while stock alarm tunes blare at max volume isn't the most ideal way to wake up each morning, but for a lot of us, that's a process we're all too familiar with. Thankfully, as part of an update that started rolling out in late July, Google now allows you to wake up to your favorite song on Spotify with its official Clock app.
Starting your day off with Frank Sinatra or Twenty One Pilots is much more ideal than any old preset alarm tunes, so without further ado, here's how to change your alarm sound to a Spotify song/playlist in Google Clock.
Before we get started, make sure you have Google Clock and Spotify installed on your phone and updated to the latest available version.
Open Google Clock and go to the Alarm page.
Tap on the alarm you want to edit.
Tap the alarm sound icon (the one that looks like a bell).
Tap/swipe over to the Spotify tab.
Here, you can choose to wake up to whatever Spotify song you'd like.
From top to bottom you'll see a list of the five playlists you most recently listed to and a collection of morning-centric playlists ranging from Rise and Shine, Lazy Mornings, Right Side of the Bed, and Morning Workout. Alternatively, you can search for any specific song, album, artist, or playlist from Spotify's entire catalog of music.
Once you've found the track you want, just tap it, tap the back button at the very top left, and you're all set!
Good morning!
What song are you going to be waking up to? Let us know in the comments below!
Download: Google Clock (free) (opens in new tab)
Joe Maring was a Senior Editor for Android Central between 2017 and 2021. You can reach him on Twitter at @JoeMaring1.
Do Google want to gain market share in music streaming apps? No, I guess... since they're not implementing this for their own music streaming service. Or *services* (Google Play Music and YouTube Music), why have two services and not even promote them?

This is product management 101. Whenever you have a new feature the product team researches the best way to get adoption for that feature. That means release schedule that's specific to where the users actually are, and where they can get the most mind share. It's pretty common knowledge that Spotify is the biggest one so of course this feature release starts there. No brainier.

My app works with Google Play Music (not Youtube Music though) and lets you set volume per-alarm #justsayin
https://www.androidcentral.com/e?link=https2F2F...

I have no clue why Google isn't using Google Play Music for this. I'm genuinely baffled. For all of their closed-ecosystem, 'use our stuff or else' BS, at least Apple supports people who use their first-party products. This is just bizarre.

Not biz,are at all, it's actually pretty basic product management 101. Release your feature where the users are if you're looking for mind share and adoption. Obviously Spotify is the biggest one, so start there with feature roll out. Not rocket science.

I tried this when it first came out. Everything looks like it works just fine - I can select (and play during selection) the song/playlist I want. next time the alarm rings I do however not get the music playing but rather a very annoying beep alarm

Me too! This feature has not worked for me once since they debuted it. Also sometimes the Spotify tab doesn't even load and gives an error. It's clearly buggy, just look at the Play store reviews to see all the complaints. I've gone back to my default Samsung clock and alarm until they push another update. I'm surprised AC would do a story on this either not knowing or ignoring that it still doesn't work for so many people.

Works perfectly for me since the release. Every now and then it bugs out and it looks disconnected from Spotify but a quick refresh of the app fixes it
Android Central Newsletter
Thank you for signing up to Android Central. You will receive a verification email shortly.
There was a problem. Please refresh the page and try again.