How to use an iTunes gift card as an Android user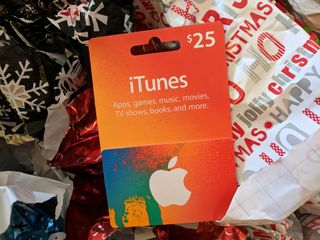 It's rude to refuse a gift card, and they seldom come with gift receipts because people don't think they're going to return gift cards. I mean, who returns store credit?! Well, I would. Cash is more helpful to me than an iTunes gift card, but here we are. At least I know I'm not alone — we've all received gift cards that seem like a White Elephant.
Well, there's more than one way to spend a gift card. Here are a few ways to utilize a gift card to a digital store you don't use.
Before we go any further, go thank the person who gave you the card before you turn it into something useful.
Swap with a friend
Have a friend who actually could use an iTunes gift card to buy apps for their iDevices? Have a friend who uses gift cards to reload their kiddos' accounts rather than keeping a credit card on file? Ask them if they want to buy your card off you. You can do the transaction in person, and since you already know the person, you don't really have to worry about them taking your gift card and running. This is likely the easiest way to swap your gift card for cash or a gift card to another store.
Regift physical cards
So long as they didn't write your name on the card itself, you can keep the gift card and give it to someone down the line who could use it. Most major digital stores don't have gift cards that expire, and you can just remove the card from the paper slip if your name was written on there. Buy a nifty maze gift card case — or just use a nice decorated Altoids tin — and regift away.
If you received a digital gift card in your email, that's a little harder to regift. If the digital gift card came with a code, you can send those in another email/text, but they look a little odd. But hey, so long as they can use it, who cares?
Reddit Gift Card Exchange
This is a digital age where there are lots of people who want and need different gift cards out there, and Reddit has one of the better places online to try and swap them. Just as people can swap digital copy codes, PC parts, and all manner of interesting and insane gear on Reddit, the Reddit Gift Card Exchange is a subreddit dedicated to helping users safely and legitimately swap gift cards. Some people will buy gift cards from each other, some will swap for gift cards of equal value, and after Christmas, chances are higher you'll be able to find someone willing to barter for your gift card.
Just be sure you read their guide and be prepared to lose a few dollars on the exchange. It was a gift anyway, and 85% of money on a store you do use beats 100% of money on a store you don't.
Use it on Movies Anywhere-eligible films and music
Should you not be able to offload your card, or you just don't want to hassle with it, don't worry, there are some things you can do with your card. If the gift card you're trying to blow is for iTunes or Vudu, then you can just do yourself a favor and buy films that are Movies Anywhere eligible. Movies Anywhere can connect and sync your movie library between iTunes, Vudu, Amazon Video, and Google Play, allowing you to buy movies at any of the four retailers and enjoy them on all four platforms. Not ever studio is onboard with Movies Anywhere yet, so check the film listing on the store and make sure it says it is Movies Anywhere eligible.
The other media that's easily purchasable and shareable between digital retailers is music. If you have a digital gift card to burn, you can buy a few albums you've had your eye on and download them to your computer, or upload them to the music locker service of your choice. iTunes often has more albums on sale than Google Play, so this could be a golden opportunity to buy an album you haven't found on your regular store.
Get the Android Central Newsletter
Instant access to breaking news, the hottest reviews, great deals and helpful tips.
Ara Wagoner was a staff writer at Android Central. She themes phones and pokes YouTube Music with a stick. When she's not writing about cases, Chromebooks, or customization, she's wandering around Walt Disney World. If you see her without headphones, RUN. You can follow her on Twitter at @arawagco.
Is there somewhere to swap gifts? I got an echo dot and would much rather have a home Mini.

Swappa, ebay, Reddit Hardware Swap, to name a few

Better to sell it to an iPhone person and use the funds received for anything else!

Can it be used for an Apple Music subscription on Android?

iTunes gift cards can be applied to an Apple Music subscription on Android, but most folks subscribing to Apple Music have at least one Apple device in their collection.

There is a machine (like a coin machine) that gives you money for gift cards. How much do they take? I'm not sure but the card was given to you anyway.

Yeah, CardPool. They're not everywhere, but they can be helpful.

How does one get the purple Following button and username on the Twitter app? I'd assumed they could only be blue...

You can change the color by going to your Twitter profile, tapping Edit Profile, then Theme Color, then selecting the shade you want.

Use Raise.. it's the best gift card marketplace for sure. Theres and Android and iOS app and on raise.com

I love that the image for this article is an iTunes gift card.

I work with what I'm given.

Funny how you mention the "movies anywhere" service that's giving you money, but don't mention reselling it online, as some VPN's take these as a form of anonymous payment. Could it be that you didn't mention them because those services aren't paying you to promote their "totally not spying on your data" lifetime services that are sold too cheap to be profitable?

I'm getting paid by Movies Anywhere? Where's that check, I could use it to pay off my Disney spending from the beginning of the month! I'm happy for Movies Anywhere because it took a long time for Disney to get other studios onboard for it and it helped many of us free our movies from abandonment in iTunes when we came to Android. And with Vudu Disc to Digital, Movies Anywhere can also help you bring your physical library back to a platform you're more likely to use. I work two jobs and I am not being paid by any service. And giving gift cards to VPNs instead of just using PayPal sounds like a neat way to get rid of a gift card, but also kinda sketchy for a service you're trusting with you browsing.

iTunes is always running great promotions. Too bad I can't install it on my Chromebook. Not always having a PC available is kind of a bummer.

Yeah, they get some good promotions on movies and music... It's a shame how much harder it is to use their store than Google or Amazon's.

<i>Not always having a PC available is kind of a bummer</i> And even when you *have* that "PC", it may not be running MSWindows or Hackintosh.

Some VPN companies like Private Internet Access can also take gift cards in exchange for service, so if you use a VPN that supports it, that might also be worth considering.

I have found a different issue now. I had gotten a gift card, and it took 18 months or so to use up a $50 card. But now that more J-Pop and Vocaloid music is showing up on the **US** site (usually only available on their Japan store) there's actually product I'd want to buy. Problem is, their store requires an app/application on iOS, MacOS, or MSWindows. This is a Linux & Android household, so bringing up the iTunes Store means I have to boot up a VM, or a MSW10 test machine (which is likely as not to get wiped on occasion). It would be acceptable if they had a web-based store, if they didn't want to port to Android (just let me save my purchases automatically to iCloud).