How-To unlock the Nexus 10 bootloader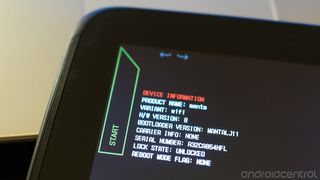 One of the reasons you buy a Nexus device is easy, complete access to the device hardware. The stock software is great, but we all know sometimes its fun to tinker around with your own creations. Nexus devices have locked bootloaders out of the box (and that's a good thing), but unlocking them is trivial. Just like the Nexus phones and tablets before it, the Nexus 10 is no exception.
Just because unlocking the bootloader is easy doesn't mean it's for everyone, however. Part of unlocking is understanding the risks that come along with it. Having a device running with an unlocked bootloader means that anyone who has access to your device in turn has access to every bit of software (and personal data) on it -- even if you're using security measures such as a lockscreen.
If you decide that unlocking the bootloader is something you want to accomplish, then doing it right out of the box is a good idea. The process of unlocking completely wipes all of your personal data off of the device, so you won't want to do this two months after you get it. You'll want to spend the little bit of time to unlock first before setting it up just how you like it.
Alright, now that we've got that out of the way, let's double up unlock your shiny new Nexus 10's bootloader.
You'll need to have a few tools at the ready, but they are all freely available and easy to use if you're the least bit technically inclined.
You'll need the fastboot binary for your computer operating system. Windows, Mac and Linux are all supported. The fastboot binary is a small program that communicates between your computer and your tablet when it is booted into fastboot mode. Visit the sticky posts in the Galaxy Nexus hacking forums if you need help setting this up.
If you're using Windows, you'll need a properly setup fastboot driver. These drivers will be made available through the Android SDK when it's updated. This means someone will suck it out of there and make it available for download shortly after. If you're using a Mac or Linux, you won't need any drivers.
You'll need the cable that came with your Nexus 10.
You'll need to be able to enter commands into a terminal or command line.
Power off your Nexus 10, and reboot it into fastboot mode by holding the volume up button, volume down button and power button. You'll see the familiar green robot, and the word "Start" at the top of the screen.
Plug your tablet into a full speed primary USB port on your computer. If you're using Windows, you'll see the pop-up about drivers being installed and initialized.
Open the terminal or command prompt on your computer, and navigate to the folder you have placed the fastboot program in. Advanced users can simply place the fastboot program somewhere in their PATH.
At the command line, type in (without any quotes) "fastboot devices". You should get a device ID returned, which lets you know that fastboot can see your Nexus 10. If you don't see a device ID, stop and investigate. If you're using Windows, chances are you don't have your fastboot driver set up properly. Linux users may have to run fastboot with elevated permissions depending on your system. This is where many folks get stuck, and it's important to realize that you can't go any further until you see that device ID. Visit the forums, find the help you need -- chances are it's something very simple.
Once you're sure fastboot is set up properly and can communicate with your Nexus 10, type the following command to begin the process (without any quotes) "fastboot oem unlock". Look to your tablet, where you'll have to verify the process. Remember that there's no way to undo the data loss that will happen the instant you say "Yes".
When the tablet reboots, you're done. You're free to install custom software, modified boot images, custom recovery, you name it. The tablet is now yours.
Relocking the bootloader is just as easy, should you ever decide to do so. Follow the same instructions, except the last step should be "fastboot oem lock". This will relock your bootloader so that only authentic, signed images from Google can be flashed to the phone.
Now go on and enjoy that beautiful Nexus 10 screen!
Andrew was an Executive Editor, U.S. at Android Central between 2012 and 2020.
C'mon where is the review?

This! I'm waiting on the Android Central review before I make my purchasing decision tomorrow.

+5000 I mean its basically a N7 with a few tweaks to the os, better and bigger screen and a different processor. Hopefully its out by tn....

I so agree! Really its taking you this long to do a review. This is getting ridiculous. What's the hold up? I understand its a Nexus device but give me something to go off of here :(

How's it done for the Nexus 4? The same way?

so far, any Nexus was the same way… boot to bootloader connect via USB and then fastboot oem unlock, accept on device, and be happy… they always wipe your device for security reasons… as anyone could access private data that way if not encrypted

http://www.androidcentral.com/how-unlock-nexus-4-bootloader

Exactly why I want a nexus 4 on Verizon. I can careless about update dates and how long Verizon delays them.

Pointless to get a Nexus 4 then...

Not really. No skinned phone runs cm as good as a nexus. And the only other phone I would consider is the gs3 but it has that dang physical button.

Seriously, make on post "How to unlock a Nexus bootloader" with instructions of enable adb debugging, run adb reboot bootloader, once in bootloader, fastboot oem unlock and you're done. That's all you need for any Nexus device. You may get great page views for this, but it's retarded that you keep making new posts with the same instructions over and over and over again.

+1
and they could just post a remidner… anyday a new nexus emerges

Anyway to revert the layout back to 4.0/3.0 button/notification layout via non-rooting method?

Do you have to unlock the bootloader to be able to root the device? Is the device wiped if you relock the bootloader?

Depends. There have been exploits for the Galaxy Nexus that allowed rooting without unlocking, but its best to just unlock to root. Relocking doesn't wipe the device.

Thanks for the very informative and well written article. I just ordered my Nexus 10 32GB today. The fact that unlocking will wipe your device is important, however, I personally don't imagine unlocking unless I'm going to install a custom ROM, which almost always requires a wipe anyway. Until a stable custom ROM is released for the Nexus 10, I'll probably just root the device when a root toolkit is released. Rooting doesn't wipe the device.

Outside USA? Need to get new Nexus Devices? Here is how to get them! | Android Bahrain - http://goo.gl/iM3XP

Just as an FYI, if you follow these steps, you apparently brick the Nexus 10. I can't reboot now (stuck looking at the colorful X) and re-locking from fastboot doesn't seem to help. Tread with caution, use at your own risk, etc etc. edit: I seem to have fixed my issue. If you get the X logo, do the following: 1. Reboot into Fast Boot as stated in the instructions
2. Select Recovery using volume rocker. Hit power to select. You'll get the android mascot with the red exclamation point.
4. Press Power and Volume Up at the same time (this is the side of the volume rocker that is away from the power button for those new to the device).
5. Choose to wipe all data. Confirm the selection.
6. Reboot.

I'm stuck at the boot animation like you said. Trying to follow your instructions to wipe the data but when I get to recovery mode, pressing Power and Volume Up at the same time does nothing. And holding them down just reboots the tablet like normal. What am I doing wrong here?

Got it. Not quite sure what I did differently this time. I did unplug the USB cable before I tried it the second time, so maybe that was it. Anyway, that was a bit scary...

What I had to do to solve that same problem was boot into recovery and then hold down both volume up and volume down for like five seconds. That allowed me to cycle between Start, Bootloader, Recovery, etc using the volume buttons. Then I wiped the device using "fastboot -w" and all was well.

Thanks I tried his advice but it didn't work. I then tried the "fastboot -w" (which I guess essentially wipes everything to stock?) and it did the trick.

Thanks so much, this worked fine! A warning to anyone who tries this - when I did it & booted up, it immediately went to the red-triangle android screen, making me think it was bricked. I held volume up & down & power to boot to recovery, then hit the power button to reboot. It stuck at the Nexus X a little longer than usual, but did eventually boot.

Dude, thank you SO much for sharing this. I just got my N10 and had the same problem. You saved me a huge headache by sharing. Thanks again.

my screen is stuck on the phone screen and I do not have a phone. I have the Galaxy Tab 2

amigo podrias ayudarme.... tengo una nexus 10 pero al iniciar se queda trabada en el simbolo de la "x" y de ahi ya no avanza... podrias decirme como puedo hacerle para lograr que mi tablet abance por favor...
Android Central Newsletter
Get the best of Android Central in in your inbox, every day!
Thank you for signing up to Android Central. You will receive a verification email shortly.
There was a problem. Please refresh the page and try again.