How to watch the 2018 NFL season on your Android phone or tablet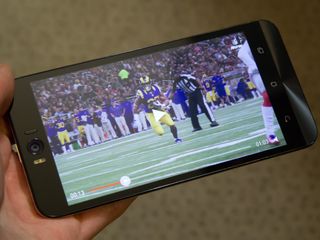 There has been no better time to be an NFL fan on the go than today. More and more, the NFL and their associated network partners are making mobile availability of football games a chief priority. Verizon and Sprint have been helping that cause for quite some time now, but even more cooks are getting into the kitchen and it only means good things.
For instance, did you know that the NFL has decided not to renew their exclusive mobile streaming contract with Verizon? That move effectively opens the floodgates for any and all — or, at least, those with a smartphone and a sizable pool of data to work with — to enjoy football on their smartphones.
With that, we're here to show you all your options for following the 2018/2019 NFL season on your Android phone in the US. Note that there will be a mix of free and paid options, but we'll go over them all the same. Let's go!
FOX Sports
With a compatible TV provider, you'll be able to watch live, local FOX games on your Android phone for free. The app also offers access to scores, news, and other live programming such as Undisputed with Skip and Shannon, The Herd with Colin Cowherd, and more.
CBS
CBS handles the rest of the network broadcasting load for the NFL, and they have broadened access in a big way. You can now watch live, local NFL games on your smartphones and other streaming devices through CBS All Access.
CBS All Access is a paid tier option that nets you unlimited streaming with limited ads for $5.99, or ad-free viewing for $9.99 per month. That package includes nearly all CBS shows and broadcasts.
And because CBS is hosting Super Bowl LIII, this is where you'll go to watch the big game (though that's sure to be available for free once the big day arrives).
ESPN Monday Night Football
If you're an ESPN subscriber, you can watch Monday Night Football by signing into the WatchESPN app with your cable provider credentials. Then, wake up the next morning to see what the talking heads are saying about the action that unfolded on First Take.
That's because ESPN also gives you access to their other live channels via the WatchESPN mobile app, including ESPN, ESPN2, ESPN3, ESPNU, SEC Network, SEC Network Plus, ESPNews, ESPN Deportes, and Longhorn Network. Once you're done with the NFL, you can catch up on all your other favorite sports, including College Football, the NBA, the MLB, and a whole lot more.
NFL Network Thursday Night Football
You could watch Thursday Night Football on the NFL Network by logging in with your cable credentials, but there are also two other ways to watch those games on mobile. You can either go in with an Amazon Prime Subscription to watch through Amazon's mobile app or check those same games out on Twitch for free.
NBC Sunday Night Football
If your TV provider offers access, you can enjoy Sunday Night Football for no extra charge through the NBC Sports app. Sign in with your credentials and tune in once that catchy intro song hits.
NFL Sunday Ticket on DirecTV
While most low-cost or free streaming options are typically limited to locally-broadcast games, there is one route to take for those who want to watch live games that wouldn't normally show up on their TV: NFL Sunday Ticket. Unfortunately, Sunday Ticket is still a DirecTV-exclusive option.
That exclusivity not only forces you to use their service and apps but also means you can expect to pay a hefty penny for this glorious privilege. Thankfully, the service is worth every penny for the die-hard football fan who wants to follow literally everything live. You can get the service as an add-on to your DirecTV package (it goes for close to $300 per year, though some packages will get you the first year free) or as a standalone streaming option in select markets starting at around $70 per month.
NFL GamePass
Don't need to watch live but still want to see all the action at your own leisure? NFL's GamePass is your ticket. You'll be able to watch every single football game that airs this season shortly after broadcast.
GamePass is also interesting for its multiple camera angles, including an All-22 option that gives you the same top-down view that coaches use when they're going over game film. They also have the option of viewing condensed versions of the games, meaning you'll only need to watch about 30 minutes of raw action instead of the 3-hour broadcast littered with ad breaks and miscellaneous downtime.
The added bonus of live streaming of all pre-season games and the backlog of regular season and playoff games dating back to the 2009 season makes its $79 price tag quite attractive.
NFL RedZone
RedZone remains one of the most efficient ways to keep up with weekly Sunday goings-on. While you won't be catching full games here, it lets you keep up on all the biggest highlights, including every single scoring play, right as they happen. RedZone is included with most premium sports packages alongside the NFL Network.
YouTube TV
Don't have or want a cable subscription? YouTube TV is a viable option if you don't mind getting linked up to another subscription. Available for $40 per month, a YouTube TV subscription gets you access to dozens of channels, and those channels include all the major networks that'll be broadcasting NFL games this year.
ABC, FOX, CBS, NBC, NFL Network, NFL RedZone, and ESPN are all included if you're willing to eek into that $50 to $60 price range. That gives you a full slate of weekly local games that can be accessed on the go by using the YouTube TV mobile app.
Are you ready for some football?
The NFL Season officially kicks off Thursday, August 2nd with the Hall of Fame game on NBC. It's there where the Chicago Bears and the Baltimore Ravens will do battle at the Tom Benson Hall of Fame Stadium.
The preseason will continue from August 9th and run for four weeks until we hit the regular season on Thursday, September 6th. The NFL playoffs will kick off in early January 2019, with all of it culminating with the Super Bowl — that big sporting event where the world champions of American football will be crowned — in early February 2019. Let us know how you'll be watching in the comments ahead.
Be an expert in 5 minutes
Get the latest news from Android Central, your trusted companion in the world of Android