How to take a screenshot on your Android Wear device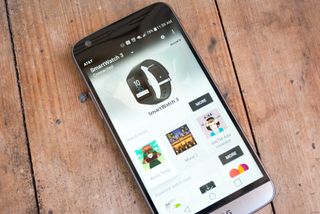 It used to be that taking a screenshot on Android Wear could be a real hassle. Thankfully, that is no longer the case. Taking a screenshot of your smartwatch is super simple, and just requires you to have the Android Wear app open on your phone. We're gonna walk you through it step by step, so that you can grab one whenever you need it.
All you'll need to get your screenshot is your phone and your smartwatch. First, go ahead and find the screen on your smartwatch that you want to share, like your favorite current watch face. Once you've done that you'll need to open up the Android Wear app on your phone.
From inside the app, hit the over flow button (the three dots in the upper right hand corner) which will open a small menu with five choices. From that menu, all that you need to do is go ahead and tap on 'Take wearable screenshot'. When you do this a small dialog telling you that a screenshot request has been sent to your smartwatch will pop up.
Unlike taking a screenshot on your phone, the Android Wear screenshot isn't actually immediately viewable on the phone or the watch. You'll get a notification that says "Wearable screenshot finished. Touch to send." — tap that and you'll be able to send off the screenshot where it needs to go. At this time it doesn't seem that all apps are properly set up to accept the screenshots, with notable omissions being many messaging apps like Hangouts. But Gmail, Google Drive and Dropbox are all options, so you can quickly get those screens up and share them out.
The screenshots from Android Wear are named simply screen.png, with no date or time stamping like you'd expect on a phone screenshot. That means if you plan on uploading them to a cloud service you'll have to move folders or give distinct names to the screenshots after the fact if you don't want them overwritten when you upload a new one.
If you're taking a screenshot of a round watch, like the Huawei watch or Moto 360 (2015), you'll notice that watch face shots show the round face with a black border around it making the picture itself square, while screenshots of the rest of the interface are just square. You'll have to crop these down later (or make the backgrounds transparent) if you want to have just the round features stand out.
Now go share your screens!
Now that it's quick and easy to take and share Android Wear screenshots, we're sure more than a few people will be taking advantage of this feature to show off what they're using on their devices. The folks here at Android Central will surely be taking advantage of this quicker capture message going forward.
Android Central Newsletter
Get instant access to breaking news, the hottest reviews, great deals and helpful tips
Jen is a staff writer who spends her time researching the products you didn't know you needed. She's also a fantasy novelist and has a serious Civ VI addiction. You can follow her on Twitter.
This is way easier than how I was doing it over adb before.

Heh Posted via the Android Central App

Screenshots worked just fine on GS4 running KitKat, and moto 360 with the latest update.

Same as the Note 4/4.4.4.

Also the Note Edge Also 4.4.4.

Interesting. It wasn't working on any of our KitKat phones (as in, three different phones and watches), but I factory reset the G Watch and now it'll work with my Note 4. Looks like it was a fluke. I'll clarify the post. Thanks!

Screenshots work fine on LG G2 running Kit Kat and LG G Watch Posted via Android Central App

I have to wait until Christmas for my lg g watch... Posted via Android Central App on 1+1

How can I just save the screen shot to my phone? If I can't do that then this "feature" is useless. Posted via the Android Central App on the 2nd Gen. Moto X

Sharing to Google Drive isn't working. It looks like it's uploading, but the file that is uploaded is nothing. Let me know when Google gets their act together and this is no longer a waste of time. Posted via the Android Central App on the 2nd Gen. Moto X

When I want to take a screenshot of my Moto 360, it's because I don't want to pull my phone out of my pocket. Defeats the purpose for me.

You can always do it over adb, if you don't want to take the phone out of the pocket.

Here's my main use case. I'm riding my bicycle. Song I've never heard before is playing on whatever streaming music app. I want to take a screenshot of the song from my watch to download it later. There should be an easy way to take a screenshot of the watch from the actual watch

In your case, if you are using Google music, you can thumb up the song,then download it from the phone later

usually Songza and sometimes Pandora to be specific

So..how do you toggle Developer options off and on?

To turn it on go to settings - About and press the build number 7 times. To turn it off, reset the watch.

I've put together a Tasker profile that makes this a little easier.
http://www.richstevenson.com/2014/12/30/easily-save-the-motorola-360-scr...

Taking screenshot has really become an easy task. All you need to do is access your laptop or computer, the installed Android SDK, a bit of knowledge about ADB commands and obviously the time. You can easily get a screenshot !!

Hi! You can also easily capture screenshots with AppDemoStore.com. They have a great tool which allows you to create interactive demos. Here's an useful presentation: http://www.slideshare.net/AppDemoStore/how-to-create-an-android-demo-sli...

Do any of these smart watches have the ability to take pictures Posted via the Android Central App
Android Central Newsletter
Get instant access to breaking news, the hottest reviews, great deals and helpful tips
Thank you for signing up to Android Central. You will receive a verification email shortly.
There was a problem. Please refresh the page and try again.