How to set up the always-on display on the LG G6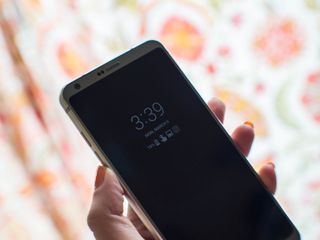 I love being able to glance over at my smartphone display to check up on the time or any messages I might have without having to actually reach over and turn it on. You can take advantage of this helpful ability on the LG G6 by enabling the always-on display. Here's how to set it up.
How to set up the always-on display on the LG G6
Swipe down from the top of the screen to reveal the notifications shade.
Tap the Settings icon in the upper right corner.
Tap Display.
Tap Always-on display.
Toggle the On button in the upper right corner.
Tap the Content option to choose whether you want a Digital clock, Analog clock, or a Signature as your scene.
You have the option to set up a daily schedule for the always-on display, as well as the ability to make it brighter if you can't always see it, though this will affect battery life. You can also turn on an option in the Battery Saver menu, located in the main settings panel, to block the use of the always-on display when Battery Saver is turned on. The LG G6's always-on display is nice, of course, but it comes with its own caveats.
Questions?
Curious about something else? Ask us below!
Get the Android Central Newsletter
Instant access to breaking news, the hottest reviews, great deals and helpful tips.
Florence Ion was formerly an editor and columnist at Android Central. She writes about Android-powered devices of all types and explores their usefulness in her everyday life. You can follow her on Twitter or watch her Tuesday nights on All About Android.
My LG G4 has an always on display which means it only gets 3 hours standby time while it burns a hole in my pocket.

Those hard and software nowadays you can't compare to 2 generations before, sorry those SoC's , displays etc are very powerefficient

Sounds weird that the display would be on while in your pocket. Logic dictates that the proximity sensor would keep the screen off while in your pocket until you pull it out. Although LG hasn't exactly been shipping stellar software these past few years.

I have had a G4 for almost two years and did not know that it has an always on display?? (Actually, I am on my second G4 as my first bootlooped after 16 months!)

It's a defect that is consistent prior to it going into a bootloop. My G4 days are numbered. Had it for just over 12 months.

Why would you have AoD on an LCD display? Makes 0 sense

Oh man, always on display is awesome! You can glance at the time, calendar or notifications without powering on the phone!

Would iike to add: Lets say your phone is at arms length of reach, you can glance at the screen without picking up the phone. Always on Display is awesome I tell ya!

After the Nougat update on S7 Edge, I love the Always on Display even more as it shows more notifications!

Can you please write how and where to buy the LG G6 first?

You mean like the glance screen that windows has had for years?