How to set up the always-on display on the LG G6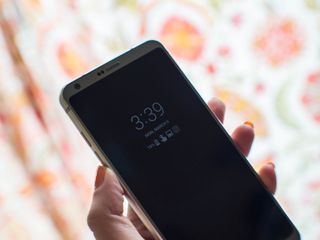 I love being able to glance over at my smartphone display to check up on the time or any messages I might have without having to actually reach over and turn it on. You can take advantage of this helpful ability on the LG G6 by enabling the always-on display. Here's how to set it up.
How to set up the always-on display on the LG G6
Swipe down from the top of the screen to reveal the notifications shade.
Tap the Settings icon in the upper right corner.
Tap Display.
Tap Always-on display.
Toggle the On button in the upper right corner.
Tap the Content option to choose whether you want a Digital clock, Analog clock, or a Signature as your scene.
You have the option to set up a daily schedule for the always-on display, as well as the ability to make it brighter if you can't always see it, though this will affect battery life. You can also turn on an option in the Battery Saver menu, located in the main settings panel, to block the use of the always-on display when Battery Saver is turned on. The LG G6's always-on display is nice, of course, but it comes with its own caveats.
Questions?
Curious about something else? Ask us below!
Sign up for Black Friday email alerts!
Get the hottest deals available in your inbox plus news, reviews, opinion, analysis and more from the Android Central team.
Florence Ion was formerly an editor and columnist at Android Central. She writes about Android-powered devices of all types and explores their usefulness in her everyday life. You can follow her on Twitter or watch her Tuesday nights on All About Android.