How to send and receive money with Google Wallet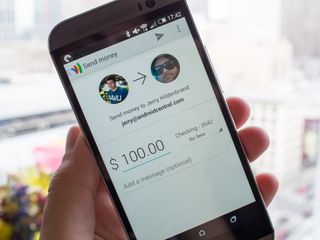 No matter the amount, Google Wallet has you covered for person-to-person money transfers
Google Wallet does plenty of things, including letting you make mobile payments at some of your favorite stores and hold all of your loyalty cards, but one of its huge values is as a person-to-person money transfer service.
It's one of the lesser-known features of Google Wallet, but it actually works really well for transferring money — from small to very large amounts — to a friend or family member with nothing more than the Google Wallet app and an email address. Whether you're asking a friend to send you a few bucks for that time you picked up the tab at a restaurant, or you need to send a few hundred dollars to your brother to buy some concert tickets, Google Wallet has you covered.
Read along and see how quick and easy it can be to manage money transfers in the Google Wallet app.
Send and receive money
It's never been easier to send and receive money in the Google Wallet app, with recent versions offering big "Send money" and "Request money" buttons right at the top of the main screen. Simply tap the appropriate button, and you'll be on your way. In either case, you'll be taken to a screen where you can type in the person's name that you're sending to or requesting from — the list will auto-populate with matching contacts, or you can enter an email address of someone not in your contacts.
Select the appropriate person, and you'll be taken to the second step.
For sending money, you simply fill out the amount you'd like to send, add an optional message with it and choose which of your payment methods you'd like to use. By default your Wallet Balance will be used, but if you're choosing to send an amount greater than your wallet balance, you can change it on this screen (we'll elaborate on this below). Double check that the information is correct, and hit the send button in the top right corner of the interface — money sent!
To request money, the process is even simpler. Enter the amount you'd like to request, and an optional message (probably a good idea when asking for money — be nice) and hit the send button. The person will receive an email with instructions on how to send you money via Google Wallet with their own account.
Choosing your payment method
When you choose to send money, you'll be presented with several different account options to draw that money from — by default, you'll send from your Wallet Balance. If there are insufficient funds in your Wallet Balance or you'd prefer to use a different payment method, hit the payment box next to the amount to expand a list of all available payment methods.
You can add checking accounts, debit cards and credit cards to your Google Wallet account, and each active method will show up here. You'll get a clear description of which card or account you're choosing, and you'll also notice a small blurb next to each one of what the fee structure is. Google lists all of the fees and limits on its website, but the basics are that transfers from your Wallet Balance, checking account or debit card have no fee, while credit cards have a 2.9 percent fee (with a minimum fee of $0.30).
In terms of transaction limits, Google Wallet has a surprisingly-high $10,000 per-transaction and $50,000 per-week limit, which we doubt many of us will ever run into in our lifetimes using this service. Money transfers using your checking account, debit card or credit card are processed instantly, but can take up to three days to clear. If you choose to send money with your bank account, the transaction could take three to 10 days in total.
When you receive money from someone else, there are never any fees associated with it. You also won't ever pay a fee to deposit money to your linked bank account from your Google Wallet Balance.
Andrew was an Executive Editor, U.S. at Android Central between 2012 and 2020.
Obligatory... Q: How to do something in Google Wallet?
A: Don't live in Canada. :) Posted via Android Central App

So one can not wire friend's who live in Europe or SE Asia? This is strictly within US stillll? What if people abroad open accounts in US banks, then can money be transferred to them?

I really love Google Wallet. It makes a lot of tasks dramatically easier. My girlfriend and I pay each other back for shared expenses with it, and I often leave the balance in Google Wallet since I can either use the NFC tap-and-pay at various locations, or the physical Google Wallet card. If not, I transfer it to my checking.

Are all parties involved in the transaction required to have a Gmail address? Not sure if this was mentioned and I missed it. Also, are both parties required to use Google Wallet? Posted via Android Central App

Both parties required to use Google Wallet and have an google account, which usually means a @gmail.com address. (Or some domain handled by google. US only). Very nice to combine this with a google card so the receiver can spend money without having to transfer to their bank. Google Card works just like a credit card. (Its a mastercard I believe).

Really? Although many people have Gmail, that requirement really limits its usefulness -- there are still lots of people with Yahoo, Windows, other email addresses. I'd prefer to use Google Wallet, but if every time I have to think about what network my recipient is on, the lazier part of me probably will stick with platform-agnostic PayPal.

I could never get PayPal's app to work. When I send my girlfriend money for the kids or what not I have to use a PC. Google Wallet sounds like it would be ok just as long as both parties have gmail accounts.

I find the fees are haphazard and haven't been able to get a clear answer from Google.
I send money to my son, and he gets it instantly, and he uses it on his Google Card (which seems to be a master card in disguise). My end is funded by my debit card. Sometimes I pay a fee, sometimes I don't. Very odd. The fees are low, I don't mind that much, but I also don't understand why some transactions go fee-less and some charge a fee for the same amount of money to the same destination. Other than that, it couldn't be easier.

I've used it a few times, both with my checking account and a credit card. Only the credit cards transactions were assessed a fee. Not sure why you'd get assessed a fee for using your checking account. Strange. Posted via Android Central App

I meant to say that I sometimes get charged a fee and sometimes not, and all transactions are billed to my credit card. That's the strange part. The inconsistency.

I use wallet to transfer money all the time Posted via Android Central App

i've got a lease on an apartment with a couple friends as roommates and they pay me their share of the rent as well as the utilities with Google Wallet bank account transfers. it's a truly great service.

This app is not available in (insert your country here)

the US. wait, your joke didnt work...

It's not clear to me if google wallet will work in other countries, like Russia, for example. Can anyone explain?

I would use it if they didn't ask me to submit a cr@p load of identifying information such as ss#, pic ID, address. I mean, Wtf Google? I don't trust you with my ss#, heck I didn't even give it to my school or doctor... Posted via Android Central App

They don't require a SS number or Picture ID, I call bull on your assessment of the service. And as for Address, I think it should be required, this is your financial information we're dealing with after all. If you don't like it don't use it, simple as that. No need to rant about it.

I can't post a screen shot here so I opened a new thread on AC forums under the Give and Ask for help. Look for Google wallet thread and then tell me I'm bs-ing...

I don't need to look at it, I've had Google Wallet since its inception and not 0nce did I ever have to input my SS#, so yes you are bs-ing. I don't need somebody to try to convince me about something I already know first hand.

I guess you're really closed minded to think that if something applies to you, it does to everyone else. Not to mention that you refuse to look at evidence and rather keep your opinions without regard of any developments. To each it's own, but my claim is still true: Google wallet is asking me for my ss# before setting up touch and pay. Posted via Android Central App

Dude you probably getting hacked because Google doesn't ask for you ssn

We have been trying to get a new account set up for the last week to receive some money some one is sending us. It absolutely requires your SS number, a picture ID, and then it all has to be verified. We still cannot get our money yet. And now it is saying we have to have a gmail account.

So, seeing as joking comes off as difficult to occasionally detect online and then there's the whole "lying for the sake of lying" thing to deal with as well I'm going to point out a few things just on the off chance that someone uninformed about Google Wallet sees your comment and even considers taking it at face value. Google Wallet use requires one one thing, a Gmail account. Beyond that you DO NOT have to tie your bank to it (although if you want to pull funds from your bank account then you obviously do need to tie it to it), nor do you have to provide your Social Security number or picture ID.

We have been trying to get a new account set up for the last week to receive some money some one is sending us. It absolutely requires your SS number, a picture ID, and then it all has to be verified. We still cannot get our money yet. And now it is saying we have to have a gmail account.

This How-To is well timed as I'm going to be using Google Wallet to transfer funds to a forum buddy for a OPO 64GB in a couple of days. Thanks Andrew and AC.

I recently started using Google wallet to send spending money to my daughter at college. She has the wallet card. When I send money it is available on the card immediately after I send it. This is much more convenient than mailing and cashing checks. Posted via Android Central App

I use this feature to send and receive money and it works great. For you doubters out there that are not sure, you can check it out by sending me some of your money. ; )

Do you know that you can also fatten your google wallet by making lots of money online and then transferring it to your wallet? To know more about how to make at least $5k/month online, please visit InternetIncome88[DOT]com now.
Android Central Newsletter
Thank you for signing up to Android Central. You will receive a verification email shortly.
There was a problem. Please refresh the page and try again.