How to send and receive money with Google Wallet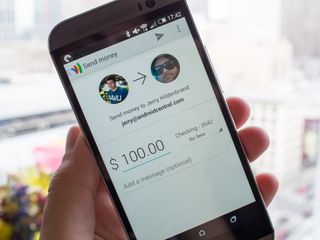 No matter the amount, Google Wallet has you covered for person-to-person money transfers
Google Wallet does plenty of things, including letting you make mobile payments at some of your favorite stores and hold all of your loyalty cards, but one of its huge values is as a person-to-person money transfer service.
It's one of the lesser-known features of Google Wallet, but it actually works really well for transferring money — from small to very large amounts — to a friend or family member with nothing more than the Google Wallet app and an email address. Whether you're asking a friend to send you a few bucks for that time you picked up the tab at a restaurant, or you need to send a few hundred dollars to your brother to buy some concert tickets, Google Wallet has you covered.
Read along and see how quick and easy it can be to manage money transfers in the Google Wallet app.
Send and receive money
It's never been easier to send and receive money in the Google Wallet app, with recent versions offering big "Send money" and "Request money" buttons right at the top of the main screen. Simply tap the appropriate button, and you'll be on your way. In either case, you'll be taken to a screen where you can type in the person's name that you're sending to or requesting from — the list will auto-populate with matching contacts, or you can enter an email address of someone not in your contacts.
Select the appropriate person, and you'll be taken to the second step.
For sending money, you simply fill out the amount you'd like to send, add an optional message with it and choose which of your payment methods you'd like to use. By default your Wallet Balance will be used, but if you're choosing to send an amount greater than your wallet balance, you can change it on this screen (we'll elaborate on this below). Double check that the information is correct, and hit the send button in the top right corner of the interface — money sent!
To request money, the process is even simpler. Enter the amount you'd like to request, and an optional message (probably a good idea when asking for money — be nice) and hit the send button. The person will receive an email with instructions on how to send you money via Google Wallet with their own account.
Choosing your payment method
When you choose to send money, you'll be presented with several different account options to draw that money from — by default, you'll send from your Wallet Balance. If there are insufficient funds in your Wallet Balance or you'd prefer to use a different payment method, hit the payment box next to the amount to expand a list of all available payment methods.
You can add checking accounts, debit cards and credit cards to your Google Wallet account, and each active method will show up here. You'll get a clear description of which card or account you're choosing, and you'll also notice a small blurb next to each one of what the fee structure is. Google lists all of the fees and limits on its website, but the basics are that transfers from your Wallet Balance, checking account or debit card have no fee, while credit cards have a 2.9 percent fee (with a minimum fee of $0.30).
In terms of transaction limits, Google Wallet has a surprisingly-high $10,000 per-transaction and $50,000 per-week limit, which we doubt many of us will ever run into in our lifetimes using this service. Money transfers using your checking account, debit card or credit card are processed instantly, but can take up to three days to clear. If you choose to send money with your bank account, the transaction could take three to 10 days in total.
When you receive money from someone else, there are never any fees associated with it. You also won't ever pay a fee to deposit money to your linked bank account from your Google Wallet Balance.
Sign up for Black Friday email alerts!
Get the hottest deals available in your inbox plus news, reviews, opinion, analysis and more from the Android Central team.
Andrew was an Executive Editor, U.S. at Android Central between 2012 and 2020.