How to reclaim storage space on the LG G3 with smart cleaning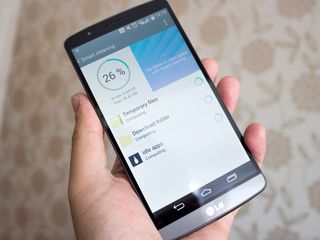 Over time the free storage space on your LG G3 will begin to dwindle, that's a given. But it's not all down to what you're installing onto the phone yourself, it'll store a bunch of temporary files that over time can build up and build up. Fortunately LG has built in a simple method of seeing what's taking up space that doesn't need to be and for you to reclaim it with smart cleaning.
To access smart cleaning you'll need to go into the settings and look for it under the device tab or header depending on how you've got things set up. Open it up and you'll see the screen shown here. Up top you'll be shown how much of your G3 storage is in use and available to use as well as how much is being taken up by files you likely don't need to keep. Below it breaks it down into three categories:
Temporary files: Comprised of apps' cache files and clip tray temporary files
Download folder
Idle apps: Apps that have been left idle for 1 month or more will be highlighted here
To reclaim the storage space taken up by each simply tap on the category you want to deal with, make sure the checkboxes next to the items you want to delete are checked, then just hit the big "clean" button down the bottom. When you're done head back out into the main smart cleaning screen and you should see nothing in the right hand panel and the left hand panel will have updated to show how much free storage space you now have available on the phone.
You can also clear just the cache if you so wish by heading into Settings > Storage then tap on cached data. The bonus to smart cleaning is that it's more of a one-stop shop.
For more, see our LG G3 help page, and swing by our G3 forums!
Get the Android Central Newsletter
Instant access to breaking news, the hottest reviews, great deals and helpful tips.