How old is your daily driver?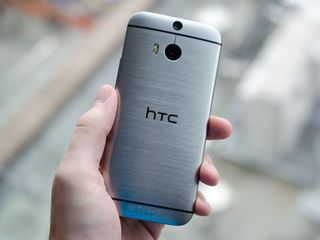 (Image credit: Android Central)
The best Android phones are only getting better, and even cheap phones are pretty good these days. With finances being tight and phones lasting longer, many people are opting to skip the hamster wheel of upgrade cycles and hold onto their devices. This opened up an interesting discussion on the AC forums about who had the oldest daily driver and just what device that was.
Now, we want to hear from you — How old is your daily driver?
Join the conversation in the forums!
Jeramy is proud to help *Keep Austin Weird* and loves hiking in the hill country of central Texas with a breakfast taco in each hand. When he's not writing about smart home gadgets and wearables, he's defending his relationship with his smart voice assistants to his family. You can follow him on Twitter at @jeramyutgw.
5 months and 1 month old, Iphone 12 and S21

9 months old. S10Lite. I was using an LG G5 before that.

1 month old Pixel 4a 5g and a mint 2yr old Moto G7.

I've been using my LG G7 for about a year and a half already. Still a great phone with an outstanding screen, camera, and performance plus SD card support (increasingly becoming a rarity these days). The only bad thing is the relatively low RAM (4GB), but it's not a dealbreaker to immediately upgrade.

Not a single phone in my household is newer than 2 years old: Moto Z3 (my son's, 2 years old), Samsung Note 9 (mine, 2 1/2 years old) and a Moto Z Play (my wife's, 4 1/2 years old). I will probably upgrade the wife's phone this year, but I have no plans to do so for the other two.

Last week I just checked my lumia 720 for 2 days it worked well even more than I expected...

Huawei P30 pro. So just under 2 years old.

Pixel 4a 5G that I got in November, and a OnePlus 7T that I got in March 2020

Pixel 4XL from release. I'm probably going to upgrade this year depending on the Pixel 6

Exactly one year since I got my LG G8 unlocked from Amazon.

Currently using a Pixel 3a and iPhone SE (2016 although it is the 2017 refresh). Was previously using an OG Pixel before the 3a. Nowhere near the oldest devices stated here but certainly not on the newer end.

Asus ROG Phone II for 16 months now.
Still a battery and performance champ and great speakers. Love the OLED 120Hz display too.

Still have my Google Pixel XL from 2016. Id love to replace it, the problem is finding a modern smartphone that's actually better. So hard to find a phone these days that tick all the boxes I want. I want 1) no notch, no hole punch 2) a headphone (3.5mm audio) jack 3) all metal and glass build 4) a fingerprint sensor. Honestly my next phone will probably be the iPhone 13 because Android has gotten pretty ****** over the past few years. For example, OnePlus and Google are the only two major US smartphone manufacturers that even let you unlock your Android phone's bootloader. It's ridiculous.

You more or less want what I want, I also want no silly screen ratio and I don't want the back full of lenses. I would not go for an Iphone, over priced and I really don't like IOS..

I wouldn't get another overpriced iPhone as I'm done with Apple and their overpriced iPhone and boringI iOS, I'm loving my S20 FE and One Ui with the amazing features and customisations.

You're the biggest flip-flopper on the face of the planet... Who can take you seriously?

i unlocked the bootloader on my xiaomi mi 10 ultra pretty easily, but it wasn't already unlocked. i had to contact customer support. still xiaomi is one of my favourite brands because the just give you working hardware and they are still pushing the market.

OnePlus 3T - coming up on 4 years this April. Running on last official Android 9 update. Still decent performance and battery life and like new condition.

Pixel 2 - 2017 here; security is a bit of a concern for me at this point though (I need to upgrade). I applaud Google and Samsung for the longer support commitment in the Android ecosystem, it's worth the extra money if you don't upgrade every 18 months.

The S21+ and 4xl two dailys. Which do I like better? BOTH? The S21, blazing fast with the triple8 & 120hz display. The 4xl, the user experience is wonderful, 📷, not too shabby!

My Huawei p10 lite is around 3 and a half years old, has a small problem with charging in that it takes ages, but it still works fine, so I will keep it for as long as it lasts.
My last phone was a Nexus 4 and that lasted almost 4 years.
I see no reason to change if it works.

Nearly 2 weeks old, my S20 FE (my daily driver) my 7 months old 11 Pro Max relegated to secondary phone and will eventually be sold and I'm done with Apple and their overpriced and limited iPhone. Samsung and One UI are awesome.

my daily driver isn't old at all, mi 10 ultra.

Was using Moto X 2014 till my banking app stopped being supported on Android marshmallow. Moved to Poco X3 NFC, couldn't be happier 👍

What do you all do with your old phones? I'm on my 3rd smartphone so far, and the other 2 work fine, but are sitting on a table until the end of (my) time. I don't think I'll need another phone, like, ever.

I have a S10+ which is just under 2 years. Not looking to upgrade until next year and when I do it will be another Samsung.

I have a Galaxy S Duos 2 running Lineage OS 14.1 & a Redmi Note 4X running RR 8.6.6
Android Central Newsletter
Get the best of Android Central in in your inbox, every day!
Thank you for signing up to Android Central. You will receive a verification email shortly.
There was a problem. Please refresh the page and try again.