How often do you upgrade your smartphone?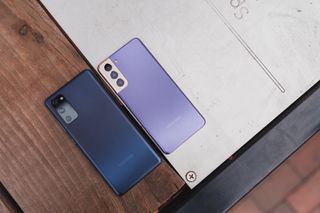 (Image credit: Hayato Huseman / Android Central)
Being a fan of Android is a pretty exciting thing. There are constantly new phones coming out, fresh OS upgrades to look forward to, and all sorts of crazy innovations happening all the time. However, when it comes time to actually buy a handset for yourself, that's where things can get tricky.
Deciding what to buy is no easy task, especially when there are so many contenders for the best Android phones. You have to decide what features are important to you, how much you're willing to spend, etc.
One of our AC forum members recently opened up this conversation — specifically, asking other members how often they go out and upgrade their current phone. Here's what they had to say:
What about you? How often do you upgrade your smartphone?
Android Central Newsletter
Get instant access to breaking news, the hottest reviews, great deals and helpful tips
Joe Maring was a Senior Editor for Android Central between 2017 and 2021. You can reach him on Twitter at @JoeMaring1.
I am someone that would upgrade every year but it's amazing that I don't because I am usually enjoying my current model so much. On average I am with my phone for 2 years and battery life and performance is what normally prompts me to upgrade. Right now, I love my Pixel 3 in almost every respect but will be changing phones very soon for better battery and RAM, plus I want to try something new before Techtober and then may buy a new phone again.

Samsung deals got me upgrading every year, like the old days!

Around 2-3 years, I pay for a good value monthly sim deal and pay full price for the phone. Works out much cheaper!

With these newly trade-in deals I find myself upgrading every year. Even Verizon has great deals for long term loyal customers. That wasn't the case a couple yrs ago! Happy they finally got on the band-wagon?

Depends on the deal. Usually 16-24mo.
Had my s9 for about 2 yrs. Going to keep it until the S21 offer of $800 off came around.
Wife had her s8 for about 2 yrs, and gave her the S21, since I got an S20FE recently and prefer that one for me.
Previous phones usually fell in the 16-18mo range, except one LG G5 I traded in after 12mo.

I upgrade when necessary. My husband has my old Pixel 3, I have a Pixel 4 (that replaced the 3). I'll probably upgrade his Pixel 3 next year.

I upgrade every 2-3 years. Just traded in my Pixel 3 for the iPhone 12 mini mainly for size. iOS is completely boring to me but the size of this phone won me over. So I'll hang on to the mini until something else catches my eye. I miss stock Android though.

About every three years. I have a Pixel 3a XL that I am not looking to replace for at least another year at least.

It used to be every couple years, but I held the S9+ for three, and suspect I'll do the same with the S21 Ultra. The camera is really the most noticeable upgrade for me-- I don't have the feeling like I made a dramatic upgrade from the previous device, and I suspect that's just how things are going to be from this point forward.

I'm also pretty much a yearly ungrader thanks to the very generous trade in deals that Samsung offers. I skipped the Note 20 Ultra due to the lower installed memory compared to my Note 10+ but have now upgraded to the S21 Ultra.

I upgrade every 30 days or so

I like the upgrade every 2 years at least until I get fed up of the phone but with Android, I can be happy with my phone for af least 2 years and I'm upgrading today from OnePlus 7T which I've has for more than a year, the longest I've had a phone for a long time because I'm fed up with OnePlus, and Samsung has been really impressing me of late so I'm getting the Galaxy S20 FE (Snapdragon version) today as I really like the look of the S20 FE and has everything what I and the average person needs in a flagship at a good price.
Android Central Newsletter
Get instant access to breaking news, the hottest reviews, great deals and helpful tips
Thank you for signing up to Android Central. You will receive a verification email shortly.
There was a problem. Please refresh the page and try again.