How to move your Pokémon Go account to a new Android phone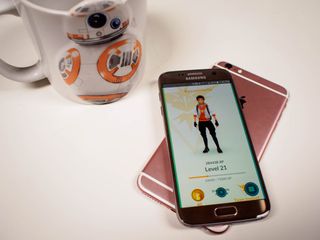 Pokémon Go can be rough on a phone. Some users are realizing their battery just doesn't cut it anymore, and some are accidentally walking into lakes. Whatever the reason for your old phone needing to be replaced, Pokémon Go players around the world are left asking a simple question about their game data: If you move from an old phone to a new Android phone — even if that old phone was an iPhone — will your game data travel with you?
The short answer is yes, and here's how it works!
Your Pokémon Go account is tied to one of two things: a Google account, or a Pokémon Trainer Club account. That login allows you to sign in to any phone running Pokémon Go, and all of your account information will immediately be available on that phone when you do.
If you used Google to create your original account:
Tap Google under "Sign up with".
Select your Google account from the list.
Enjoy your original account on your new phone.
If you used Pokémon Trainer Club to create your original account:
Tap Pokémon Trainer Club under "Sign up with".
Enter your username and password.
Tap Sign in.
Enjoy your original account on your new phone.
If you accidentally created a new account when trying to log in to your new account:
Tap on the Poké Ball.
Tap Settings.
Scroll to the bottom and tap Sign Out.
Tap the correct login option under Sign up with.
Niantic made this process as simple as possible, and made it so you can quickly get back to playing Pokémon Go when you've moved in to a new phone. And if that new phone is an iPhone, we have a guide for that, too!
Have you recently purchased a new Android phone due to Pokémon Go?
Tell us all about it in the forums!
Russell is a Contributing Editor at Android Central. He's a former server admin who has been using Android since the HTC G1, and quite literally wrote the book on Android tablets. You can usually find him chasing the next tech trend, much to the pain of his wallet. Find him on Facebook and Twitter
Android Central Newsletter
Get the best of Android Central in in your inbox, every day!
Thank you for signing up to Android Central. You will receive a verification email shortly.
There was a problem. Please refresh the page and try again.