How to make video calls on an Amazon Echo Show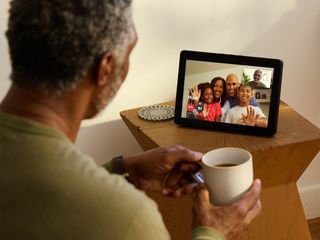 (Image credit: Amazon)
I love my Amazon Echo Show device for a lot of reasons. It cycles through my favorite photos to remind me of better times. It lets me watch shows and movies while I'm cooking or doing chores. I can even get video news briefings, check the weather, and watch YouTube through an actual web browser like Mozilla's Firefox or Amazon's Silk (hello Google/Nest?). However, hands-down, one of the neatest things it can do is easy peasy, hands-free video calling with Alexa. I'll show you how simple it is to make a video call on an Echo Show device in the steps below.
How to set up Alexa calling and messaging
Before you can start making video or audio calls on your Echo Show device, you'll need to set up the capability within the Alexa app itself.
Open the Alexa app on your smartphone.
Tap on the Communicate button on the bottom menu bar (it looks like a chat bubble).
Tap on the people icon at the top right of the screen.
Tap on My Communication Settings.
Tap on your Mobile to enter and verify your phone number.
Grant Amazon permission to use your phone's calling and messaging capabilities.
Import your phone's contact list when prompted so that Alexa can call who you ask her to.
Now you can start communicating with your contacts from the Alexa app or your Echo or Echo Show smart speakers.
Calling isn't just for smart speakers. It's also worth pointing out that once you've enabled these communication features in your Alexa app and imported your contacts, you can make free voice calls to any mobile phone or landline to anyone between the U.S., Mexico, and Canada.
So even if grandma doesn't have an Echo or a smartphone, you can still ask Alexa to call her if your hands are full while washing dishes or folding laundry. The only catch here, and it's an important one, is that you can't use Alexa or an Echo device to call emergency services (i.e., 911). There are a couple of caveats here, though. On Amazon's support forums, some users have said that if you add 911 to your phone's contacts, Alexa will be able to dial that number for you upon request. Alternatively, with Amazon's new Alexa Guard Plus service, Alexa can contact emergency services on your behalf.
Now that you've set up your communication preferences within the Alexa app let's make that first video call.
How to make a video call on an Amazon Echo
From your Echo Show device, ask Alexa to call one of your contacts.
The person who you are calling will see an image/card of you with the option to accept or reject the call by tapping on their Echo Show home screen buttons or by saying "Alexa answer" or "Alexa ignore."
When the call starts, say "video on" or press the video camera icon on the screen.
If at any point you want to turn off the video only, you can say "video off" or press the video camera icon again.
When you are ready to hang up, say, "Alexa, hang up."
So easy, right? Any of your contacts who also have an Amazon Echo device with communication preferences enabled will be able to hear your voice during a call. If they use an Echo Show or the Alexa app on their smartphone, they can engage in a video call with you if they so choose.
The other neat trick you can do with the best Alexa speakers is to use an Alexa-specific feature called Drop In. Drop In can be used within your own home between multiple Echos as a sort of intercom system, where you could say, "Alexa, drop in on Amy's room" so you can let Amy know that she still needs to do the dishes.
Alternatively, if your friends or family have the Drop-In feature enabled on their Echo devices and opt to accept Drop-In calls from you, you can ask Alexa to "drop in on mom" so that you can check-in and make sure your mother is doing okay.
How to set up group calling on an Amazon Echo
Open the Alexa app on your smartphone.
Tap on the Communicate tab at the bottom of the screen.
Tap on the people icon at the top right of the screen.
Tap Add New.
Tap Add Group.
Read through the initial setup information, and table Enable.
Add people from your contacts list to the group.
Tap Continue.
Give your group a name.
Tap Create Group.
If you want quick and easy access, tap Add to Favorites.
Now you can find your group under Favorites and Groups in the Contacts portion of the app. Each member's contact info will also show which groups they are a part of. You can repeat these steps above to create different groups for friends, family members, or even coworkers. As with video calls, you can add members to the group who either have an Amazon Echo device or who have the Alexa app installed on their phone.
How to make a Skype call on an Amazon Echo
If you already have a Skype account, you can enable Skype calling from your Echo device through the following steps.
Open the Alexa app on your smartphone.
Tap on the More menu tab at the bottom right of the screen.
From the menu, open Settings.
Tap on the Communication tab.
Under Accounts, tap on Skype.
Sign in to your Skype account.
Follow the prompts onscreen to connect your Skype account with your Alexa account.
Once connected, you can ask Alexa to "call grandad on Skype" or say "Alexa, Skype Jason."
How to make a Zoom call on an Amazon Echo
Amazon has promised that the Zoom service will soon be available on Echo Show devices, but it has not been enabled as of March 2021. As soon as it is available, we will update this guide accordingly.
Our top equipment picks
If you need a new Echo Show device or want to get one for a friend or family member, these are the three best Echo Show devices available. While the Echo Show 5 (2nd Gen) and Echo Show 8 (2nd Gen) are capable devices, the best video calling experience that you're going to get from any smart speaker right now is on the Echo Show 10 (3rd Gen). Even if your friends and family don't have an Echo Show, they can still do video chats with you from the Amazon Alexa app!
Prime choice
Amazon Echo Show 5 (2nd Gen)
A compact Alexa display
Amazon's small screen Alexa device features a touchscreen display, microphone, speakers, camera, and built-in camera cover. Slide the shutter over the lens to protect yourself from potential spying eyes. You can use this device to check the news, stream shows on Amazon Prime, find recipes, interact with Ring devices, and much more.
Meet me in the middle
Amazon Echo Show 8 (2nd Gen)
Not too big, not too little, this size is just right.
The Echo Show comes to a more natural size that's easier to place than the 10-inch Echo Show but still comfy enough to watch recipes and videos on. most rooms.
Moves for you
Amazon Echo Show 10 (3rd Gen)
The best video calling device.
The Echo Show 10 (3rd Gen) is the ideal video calling device thanks to its moving display and camera that always keep you, your babies, and your fur babies in the frame.
Additional Equipment
Not just a way to set up your Amazon Echo devices, the Alexa app is a valuable tool in its own right.
Amazon Alexa App (Free at Google Play)
The key to unlocking all of your Echo's capabilities, this app can also serve to hold your notes, to-do lists, and send and receive calls and messages with Alexa.
Get the Android Central Newsletter
Instant access to breaking news, the hottest reviews, great deals and helpful tips.
Jeramy is the Editor-in-Chief of Android Central. He is proud to help *Keep Austin Weird* and loves hiking in the hill country of central Texas with a breakfast taco in each hand. You can follow him on Twitter at @jeramyutgw.