How to make free Wi-Fi calls with Google Hangouts for Android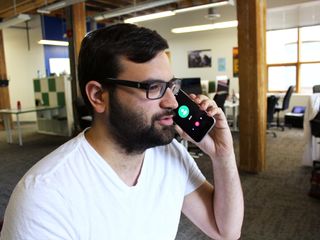 Why pay for domestic calling when you can make Wi-Fi calls to Canada and the U.S. for free with Google Hangouts? All you need is the Hangouts Dialer and you'll be able to dial any number and make a call via Wi-Fi, 3G, or 4G (data rates apply, of course).
You can call internationally, but you will be charged Google's rates. That being said, Google's international rates are considerably cheaper than many leading telephone service providers' rates.
Here's how to make Wi-Fi phone calls using the Hangouts Dialer and Google Hangouts for Android!
How to find and download Hangouts Dialer in the Google Play Store for Android
Launch the Google Play Store from your home screen or the app drawer.
Tap the search bar at the top of your screen.
Type Hangouts Dialer into the field.
Tap the search button on the bottom right of your screen. Depending on your keyboard, it probably looks like a magnifying glass.
Tap the result by Google Inc.
Tap Install.
Tap Accept.
For the quickest possible route, you can also follow this link to the Play Store (opens in new tab) to install!
How to make free Wi-Fi calls using the Hangouts Dialer app for Android
Launch the Hangouts Dialer app from your home screen or from within the Hangouts app.
Tap the keypad button at the bottom of the screen. It's a little grid of nine dots with a tenth underneath.
Dial the Canadian or American phone number you wish to call.
Tap the green call button at the bottom of your screen. It's a green circle with a white telephone receiver in it.
Tap the red hang up button to end the call. It's a red circle with a white telephone receiver in it.
How to delete your call history in the Hangouts Dialer app for Android
Launch Google Hangouts from your home screen or the app drawer.
Tap the calls button if you're not already on that screen. It's the white telephone receiver on the upper right of your screen.
Tap Clear recent on the upper right of your screen.
Tap Clear in the pop-up.
Android Central Newsletter
Get instant access to breaking news, the hottest reviews, great deals and helpful tips
Mick is a writer and duty editor for Android Central. When he's not on the job, he can usually be found vacuuming up pet hair or trying to convince his wife that he needs more guitars.
WhatsApp been doing WiFi calls for a while now, however reception patchy. Posted via the Android Central App

Not to any number, just what'sapp to what'sapp. Posted via Techmology

I have been doing this with Google voice since 2010. Now this feature is all in Hangouts, but you could have been calling all over with
google Voice for years now. When I called Australia I did so for .02 cents a minute. Nothing new but the integration into hangouts.

I've used Skype for international calling for years.. It works great. I'm sure this works great too, but Google wastes time on apps nobody will ever use. Posted via Techmology

Just because you don't use something doesn't mean a lot of us aren't using it!

I use Hangouts for video chat, but I don't use it for SMS anymore because I switched to messenger when that came out. Posted via the Android Central App

Google voice is one of the best things Google has offered. With it, you have another phone number on your phone. I use this "fake" number to do business on craigslist, for example. The difference between this Google number and other texting app is you can make calls for free. Other texting app usually requires you to buy minutes.

That's a great idea for Craigslist.. Posted via Techmology

I'm on Google Fi and hangouts is all i use for voice,text, and video chat. Posted via the Android Central App

Never mind that Google Voice - which was folded into Hangouts - preceded Skype.

Hangouts dialer works wonders especially for say a child who only has a phone with limited plan, this allows them access to communicate and it's "free" . Posted via the Android Central App

Hangouts dialer and Google voice are what make my 30 a month 6 gigs of data without voice plan from T-Mobile totally doable. It's great. Posted via the Android Central App

Dont you already have unlimited calls ? Posted via the Android Central App

The $30 plan has 5GB, unlimited texts, and 100 minutes. Posted via the Android Central App

People can be grandfathered under other plans, not just what is currently offered. He said his is data only Posted via the Android Central App

Are you limited to only making voice calls when you're in Wi-Fi range? How does it work exactly? I have a GV # that I seldom use and Hangouts that I don't use much either.

This works on WiFi, 3G and 4G. It says so in the article. I use GV number mostly for work and call quality is very good. I'm on t-mobile in NYC area. Posted via the Android Central App

Do you ever get the "robot voice" thing these days? I used GV over Hangouts exclusively for a few months, and I got this weird, kind of echo-ish, robotic voice problem occasionally. Not all the time, but frequently enough that I stopped using it. This was also on T-Mobile, but I experienced it when using wifi just as often as when using mobile data, so I assumed it was a Hangouts issue rather than a carrier one.

I do indeed get the robot voice now and again. I only use my GV to let people in that use my apartment call box, order a pizza, call a store etc. All conversations that last about 2 minutes tops, so I might not be the best baseline. That said I do use facebook messenger calls quite a bit more and I actually hear the robot voice there too, just not near as often. Only when signal is really bad on my end or theirs.

Let me clarify. Tmo just recently came out with a plan that's 30 a month for 6 gigs of data, unlimited texts, but no voice. If you call my regular number you get an error saying I don't have voice. I almost never use voice since it's 2016 so what little voice calls I do outside of Skype and Facebook messenger are through the free Google voice account and Hangouts dialer. To be clear you can use Google voice and call people through Hangouts, even restaurants etc, over wifi, LTE, any signal. Posted via the Android Central App

I think they recently raised the price for that plan to $35/mo. I could be wrong though. How does GVoice sound if you've used up your 6GB of LTE and are throttled down to 2G-ish?

It's possible people are being added at that price now, however if you got in when it was $30 you should still have that. IE my bill is still 30 before taxes etc. I've honestly never been able to come close to my 6gb limit due to rollover I'm hovering around 10 gigs a month, and I never have WiFi on, so I'm not sure. I imagine it probably doesn't go down in quality, but rather just drops more frequently.
That's how it behaves if I'm somewhere with bad signal at least.

I have hangouts linked with a Google voice # on an old phone without service. I keep it home connected to wifi, and use it as a home number. It's all free calls as long as it's connected to wifi. If you have a data plan, it works on cell data as well. Posted via the Android Central App

T-Mobile now offers data-only non-tablet (i.e., phone) plans to everyone. They include a data allotment, unlimited SMS, but zero time for voice calls, including pay-per-minute calling. These plans used to be offered only to people who are deaf, or have limited hearing.

This is exactly what I have and what I was talking about. They started letting others not deaf use this in April of this year.

I'm curious to know: since this plan offers unlimited SMS, the phone number is active for more than data (unlike a tablet plan). Do FaceTime audio calls work? If so, you'd still be able to call folks with iPhones!

Very good point. I don't own an iPhone to test but am curious to know.

Question! If I were to take this to the EU on vacation and only purchased a prepaid data sim, would i be able to call back to Canada for free from a European country? Posted via the Android Central App

Ya as long as have 3g, 4G or wifi.

I think calling to the US or Canada from anywhere else via GVoice is 1 cent per minute. You would need to activate\buy some Google Voice credit to make international calls https://support.google.com/voice/answer/141923?p=call_charges&rd=1 Calling from the US or Canada to anywhere else the rates vary by country
https://www.google.com/voice/rates

I travel to Australia quite a bit for work and I use the Hangout Dialer to call any and all numbers back to the US for free as long as I am on WiFi. I stopped even getting an international plan and do everything over WiFi when I travel to Australia.

yes, you can call. I called to US numbers for free when i was outside

You can receive calls for free but not make them if you pull your sim and replace with a foreign sim. My solution was using my previous phone for loading the foreign sim. That way I could still make free calls. Mainly I just like to keep the foreign stuff out of my primary phone. This was my experience traveling through numerous countries in Asia.

Good article. Not many know the awesomeness of GV when you are at a hotel somewhere where cell reception is patch and WIFI is solid. And I believe this is OS independent.

Cell reception in hospitals (especially the older ones) is *always* garbage regardless of carrier, but most of them have pretty reasonable wifi. That saves my ass on a regular basis.

My best friend works NICU and hangouts using WiFi is a life saver for him.

Ohh yeah. ICU wards and radiology are always the worst in terms of signal.

I used wifi calling on google hangouts to call home when I was in Ireland in 2014. Couldn't tell the difference. We use hangouts for our internal communication at work. It's great!

Used Hangouts/Google Voice to call Australia a few times. I loaded up $10 in GV credit, and at 2c/minute, I still have most of that left. I also use GV to call Canada (still free), since my cell phone plan doesn't include Canada without extra charge.

Actually unless they fixed it the calls still go out over the mobile network even if your connected to wifi.

So, why do they need to record my conversation? Is there some kind of delay in talking to someone? Posted via the Android Central App

And you can set it up so all international calls go through Google voice and still use your cell signal once it connects you'll hear"this call is being routed through google. The cost of this call is......" Neat! Posted via the Android Central App

Yup. Been For a while. Works on my tablet just fine as well. And yes, so does GV for the same feature. Some of the reasons I love Google. Posted via the Android Central App

Now get this working on Android Wear please! Posted via the Android Central App

I used to use Google Voice with Hangouts or my OBi. Now I use Google Fi. Love Google! Posted via the Android Central App from my Nexus 9

The coolest thing about this in my opinion is that I can all my mom or answer my "phone" for the few that use dumbphones still on my tablet, my laptop, my PC, literally anywhere with a mic that I'm logged into gmail with. THAT is simply amazing, and it being for zero cost is just fantastic.

Definitely. Most of the time, I use GV through the standard dialer on my phone, but when I do teleconferences, I tend to use GV via Hangouts on my Shield Tablet. The big, front-facing speakers make for a really good speakerphone experience.

Who doesn't like anything free?

I have always been able to make calls from Google Voice or Hangouts. My only issue is my computers will allow me to receive and hear incoming calls and answer but my cell phone never rings my google voice number.. any help?? Options to enabe on the phone or in voice.google.com?? Posted via the Android Central App

In the Hangouts App, go to 'Settings' and click on your email address under 'Account Settings'. Select 'Incoming Phone Calls'

Another neat feature not mentioned in the article is the ability to port your phone number to your GV number. We moved to Canada for work, so I ported my old cell number to GV, and setup hangouts dialer to make and receive calls. No need to tell everyone my new Canadian phone number and have them pay international rates to call me. Did this on my wife's phone also, and with her iPhone, we only had to install hangouts (no dialer).

I'm just putting this out there. This isn't new. Been available for a few years. I can even do it in iOS as well. I also call directly from hangouts when I'm on any computer with chrome browser. The step by step is good though. I also use a hangouts number and calling for personal selling and business ie Craigslist, Wallapop, letigo, tech consultanting.

Most mobile plans have free unlimited minutes with charges for data these days. Maybe if we could do this with dial-up internet......

I use an old phone without service. Works on wifi, and the Google Voice integration gives me a phone number. So it acts as a home phone for free, on wifi. Posted via the Android Central App

Decided the easiest route is to give in and use Facebook messenger. Face the facts most everyone already has it and like Hangouts or WhatsApp it also has video and wifi calling. But most of all most folks already have it. I spent years trying to get all my friends on WhatsApp finally just installed FB messenger and everyone already had it installed so I didn't have to beg everyone to get on the same app Posted via the Android Central App

Except, FB messenger doesn't call regular phone numbers. Hangouts & Google Voice combined allow one to call all regular phone & sms texts thru wifi or cell data. I have an old phone with no active service. I use wifi, and hangouts/GV to make it a free home phone number. Costs zero $ and I replaced it as my home phone, which works great for young & older family members who used our old landline Posted via the Android Central App
Android Central Newsletter
Get instant access to breaking news, the hottest reviews, great deals and helpful tips
Thank you for signing up to Android Central. You will receive a verification email shortly.
There was a problem. Please refresh the page and try again.