How to log your water intake on Fitbit Versa and Ionic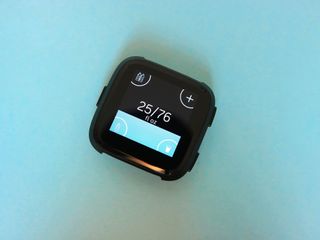 As much as I love the Fitbit Versa and Ionic smartwatches, there's one important feature that's missing out of the box — a built-in way for tracking the water you drink throughout the day.
I hope we see Fitbit integrate this into the watches in the near future, but in the meantime, app developers have been quick to offer third-party solutions for keeping tabs on your water intake.
There are a number of apps you can choose from for doing this, but in my experience, Water Logged by Tyler Leonhardt has been the most reliable. As such, here's a guide on how to install and customize the app so you can start logging your water right on your wrist!
Download Water Logged
First thing's first, we need to actually install the Water Logged app. To do this:
Tap on the Ionic / Versa icon near the top right of the Fitbit app.
Tap Apps.
Tap All Apps.
Tap the search bar near the top right and search for "Water Logged."
Tap on the app and then tap the red Install button.
Log in / customize the app
Now that Water Logged in installed, you'll need to link it with your Fitbit account so it can sync your logged water to the Fitbit app.
From the Water Logged page, tap Settings.
Tap Fitbit Login at the top of the settings page and enter your Fitbit account info.
After logging in, you'll see a few options under the Configuration tab. If you tap on Units, you can switch between fluid ounces and milliliters.
Glass, One Bottle, and Two Bottles will automatically log 8oz, 16oz, and 32oz, respectively, but you can change these amounts by tapping on them and entering a new number.
Using Water Logged
With Water Logged installed, it's time to start using the app!
Upon opening it, you'll see how much water you've drunk out of your daily goal. The icon in the upper-left corner will add Two Bottles, the one below it will add One Bottle, and the icon at the bottom right adds a Glass. If you tap the + icon, you can manually increase and decrease by one oz/ml. When you're done, tap the checkmark icon at the bottom left and the amount you entered will be added.
After tapping any of the buttons in Water Logged, it'll automatically sync with your Fitbit account so your info is updated in the app. Additionally, you can tap in the middle at any time to trigger a manual sync.
Start logging!
With all that said, you're ready to start tracking your water intake right from your wrist! If you have any additional comments/questions, feel free to sound off in those comments below.
Best apps for Fitbit Versa and Ionic
Get the Android Central Newsletter
Instant access to breaking news, the hottest reviews, great deals and helpful tips.
Joe Maring was a Senior Editor for Android Central between 2017 and 2021. You can reach him on Twitter at @JoeMaring1.