How to keep my Oculus Quest lenses from getting scratched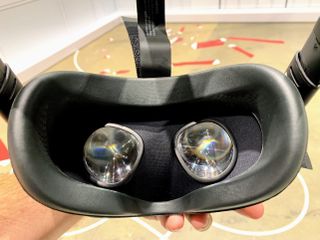 (Image credit: Android Central)
There are many extra steps you have to take to care for any VR headset a typical gamer might not be aware of. While the general structure of the headset and controllers are built to withstand a good amount of wear-and-tear, the internal components are very delicate, and require a lot of care and consideration. One vital piece of the headset is the lenses. Without a working set of lenses, your headset's display would be completely indecipherable to the naked eye. As such, it is important to dedicate time specifically to lens care.
Products used in this guide
Getting started
Every VR user should have a microfiber cloth for cleaning the lenses. This should be stored with your headset at all times for easy access. This type of cloth will not damage your lenses, unlike rough cloth like a shirt. It is also vitally important to never use, or store, your VR headset where the sun's rays can get to the lenses. The lens can focus the sunlight and burn your display, permanently damaging your headset. Ideally, use a storage case for your Quest if you take it anywhere on the go. This will protect your lenses as well as all of the Quest accessories.
By following these tips, and our cleaning guide below, your lenses will last a long time and bring you hours of enjoyment.
How to clean and maintain your lenses
Ensure there are no sharp objects or debris inside the headset before cleaning the lenses. It's easy to slip and put a permanent scratch or gouge into the lenses if there are foreign objects inside.
Lightly moisten your microfiber cloth with lens cleaner. Do not apply lens cleaner directly to the lens, as it may leak into the headset.
Wipe the lenses in a circular motion until clean.
Getting in touch with Oculus for repairs
Should you find yourself needing to replace your Quest's lenses, you can submit a support ticket here to get in touch with Oculus Support.
Submitting the ticket takes just a couple of minutes, and once you send it off, Oculus says you can expect a response within one to two business days.
Simple cleaning
MagicFiber Microfiber Cleaning Cloths

These soft and durable microfiber cloths will keep all your delicate lenses clean. Every VR user should have a pack of these ready to use.
Full cleaning solution

This cleaning kit provides everything you need to maintain your lenses. Keep your lenses looking fresh.
Our top equipment picks
Want to enhance your VR experience? Here are a few things to help you enjoy your headset and help keep it in great condition.
MPOW Foldable Headphones ($27 on Amazon)
These over-the-ear headphones will enhance your VR experience by delivering hi-fi sound quality. Connects by auxiliary cable or Bluetooth.
Care Touch Lens Cleaning Wipes ($15 on Amazon)
To keep your headset and lenses clean from dust and debris, use these pre-moistened wipes. These will insure your headset stays clean, even with multiple users.
Oculus Quest Travel Case ($40 on Amazon)
This case will store your Quest along with the controllers, and still have plenty of room for other accessories. The rigid case structure will protect your device when you're on the go.
Get the Android Central Newsletter
Instant access to breaking news, the hottest reviews, great deals and helpful tips.