How Google can leverage Fitbit to finally compete with the Apple Watch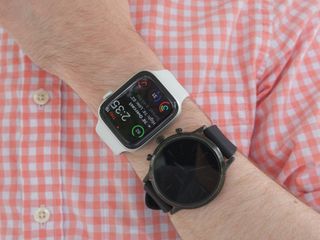 (Image credit: Joe Maring / Android Central)
The smartwatch market is an interesting beast in 2020. You have your Fitbits that deliver great fitness features at accessible price tags, Samsung's Tizen watches offer the best overall smartwatch experience for Android users, Garmin wearables are designed for people really serious about getting fit, and you have whatever Google's doing with Wear OS.
If you own an iPhone, there's the Apple Watch. You could technically use any of the above options, too, but there's no reason why you should. The Apple Watch is the undisputed champion in the wearable game, offering the best user experience by a long shot.
Out of all its competitors, Fitbit has stuck out as some of the Apple Watch's closest competition. Whether you buy a high-end Versa 2 or budget-minded Charge 4, a Fitbit wearable gives you access to an incredibly robust health platform. One of Fitbit's biggest advantages over the Apple Watch has been its top-notch sleep tracking capabilities, which is something Apple has never directly offered on an Apple Watch.
Unfortunately for Fitbit, that's now changing.
Apple unveiled watchOS 7 at this year's WWDC opening keynote, with the highlight feature for the new software being — you guessed it — built-in sleep tracking. In other words, Fitbit just lost its one edge over the Apple Watch. This comes at a time where Google is in the process of finalizing its acquisition of Fitbit, meaning if there was ever a time for Google to finally compete with the Apple Watch, it's now.
We still don't know what the end result of the Google and Fitbit deal will be, because as it currently stands, we still have Wear OS and Fitbit OS smartwatches that exist alongside one another as separate entities. Google hasn't confirmed anything one way or the other, but personally, I think the best bet is to do a Frankenstein mashup of the two things.
Even though it doesn't have the best app support and the available processing tech leaves a lot to be desired, Wear OS at its core is a pretty solid smartwatch interface. It handles notifications really well, there are media controls for music playback on your phone, Google Pay is supported, and the Google Assistant integration is top-notch. If I were Google, I'd polish certain UI elements, maybe make the interface a bit more vibrant/colorful, and ditch Google Fit in favor of Fitbit's health platform.
Google Fit is much better today than it ever was, but it's nowhere close to competing on the same level that Fitbit is. Fitbit supports all-day activity tracking, sleep tracking, female health-tracking, food and water logging, guided exercise routines, and a ton more. The Fibit OS software that powers Fitbit's smartwatches lacks a lot of basic "smart" features and apps that are present on its competitors, but all of the health-related stuff is the tops.
By combining the strengths of these two things (and pushing app developers to commit to the software), Wea rOS has the potential to be the watchOS competitor Android desperately needs.
Moving from software to hardware, I'm going to sing the song that countless Android enthusiasts have done a million times before — we need a Pixel Watch. There's an argument to be made that a Google-made Wear OS watch wouldn't bring anything new to the table that you can't get with a Fossil or Skagen one, but it's less about new features than it is marketing and name recognition.
Someone shopping for a smartwatch likely doesn't even know that Fossil and Skagen exist, and if they do, those names don't have a lot of weight for general tech consumers. Google, on the other hand, is a company that everyone is familiar with. Google needs to craft its own wearable, power it with a polished version of Wear OS with deep Fitbit integration, and market the hell out of it.
Maybe it's just me, but a Google-made smartwatch with great software, ample performance, industry-leading health tools, and full access to the Google Assistant sounds like a dream come true. Part of this puzzle relies on Qualcomm actually delivering a good smartwatch chipset, and while there have been rumors of a massive upgrade coming in these regards, we've yet to see it come to fruition.
Unfortunately for us, that's what a lot of Wear OS's future comes down to — uncertainty. Google has said that it's using the Fitbit deal to "invest even more in Wear OS," but we have no idea what that actually means. The pieces are there for Google to craft a compelling smartwatch that can possibly compete with the Apple Watch, but the longer it waits to release a product that can do this, the harder it is to see a future in which that's possible.
Fingers crossed Google can make a move sooner rather than later, because time's running out.
Sign up for Black Friday email alerts!
Get the hottest deals available in your inbox plus news, reviews, opinion, analysis and more from the Android Central team.
Joe Maring was a Senior Editor for Android Central between 2017 and 2021. You can reach him on Twitter at @JoeMaring1.