How to get weather information without downloading an app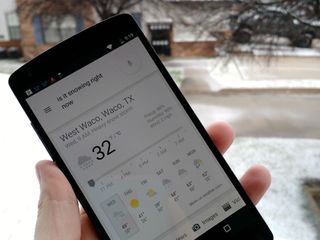 Weather is important, but sometimes you don't need a full two week forecast with barometric pressure and the exact phase of the lunar cycle. Sometimes, you just need to know if it's warm or chilly outside. Sometimes, you want to know the weather, but you just don't have your hands free.
Sometimes, you just need Google.
Google Now (opens in new tab) has always included a weather card for your current location, as well as other locations it believes you care about. With the integration of OK Google hotword detection in both the Google Now Launcher (opens in new tab) as well as some third-party launchers like Nova and Apex launchers, this inclusion meant that not only was there a weather card waiting in Google Now when you swipe up — or swipe over, in the Google Now Launcher — the weather is only a question away. Phones like the Moto X take that one step further and allow users to try have truly hands-free access to the weather.
However you get to Google Now, the weather offered there is easy to use and powered by The Weather Channel. The slider will reveal conditions over the hours of the selected day as you move it along, including the chance of rain and the projected wind speed. If you need a more detailed forecast than the 5-day provided, such as radar, there's a link to the full Weather Channel site in the bottom corner.
Google Now does more than just the immediate forecast; it can help keep you safe by alerting you to any National Weather Service warnings and advisories for your locations. Be it a snowstorm that's still two days away or a tornado that's touching down across town, Google Now can alert you if it knows where you are. And those alerts and weather cards also end up on your wrist with Android Wear, or in your peripheral vision if you're a Google Glass user.
Now, this won't be putting dedicated weather apps out of business anytime soon, but the convenience of Google Now's weather card is something Android users — and all Google Users, as these cards appear on Chromebooks and iOS devices, too — can rely on in a pinch. Do you use Google Now's weather card, or do you leave your weather needs to a dedicated app? Does Google Now's voice integration allow the weather card to supplement your weather apps when you need to know the weather while you're getting dressed in the morning? Tell us in the comments below.
Ara Wagoner was a staff writer at Android Central. She themes phones and pokes YouTube Music with a stick. When she's not writing about cases, Chromebooks, or customization, she's wandering around Walt Disney World. If you see her without headphones, RUN. You can follow her on Twitter at @arawagco.
Can it tell you how to make gazpacho?

I know you have very limited knowledge of pretty much everything but even you have to know how Google works. Then again, I might be giving you way too much credit. Posted by my soon to be retired Note 3

Google knows the forecast better than my local news stations meteorologists. Posted via my Samsung Galaxy Note 4.

http://thenextweb.com/apple/2012/04/17/apple-airs-new-siri-commercial-fe...

It's a joke. A reference to an Apple commercial. I'm a huge advocate of Google Now and use it a lot throughout my day. Don't you have a T-mobile thread to troll? Oh wait. AC hasn't posted any today. No worries. There's still time.

Your level of humor matches your intelligence... None Posted by my soon to be retired Note 3

I've used this forever... Just say "What is todays forecast for (whatever city and state)". You can also add to the end of your command "in Celsius/Fahrenheit"

If you don't specify a city and state, it will tell you the weather for your current location. Saves you saying a couple of words.

This gives you an audible forecast; exactly what I was looking for. Thanks.

Watch The Weather Channel? Posted via my Samsung Galaxy Note 4.

Exactly! I mean who doesn't carry around a TV with them every where they go?

Google Now is awesome. Great article. Posted via the Android Central App

I do this every time I want to know about the weather. No need for a standalone weather app to create more wakelocks.

That's my main reason as well Posted via the Android Central App

This is helpful. Thanks!!

It would be easier if Google would just put the temperature in the notification bar like every other weather app. Then I could just turn on the screen and take a quick look and know instead of having to talk to my phone.

They put the weather in your notification shade regularly, but an option for the temperature in the notification bar wouldn't be a bad idea.

The temperature shows on my (HTC One M7 Lollipop 5.0.2) notification bar and when I click on it it goes to Google Now weather.

I highly recommend AthmosHere weather. It will put the temperature in your notification bar plus the app itself looks and feels just like Google Now (this was the developer's intent). There's a free version but it's not indicative of the quality of the paid version. It's almost like they're 2 completely different apps

Yes, I love this part of Google Now but what I don't like is that it constantly puts a notification for the weather in my notification shade. Is there a way to disable the notification without disabling the weather card altogether? So far haven't been able to find one. Thanks guys.

Yeah. Go into Google Now settings / Now Cards / turn off "Show notifications for card updates"

Or add a shortcut to your home screen to a weather site. Most of the time I want to see a radar, which is not in Google Now.

Then just use Raindar as your weather app. Much less battery-draining than standalone weather apps.

+1 Posted via the Android Central App

I don't use a stand alone weather app, I just go to Weather Underground in my browser. I get forecast and radar data with no weather apps installed.

You know what, good friggin point. Think I will remove Weather Bug and rely on Now. Posted via Android Central App with my LG G3

You'll be happy you did. Posted via the Android Central App

Google Now seems to be slower in updating me of severe weather compared to WeatherBug

This article is, just now, explaining my reasoning for choice in last month's poll for favorite weather app. Thanks Ara.

+2 Posted via the Android Central App

No thanks Posted via the Android Central App

You can also get the weather in your calendar Posted via the Galaxy Note 4

Really? I'm going to check that out. Posted via the Android Central App

This is I check weather. There's really no need for a dedicated weather app when Google Now displays the weather so nicely. Posted on my OnePlus One

Exactly Posted via the Android Central App

Why ANOTHER weather app (or lack of) article? Posted via the Android Central App

Because AC rules!! Posted from my Droid Turbo, Kelly and Ozone

WACO!!!! SIC 'EM BEARS!!!!

Get some decent pizza joints in this town!!! There are burgers aplenty, but damn it, I need good pizza!!

There's Poppa Rollo's, but that's pretty much it outside of the usual chain-fare.

Ok Google when will it get above freezing!? Its been far too cold for far too long!

Useless. Google Now cards don't tell you the feels like temp (with windchill or with humidity).

I've always preferred Google products, but in this case, I just can't rely on weather.com channel, the channel used by Google.
Several times, it has said there's no chance of rain in my location, but we have a heavy rain over here!
That's why I rely on AccuWeather. This is the channel which seems to be pretty correct about weather prediction over here. Posted via the Android Central App

If you could select the source, like HD Widgets allows, Google Now's weather would be better for many areas. But for me, they do alright.

Yeah its called weather.com

No thanks. Not a fan of Google Now, speaking to my device nor weather.com as a weather source (Weather Underground , Intellicast or a local news channel weather blog are preferred). Thus why I stick to a dedicated weather app, such as BeWeather Pro (uses Weather Underground as a source), where I can put a clock/weather widget on my home screen and the temperature in my notification bar (all of which can be configured to update on a set schedule or on demand as needed) or bookmarks in my web browser to aforementioned weather sources. :)

For some reason this has recently stopped working for me. No matter what I do I can't get Google now to show me a weather card anymore. If I say or type something like "What's the weather?" (I've tried lots of variations) it just shows web results. Anyone else seeing this? It worked fine until a few days ago. Incidentally the same type of thing happens if I try to see something like a stock quote. Previously it would show the quote directly in a card, now I'm just seeing web results. I've tried clearing my card history, switching Google accounts, etc. Nothing I do seems to make a difference. Posted via Android Central App

Yeah same here as of this morning. Posted via Android Central App

I'm glad I'm not the only one! Transit doesn't work either. I'm not sure about the other cards. Posted via the Android Central App

Try now, it was offline this morning, but it came back just now for me. Weather did, anyway.

Google Now is the only one I use. It went wonky on me and disappeared this morn though. Even normal voice commands arnt bringing up the card. Odd. Same on my tablet. Posted via Android Central App Just saw above post and yep all I get now is Web results.

No "feels like" temperature
Google Weather is useless Posted via the Android Central App

I don't use it that much at a glance but I do just ask what the weather is like for the day. And appreciate the severe weather notifications pushed to my Gear 2 or Pebble. Posted via Android Central App via my Sprint Tab 3 LTE.

Hey Ara, the Google weather card is one of the specific examples used in a Tech Crunch article by Robert Fan yesterday. In it he describes how cards are changing how we use the Web, website design, and our mobile devices, including a shift away from using specific apps for certain needs. It's an interesting read... http://techcrunch.com/2015/02/27/cards-transforming-web/ Posted via the Android Central App
Android Central Newsletter
Thank you for signing up to Android Central. You will receive a verification email shortly.
There was a problem. Please refresh the page and try again.