How to get the Pixel fingerprint gesture on other Android phones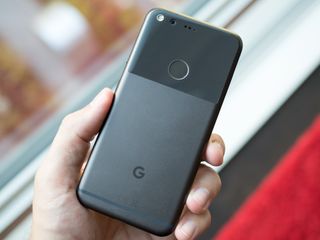 The fingerprint sensor on the Google Pixel isn't just for unlocking the phone; it performs a host of Move shortcuts. One of the most interesting and potentially useful of the bunch is swiping to pull down the notification shade, making one-handed operation (especially of the Pixel XL) much easier.
That feature would be handy on other phones, no? Here's how to get it!
How to enable fingerprint gestures on non-Pixel Android phones
The developers at Code boy studio have come up with a somewhat experimental app that tries to add Move shortcuts to all fingerprint sensors, called Fingerprint Quick Action.
It doesn't exactly work flawlessly. In fact, it's pretty hit and miss, but the quick tap feature does bring down the notification panel, so if you just want it for accessing your notifications, then it works fairly well.
That being said, the developers are pretty up-front about the app and don't try to peddle it as something revolutionary — the "Fast sipe & Quick tap" section even says "Experimental" next to it.
If you want to give it a try (efficacy differs from phone to phone), then here's how!
Download the Fingerprint Quick Action app

(opens in new tab)

.
Launch Fingerprint Quick Action by tapping Open in the Google Play Store or by tapping it on your home screen or in the app drawer.
Tap OK, I got it on the pop-up once you have read the disclaimers.
Tap the checkbox next to Enable Fingerprint Quick Action.
Tap OK in the pop-up regarding Accessibility.
Tap Fingerprint Quick Action (third from the top).
Tap the switch to enable it.
Tap OK.
Go back to you home screen or the app drawer and launch Fingerprint Quick Action again. For some reason, the app gets stuck in your settings and tapping back only brings you back to the home screen.
Tap Single tap action.
Tap a function. Toggle notification panel works the best, but you can try all of them to see which works best for you.
Don't let the name of the feature fool you: Just tapping the fingerprint sensor doesn't really work. You need to hold it there for a moment so that it registers.
If you'd like to swipe to reveal the notification panel instead, then tap Fast swipe & Quick tap action and choose an action. Again, toggling the notification panel works the best, but experiment and see which functions work well on your phone.
Swipe down across your fingerprint sensor to reveal the notification panel, and swipe down again to hide it — swiping upward does nothing.
How to enable double-tap and allow only enrolled fingerprints
Double-tap and using only "enrolled" fingerprints are great security measures and can save you a headache if you don't mean to touch the fingerprint sensor. Enable both for full control.
Launch Fingerprint Quick Action from the home screen or app drawer.
Tap the checkbox next to Enable double tap. Now you'll have to double-tap or double-swipe the fingerprint sensor to carry out the actions you've specified for each action.
Tap the checkbox next to Respond to enrolled fingerprints only. Now only fingerprints registered in your phone will be able to use the fingerprint actions.
Beware that if someone else tries to use fingerprint actions and their fingerprints aren't registered in your phone, the fingerprint sensor will stop working until you lock your phone and unlock it with your pattern or PIN.
Download Fingerprint Quick Action from the Google Play Store (opens in new tab)
Any questions?
Interested in adding Move gestures to your phone? Spent some time experimenting with Fingerprint Quick Action? Let us know in the comments below!
Get the Android Central Newsletter
Instant access to breaking news, the hottest reviews, great deals and helpful tips.
Mick is a writer and duty editor for Android Central. When he's not on the job, he can usually be found vacuuming up pet hair or trying to convince his wife that he needs more guitars.
My Honor 8 has all this and more.

Look at you! On top of the food chain.

You're not.wrong... #innovation Then again that said it's only cool when the darling Pixel does it.

Yes. Loving my Honor 8 for 1/3 of the price of the Pixel.

Best deal on a phone in my opinion and looks 10 times better than the Pixel too.

Another app is Fingerprint Gestures.

https://www.androidcentral.com/e?link=https2F2F... T
You mean this one? This works better on my 6p. The one in this article works a few times before being cancelled by don't know who.

I much prefer the finger print sensor on the front like my note 5 as I would rather not pick the phone up when on my desk if need be.

On the Nexus 6p it's not a smooth and fluid finger gesture at all..It's really a joke compared to the Pixel or Pixel XL...

Works a charm on the V20.

S7 it is working perfectly

LG V20 Works perfect every time

I've tried it and find it to be a gimmick. It seems a lot easier to just swipe down from the top.

In my daily use, I found this app to be intrusive. I naturally rest my finger on the fingerprint sensor of my Nexus 6P when I'm using it and when I was on the road this app were more of a problem than an assistance. It could be good for some people, but not for me. I accidentally pulled down my notifications several times. I'm sure that if I had the Pixel, I would disable this option.

This is a hit, miss app. Installed, setup, and it worked a few times, then stopped working(?) altogether. This, and fingerprint gestures, are hit or miss. Works, with some, others, not so much. I even adjusted my Power saving features, to no avail, and accessibility was adjusted. It, and fingerprint gestures, initially worked, but I think the real reason it worked sparingly, is because of not being a device administrator.