How to use YouTube TV to get the most out of sports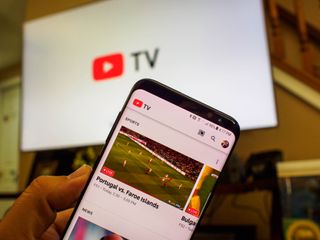 (Image credit: Android Central)
YouTube TV not only lets you watch you favorite sitcoms and dramas, but it also gets you access to the biggest sports events on television. With so many channels, programs, and teams, it can be difficult to keep track of everything. That's why we've got the details on how to find every game you want to watch!
Search for a team
Finding out if YouTube TV has programming with your team is easy, all you need to do is a quick search for the Team name. Since a decent amount of the sports programming on YouTube TV is region specific this will let you see what programming featuring your team is available.
Open the YouTube TV app.
Tap the search icon.
Type out the name of your team to search for it.
Watch live sports
While recording the game to watch it all later is awesome, the best part of sports is watching the game live. You can do that with YouTube sports, it just requires finding the event is the right tab.
Open the YouTube TV app.
Scroll down to the Sports tab.
Tap to watch live sports events.
Add a sports program to your Library
Open YouTube app.
Tap the search icon.
Type to search for the name of the program you want to add.
Tap the program that you want to add to your Library.
Tap the plus icon to add it to your Library.
How to add a sports team to your Library
Open the YouTube TV app.
Tap the search icon.
Search for the team you want to add.
Tap to select your team.
Tap the plus icon to add all upcoming games to your library.
View scores from recent games
Open the YouTube TV app.
Tap the search icon.
Search for the team whose scores you want to view.
Tap to select your team.
Tap See all completed games, to view all recent scores.
Questions?
Do you still have questions about watching sports on YouTube TV? Is there something important that we missed? Let us know about it in the comments below!
Android Central Newsletter
Get instant access to breaking news, the hottest reviews, great deals and helpful tips
Jen is a staff writer who spends her time researching the products you didn't know you needed. She's also a fantasy novelist and has a serious Civ VI addiction. You can follow her on Twitter.
Great service, but too much money for how little channels! Bring more channels then you got me!

Not to mention I couldn't even stream my local NFL game..

The reason you can't watch your local NFL game via mobile is because Verizon bought exclusive NFL rights to stream to mobile this season and you have to be a Verizon customer using their dedicated app on order to do so. This is also true if you are using your mobile device as a mobile hotspot. One caveat I found while using it though is if you use Casting to a Chromecast or Android TV it appears to let you bypass the restrictions

Yeah same problem here with local NFL game... I could play it on my Cable service on TV fine, but when I tried to watch on Youtube TV from a tablet, chrome book or PC it still said it was blocked. Why is that? About to cancel Youtube TV.

It should have worked on a PC, but a warning likely popped up letting you know that Mobile Devices are blocked (that's because of Verizon's Exclusive Deal). I was able to cast it to my TV via Chromecast though, but only after I turned off my VPN.

I agree from everything I've read and researched it should have worked but it didn't. It looked as if it thought the dolphins was blacked out because it was local market to me even though I'm in Orlando. It just didn't work no matter what. I hate the Verizon exclusive deal. I would pay an extra $10 per game to be able to watch/record all 16 games. Even more if we made the playoffs. Lol.

You do realize the Dolphins and Buccaneers didn't play last week because of Hurricane Irma, right? There was no game to televise.

Same problem for me with local games. I'm just getting an antenna, but it's pretty annoying to see all local sports markets locked down by the regional ISP monopolies.

Even with an antenna, I would have to get some kind of DVR or PC to record the games that I won't be able to watch live. After all of that the savings are just not there to switch from cable.

YouTube TV needs to be supported on Android TV. Can't believe they still haven't done this. And it needs more channels. My wife needs HGTV. So we are still on Playstation Vue.

I'm trying Youtube tv and like it so far. It might have fewer channels to alternative services but doesn't mean much if i don't watch those extra channels anyways. Having the regional sports channels (nesn and csn) and dvr included is a big plus for me. Way better performance for me than directv now ever had. Others experiences I'm sure may vary.

YouTube TV needs two fixes to be great for sports. One, if the match has started, but hasn't finished yet, it needs to allow the user to start from the beginning. Right now you can only watch live until it's over. This is a must needed fix. Second, it needs to allow for season passes for competitions, not just teams. For example, I want a season pass for the Premier League and the Champions League, not just my favorite team.

This is a deal-breaker for me. I was waiting for YouTube TV to come to my area. I'm using PlayStation Vue for now and it lets you start over any live event as long as you have added it to your shows.
Android Central Newsletter
Get instant access to breaking news, the hottest reviews, great deals and helpful tips
Thank you for signing up to Android Central. You will receive a verification email shortly.
There was a problem. Please refresh the page and try again.