How to enable Oculus Quest hand tracking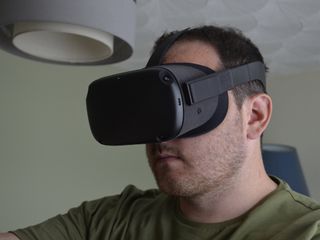 (Image credit: Android Central)
The Oculus Quest is a standalone virtual reality (VR) headset that doesn't require any cables to be connected to your PC. The device has received a number of new features in recent months, but hand tracking may be the most significant. With firmware version 17, the Oculus Quest will automatically detect the presence of controllers and switch to hand tracking when no controllers are detected.
No longer an experiment
Once an experimental feature that needed to be separately enabled, hand tracking on the Oculus Quest now simply "just works" whenever the headset doesn't detect any controllers in use. To begin using your Oculus Quest with only your hands (and without controllers), simply put the Oculus Quest on your head and power it on. Your hands will be automatically detected and you can navigate through the entire Oculus Home screen with just your fingers.
What's more, whenever you'd like to switch from controllers to hand tracking at any time, all you'll need to do is put your controllers down out of harm's way and put your hands out in front of you. Within a second or two, the Oculus Quest will realize that you are no longer using controllers and will switch to hand tracking for any application that you're using, so long as that application supports it.
When games or applications do not support hand tracking, the Oculus Quest will let you know via a pop-up dialog box that controllers are required. Some developers have announced plans to include hand tracking in an update or for their next titles, but the main point is that specific apps and games need to be built with hand tracking in mind, otherwise you'll need to stick to using controllers.
Are you already using hand tracking on the Oculus Quest? What do you think of it? Let us know! If you'd like to learn more about what you can do with Oculus hand tracking, check out our guide.
Versatile VR
Options to enjoy VR
The Oculus Quest is known for its untethered nature, but now it also has the ability to play PCVR games with Oculus Link. The feature is in beta but allows you to play powerful VR games on a headset that you can then detach from your PC and use on the go.
Anker Powerline USB-C to USB 3.0 Cable
Oculus recommends this cable for trying out Oculus Link until the official Oculus Link Cable becomes available.
GodSpin USB-C to USB-C Cable (6.6 feet)
This USB-C to USB-C cable supports 20 Gbps transfer speeds, 5A/20V power, USB 3.1, and USB 3.2.
Updated May 18, 2020: Hand tracking is now generally available. The Oculus Store will start accepting titles with hand tracking on May 28, 2020.
Be an expert in 5 minutes
Get the latest news from Android Central, your trusted companion in the world of Android