Everything you can do with Oculus Quest hand tracking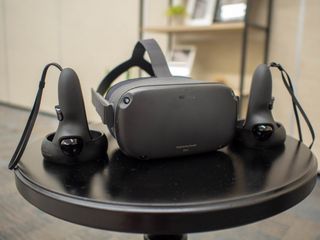 (Image credit: Android Central)
The Oculus Quest is a standalone virtual reality (VR) headset that doesn't require any cables to be connected to your PC. The device has received a number of new features in recent months, but hand tracking may be the most significant. With firmware version 17, when controllers are not detected, the Quest will display a digital version of your hands as it detects them, allowing players to interact with menus and games as if their hands were in the virtual world. Oculus has deemed the feature to be good enough for retail games and is now allowing paid games to be released on the Oculus Store.
Menu navigation
You can interact with the Oculus Quest menu from the Library to the Store. Just point at and pinch whatever you want to select. The same applies to fast-forwarding or rewinding trailers in the Oculus Store.
Oculus services
Select apps like the Oculus Browser, Oculus TV, photo library, and more work with hand tracking as well. However, it's not perfect and deleting screenshots is cumbersome because you have to select minuscule trash can icons. This has gotten better over time with prediction and improved software, but it can still be tough to select smaller buttons and objects at times.
Games
Hand Tracking was an experimental feature for several months and only became available to developers earlier in 2020. Many free and inexpensive indie games, found in our Best free hand tracking games guide, were the first games to offer hand tracking functionality. Many of these experiences can be considered "tech demos", though, and not full games.
As of May 18th, Oculus confirmed that Waltz of the Wizard: Extended Edition, The Curious Tale of the Stolen Pets, and Elixir all officially support Oculus hand tracking throughout the entirety of these full retail games. Looking forward, we expect to see titles such as Bigscreen and Virtual Desktop add hand tracking support in the near future, due to the responses of these developers on Twitter.
It's worth noting that it's extremely important to play in a very bright room when utilizing hand tracking on the Oculus Quest. Since the tech relies entirely on cameras and software to interpret your hand movements and doesn't have a way of tracking fingers or hands when they pass behind objects, there's bound to be some error in the calculation and some funny glitches that'll pop up. Just know that, overall, hand tracking is less precise than doing things with controllers, but some times the convenience of not having to deal with controllers, or the immersive nature of seeing your actual fingers in VR space, is worth the trade-off.
Updated May 18, 2020: Hand tracking is now generally available. The Oculus Store will start accepting titles with hand tracking on May 28, 2020. You can read more about hand tracking here.
Versatile VR
Options to enjoy VR
The Oculus Quest is known for its untethered nature, but now it also has the ability to play PCVR games with Oculus Link. The feature is in beta but allows you to play powerful VR games on a headset that you can then detach from your PC and use on the go.
Anker Powerline USB-C to USB 3.0 Cable
Oculus recommends this cable for trying out Oculus Link until the official Oculus Link Cable becomes available.
GodSpin USB-C to USB-C Cable (6.6 feet)
This USB-C to USB-C cable supports 20 Gbps transfer speeds, 5A/20V power, USB 3.1, and USB 3.2.
Get the Android Central Newsletter
Instant access to breaking news, the hottest reviews, great deals and helpful tips.