How to enable Night Mode on your Nexus in Android 7.0 Nougat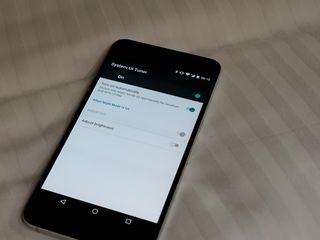 During the Android 7.0 Nougat Developer Preview, Google experimented with a system-wide Night Mode that offered a number of improvements to compatible Nexus phones to allow them to work better at night and in other low-light situations. Unfortunately for tinkerers (but completely understandable for a variety of reasons), that mode was hidden in the run-up to Nougat's release — but with a little help you can get at least some of those features back.
While the overall dark theme is not available, Nexus devices running Nougat (5X, 6, 6P, 9, Pixel C) can activate a handy blue light filter similar to the one found on the Galaxy Note 7. Here's how.
How to get Night Mode on Android 7.0 Nougat
Open Google Play Store.
Tap Search bar.
Enter Night Mode Enabler

(opens in new tab)

. Press Install.
Return to home screen.
Pull down on Notification Shade.
Pull down again to enter Quick Settings.
Hold down on Settings icon (cog icon). You should feel a vibration and see a message saying, "Congrats! System UI Tuner has been added to Settings."
Return to home screen.
Open Night Mode Enabler app.
Tap Enable Night Mode.
Toggle Night Mode to on.
Toggle Adjust tint to enable blue-light filter.
That's it! Now you have what's remaining of Night Mode in Nougat. This certainly isn't the ambitious system-wide dark theme that many people wanted when it was first previewed, but this is really useful nonetheless.
Get the Android Central Newsletter
Instant access to breaking news, the hottest reviews, great deals and helpful tips.
Daniel Bader was a former Android Central Editor-in-Chief and Executive Editor for iMore and Windows Central.
Nice. I was looking for this for sometime. Thank you.

Night mode always been enable on my N6P all the time.

Now we just need a factory image for the Nexus 6 first. I've been waiting since Monday. No factory image and no OTA image yet.

Man, enroll to beta and you will take the image you re looking for immediately until the official kicks your door. I have it since august 22

Their is no nexus 6 ota image or full image yet. Only 6p has it. Not even for the beta, it's still the preview edition for the nexus 6 beta.

I'm just curious as to why they keep pulling this feature out of the final release? I feel as if it has been done before, correct me if I'm wrong.

Other manufacturers have the feature

And that's valuable information in a story directed at Nexus owners because... ?

I was referring to the comment about it being done before.

He was referring to done before in the Nougat beta without having to install an app I believe.

Night mode has bugs. It didn't turn on or off automatically for me, had to use the toggle, yes the auto in settings was on. After one day I wound up with duplicate Bluetooth and alarm notifications icons next to the clock, searching lead to people experiencing the same thing with night mode in the betas. I don't see that it would fade in unobtrusively, toggling the back light enable made it too dark, off not dark enough. I'm going back to Twilight Pro. It's a far better experience.

Same here; easier to use Twilight until this feature is bug-free.

Am I the only person that still has the native night mode still. It is on both my 6P and Pixel, and both are in the public release of 7.0.

Where at? I'm not finding it on the official release for the 5X.

If you had it on in the beta you apparently keep the setting enabled after upgrading to RTM. I think I saw it mentioned that it will go away if you do a factory reset.

Nope, I have it too. I ran the developer preview version of 7.0 on my 6P and am now running the official stable release and both have had night mode without me doing anything on my part

I still have it in the quick settings on my 6p as well. I've been on 7.0 since DP3 and am on the stable release now.

Same here, was just about to post a screen shot. But you can't post photos to the comments threads in the app.

I as well still have the native night mode. I don't have the dark theme, but I still have the blue light filter.

That's because you upgraded to final from the developer preview that had it. If you factory reset you'll lose it.

Lol I was reading it this being so confused. Thought I was the only one.

One day when I receive the update I can check this out..

I'm surprised they keep removing this. I use night mode on nova launcher it's not quite the same but does the job!!

Sigh. Microsoft was able to add a toggle dark mode for win 10 and most of its apps, why is Google so adamant about everything be white?

Thru need to sort this out. Night mode/blue light filter (an actual one, not a red overlay) is indispensable. I won't buy another phone that doesn't do it well out of the box.

Yeah, I still don't have night mode :( Never mind... Just had to toggle it on and off a bunch of times. Now it's there! Hurrah!!

It's lot better to use Twilight app than this!

Twilight is a nonsensical app. It doesn't dim the blue subpixels at all, it just puts an orange overlay over your screen.

Yeah ... Not installing some app just to have night mode. I'm sure Google will fit it in some time in the future

Hasn't Android's big seeking point was that missing features could easily be filled by third party apps?

I hit the reported button by mistake trying to edit a typo in my comment. Sorry.

Wow I jumped on this immediately without reading and then my screen turned orange. Not exactly what I was hoping for lmao. Oh well though,ill take extra settings.

It's jarring at first, but as you get used to it...then switch it off at night. The steel blue/white...now that's jarring.

I tried it on my 5x and in a way I kinda liked all the colors more in that mode. Obviously I don't want my whites to be orange all the time but everything else had that cozy warm color that I prefer on my 6.

Yeah, ditto! At least it's an option besides Invert Colors.

Makes reading at night better but I expected more from dark night mode. Oh well.

Ahhhhhhh, i want a full dark/night mode on my phone, and layer themes too..come on Google, Samsung, HTC and Sony have it >_> Posted via the Android Central App

Ahhhhhhh, i want a full dark/night mode on my phone, and layer themes too..come on Google, Samsung, HTC and Sony have it >_> Posted via the Android Central App

Just checked and I do have a native night mode. Nexus 9, beta build NPD56N.

Nobody wants that dumbass filter. We want the full blown dark theme they keep teasing. Smh. Google needs to get it together.

Google is a welfare program. Apple is private sector. SSI versus Pension.

No idea what that has to do with anything but okay..

I never lost night mode, just the ability to have it run automatically.

If anyone is having trouble, toggle it on and off about five or so times in a row, and it should finally appear in the quick settings.

Thanks. That finally did it!

You're welcome; mine wouldn't appear no matter what how many times I turned it on, until I finally angrily just hit all of the buttons a billion times and it appeared.

We will see if we hopefully get a dark theme in one of the future MR of Nougat I would be very upset if lot of these new features that we see in AP articles are only for the 2016 nexuses.

Very informative, thank you!

Install Nova Launcher on a rooted phone, enable Night Mode in Nova Launcher.

This option is no longer available with the Android 7.1 beta.

This option is no longer available with the Android 7.1 beta.

Confirmed.. Doesn't work on Nougat 7.1. hope the dev decides to update it so it does work.