How to enable night mode on the Galaxy Tab S3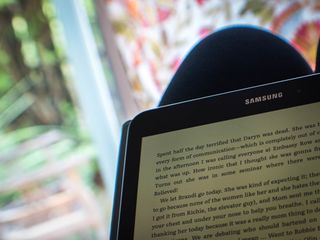 I love to read late at night, but doing so on a backlit tablet display isn't the best idea before settling in for some shut eye. Studies have shown that the blue-hued light emitted from screens are detrimental to keeping the circadian rhythm functioning as it should.
Samsung equipped the Galaxy Tab S3 with a yellow-hued night mode so that when you're using the tablet before bed – reading digital magazines or e-books, for instance — you aren't surreptitiously telling your brain you're avoiding rest. You can set it up to automatically switch on after sundown, or toggle it on from the Quick Settings.
How to enable night mode on the Galaxy Tab S3
From the Quick Settings, tap and hold the Blue light filter option.
Tap to Turn on as scheduled.
Tap to select Sunset to sunrise.
Tap on Custom schedule if you'd rather customize your start and stop times.
After setting up your schedule, you can adjust the opacity of the Blue light filter by tapping Turn on now in the same menu screen and using the slider above to adjust as you see fit.
Questions?
In need of more help navigating around your S Pen-equipped Samsung Galaxy Tab S3? Let us know!
Get the Android Central Newsletter
Instant access to breaking news, the hottest reviews, great deals and helpful tips.
Florence Ion was formerly an editor and columnist at Android Central. She writes about Android-powered devices of all types and explores their usefulness in her everyday life. You can follow her on Twitter or watch her Tuesday nights on All About Android.
No proven health benefits with this filter but if you find a placebo effect, great! For me it's nothing but bloatware.

Whatever floats your boat. I can't go without it. After using it for a few hours at night, flip it off. The blue fade-in is horrible. And I don't really think the claim is "health benefits." If you are referring to the circadian rythm, yes, it's been proven that blue light negatively affects this. Disagree if you like and don't use it if you like. Choices = good.

Even though I don't use it all the time and very few select devices have it I like to have the option of Night Shift, Night Light, Blue Lighte or whatever else other companies want to call it. I know this is off topic, but Flo is 10!

Is there a workaround for the Galaxy Tab S2? Just bought the 8" version at Best Buy and it shipped with Nougat 7.0(!), but there is no blue light filter in this version of Android that I can see.