How to enable Easy Mode on the Note 4 (and why you might want to)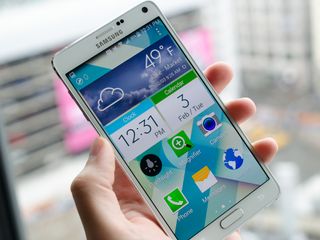 Whether it's for a short time or permanently, Easy Mode keeps things simple on your phone
We all have a seriously powerful computer in our pockets, and the Galaxy Note 4 takes that notion to the extreme with its laundry list of features backed up by high-end internals and a large screen. We know not everyone needs access to all of those features at once, though, and luckily there's a simple way to scale down the experience with Samsung's "Easy Mode" on the Note 4.
Whether its because the phone will be used by a less-experienced user or you just want to simplify things for yourself for a short period of time, Easy Mode will give your phone an easier-to-handle home screen experience, basic settings and access to just the things you need with fewer frills. Best of all it's easy to switch between Easy Mode and your standard home screen layout without losing any data or settings. If you (or someone you know) may have a use for Easy Mode, be sure to read along and get all the details on how to use this feature on your Galaxy Note 4.
Enabling and disabling Easy Mode
To enable Easy Mode on the Galaxy Note 4, simply head into Settings and scroll down to the "Personalization" section, then tap Easy Mode. You'll then have the option of toggling between Easy and Standard Mode, and choosing which apps will be placed on the launcher when you enable Easy Mode.
Tap the Easy Mode button, select the apps you want to have on the home screen at first launch (you can change these later) and hit Done at the top of the screen. After a few moments your phone will return to the home screen, showing you a new but familiar experience that's simpler to navigate and use.
By default you'll have access to just three home screens, with the main one being used for a set of three widgets — weather, clock and calendar — and six apps — flashlight, magnifier, camera, phone, messages and the Internet browser. The home screens to the left are devoted to a grid of favorite contacts, which you can select on your own, and to the right you'll see a more standard app grid that is three apps wide and four apps tall. The standard dock and app drawer icon are gone from the bottom of the screen — you can get to the app drawer from the More apps button on the rightmost home screen instead.
The notification pane, quick settings toggles and hardware buttons all work the same in Easy Mode, meaning you won't have to change the way you use the phone's basic functions when switching modes. You will notice that the Settings menu has a slight visual change, though, surfacing the most important and often-used settings options and hiding the rest behind a "More settings" button if you need them.
Even those who need an Easy Mode likely want to customize things to their liking, though, and this mode does enable you to do just that.
Configuring your phone in Easy Mode
Easy Mode makes it pretty clear where things can be tweaked, using giant + signs on empty spots on the home screens indicating there is content that can be added. On the left-of-center home screens you'll be able to tap these spots to add individual favorite contacts, and on the right-of-center ones you'll have the option to add apps — in either case you can't add widgets or manipulate the ones on the main home screen.
When you tap an empty space on the home screen to add an app, you get a simple alphabetized list of every app you have installed, which you can scroll through manually or search using the box at the top of the list. Tap an app you wish to add and it'll be put into the space that you tapped — you'll then be taken back to the home screen. If you want to access an app from time-to-time that doesn't warrant being pinned to the home screen, simply hit the More apps button in the bottom right corner of the screen.
To remove and rearrange apps and home screens, tap the menu button — which looks like three vertical dots — in the top right corner of the screen and tap Edit. You'll then be able to tap the - button over any app that can be removed, and its shortcut will be replaced with an empty space where you can then add an app of your choice. The only exceptions here are the pre-installed widgets and the Flashlight and Magnifier apps. It may not be as intuitive if you're used to the long-press drag-and-drop method of moving apps on a home screen, but this way there's plenty of clarity as to how to move apps around.
While still in the edit mode, you can add an additional page of favorite contacts on the left side by hitting the Show button at the top of the screen, or add up to two additional pages of apps on the right by using the same button at the top of each.
Going back
If you ever need to go back to your standard home screen arrangement, simply head into the settings, find Easy Mode again and switch the button back to Standard Mode and hit Done. Your normal home screen layout will all be returned, whether you use the pre-installed launcher or another one of your choice — no additional setup required.
Andrew was an Executive Editor, U.S. at Android Central between 2012 and 2020.
Galaxy Note 4 is a great phone, but if you're going to use it in easy mode you might as well just get the iPhone 6 Plus. Easy mode defeats the purpose of Android! Unless of course you're super young or super old. Posted via the Android Central App

Exactly... Posted via My Beastly Galaxy Note 4...(T-Mobile)

I think it's a nice feature. On my next upgrade my dad will get my old S4 and for him it's great. A big advantage of the easy mode is that Samsung also re-made many of the apps to have larger touch targets which is very nice for old people. Combined with the Adapt Sound feature that adjusts the sound output to the hearing problems of a person it's a great combo. Actually an iPhone can be a nightmare for old people with it's many gesture based apps (as well as some newer Android apps). People who are not that much into it need buttons / touch targets they can see - not touch gestures they have to "guess".

Options though. It's all about options. At least it's there. That's what makes android great.

Does it get rid of all bloat running in the background!? Posted via my Nexus 6

No bloat running on the Note 4 for Verizon. There are per-installed apps that I don't use but I just turned them off. Others might use them; that at their call. Even if you leave all of the built in apps they don't use any power or memory unless you use them; they did a good job on this phone.

If someone doesn't use the phone in the same way I would use the phone they should just not get it. Dumb.

No it doesn't, it is the purpose of android of having many choices available on how you wanna use your device. Posted via the Android Central App

You know... my first reaction when I saw this article was to roll my eyes. Seriously. Who needs easy mode? But you know what. I'm wrong. And it just hit me. This is a solution to an issue I've been mulling over. I have an elderly relative who is extraordinarily uncomfortable with tech. I tried to give her a Moto G last year and it was just too much for her. She recently said she might be ready to try something new, but she wanted something bigger. So, I thought - Note 4, Nexus 6, or iPhone 6 Plus? I know I'd pick the Nexus 6 in a heartbeat, but this is not someone who needs to be a Google beta tester. The Note 4 has a stylus, which I think she may like. But Touchwiz can get a little carried away, especially for a luddite. And while I understand there is a nice polish to the iPhone 6 Plus, I haven't used iOS in 2 years, so my ability to support her will be limited, and she'll be on a different ecosystem. Then... this article. WOW. It just hit me. This is PERFECT for her. She doesn't need more than 2-3 apps (Skype, Hangouts, and basic internet if she wants to try that) and the ability to make a call. AND once (or IF) she becomes more comfortable, we can "open it up" and let her have full access to the phone. So, bravo to Phil, Andrew, and the whole editorial team for going this direction. I may not care about Easy Mode, but I never would have thought of it as an option if not for this article.

You just did something most people don't have the guts to do these days:admit you're wrong. Kudos good sir. Posted via Android Central App

I thought I was wrong once, but I was mistaken.

Actually, you were right! About being wrong. I think. :)

Don't think you really need to be buying a current flagship though. A second hand note 2 would be perfect. Posted via the Android Central App

Is a note 2 or note 3 running the latest version of android/tw (not as in Lollipop... just whatever the N4 is running)? I'm not as concerned about features as functionality. She doesn't need the horsepower, but the UI gets a lot of polish from year to year...

Make sure you setup her email and text. Grandparents tell me they have to figure out texting if they want to be in contact with their children and grand kids. Posted via the Android Central App

I'd there something similar on the S5? Posted via Android Central App

Yes, this mode started on the GS4. Go to setting, and you will find easy mode/home screen mode depending on the carrier Posted via the Android Central App

Yup! Nearly identical: http://www.androidcentral.com/how-enable-easy-mode-galaxy-s5

Well I work as a Samsung rep, and I can honestly say this is really popular among the older generation. In fact my grandmother who was having a really hard time with our old GS3 loves this mode on her GS5. It was a smart move by Samsung. Posted via the Android Central App

I like Easy Mode wen I am in the car. Should I need to use the phone the huge icons make it easier to find what I need.

Well there's always Google Now for that too unless you don't like using voice commands. Posted via Android Central App

Hopefully Android Auto will take care of this issue for us within the next couple of years.

Haha those icons are ALMOST as big as the icons on my N6.... Posted via my Nexus 6

Lol Posted via the Unrivaled Note 4 or Tab S 10.5

Ohhh haaaeeell no. Enabling easy mode on a device that powerful is almost inexcusable unless you're over 70, almost blind, or mentally handicapped. Not that there's anything wrong with that. Lol Posted via the Unrivaled Note 4 or Tab S 10.5

+1 Posted via the Android Central App

I understand why articles like this exist, but if someone is reading a dedicated android blog, can we assume they know how to do things like change the wallpaper and enable easy mode? I know you probably have to submit a certain number of articles, I know I do, but why not offer something that can't be found in every tips and tricks article or through a Google search?

I have had a Note 3 for 14 months.
There's a regular mode? Posted via the Android Central App

Just picked up my Note 4 this weekend and love it even more then my Note 3. TouchWiz really has made strides throughout the years. Looking forward to what the Note 5 brings Posted Via AT&T Note 3
Android Central Newsletter
Thank you for signing up to Android Central. You will receive a verification email shortly.
There was a problem. Please refresh the page and try again.