How to easily sync your iCloud calendar to Android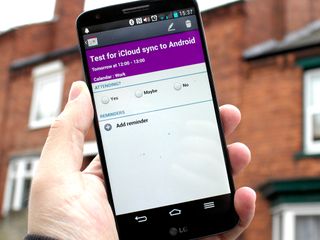 One app makes it simple to keep using your iCloud calendar on Android
With all the awesome Android devices on the market today, it's perfectly understandable if you're ditching your old iPhone and coming to join us where things are more Google flavored. But, with leaving one ecosystem completely comes the problem of moving all your stuff with it.
iPhone owners may well have relied upon iCloud in a similar manner to Android users relying on Google. Fortunately, there's always something you can do to bring thing with you and here we're going to look at syncing your existing iCloud calendars to your Android device. You need not move it all to Google Calendar since there's a really simple way to carry on using it. Head on past the break to see how.
Thanks to an enterprising developer, Marten Gajda, you can import and two-way sync your iCloud calendars to the stock Calendar app on your Android device. With his app, Smoothsync for Cloud Calendar – grab it from the Play Store at the link up top – it's as easy as entering your iCloud credentials. It is a paid app, but for the ease of use alone it's well worth the outlay. After all, moving over to Google Calendar isn't a suitable option for everyone.
You enter your account information when you fire it up for the first time, confirm the calendars you want to sync and then tweak the settings to your liking. That easy. There are a wide range of time intervals available to set up for auto-sync, and you're even able to specify whether you want to be able to sync back from your device to iCloud or not. The latest version also supports syncing of iCloud Reminders, too.
Perhaps the best thing about using this app is how it just works in the background. You can always enter it to adjust settings as and when you please, but ultimately you just use your Calendar app as normal. You need to remember to select the right calendar when creating events, but otherwise it's the same exact experience as you'd have as using a Google Calendar on your device.
So, for $2.99 you can keep using your iCloud Calendar with minimal fuss. What this does, it does exceptionally well. For that alone it's well worth checking out if you're looking to keep your calendar's with Apple.
We're always keen to hear your tips and tricks, though. So, if you've got an alternative, or something you think is even better, be sure to drop it into the comments below!
Get the Android Central Newsletter
Instant access to breaking news, the hottest reviews, great deals and helpful tips.
This is the only app i have found that does icloud syncing properly there really is no alternative

At least for contacts I use this here because its cheaper and officially supports iCloud too:https://play.google.com/store/apps/details?id=com.vcard.android

iCloud sucks anyway Posted via Android Central App on Google Nexus 7 2013

While I'm sure most on AndroidCentral would agree with you, many Apple users would say the same about Google's services. But for our friends who have always used Apple products and say they decided to try out the new Samsung Galaxy Tab Pro for their business needs... If they can't sync their current calenders they've used forever... They are much less likely to stick with Android products and will potentially move back to Apple just because of the seamless use between their products. Apps like this being developed allow us to coexist and try other products we're not used to, without having to change everything we do. I for one am all for it. Just think about these situations before you bash.

+1000 LG G2 on 4.4. Kit-Kat

Agreed. Posted via Android Central App on my daily driver, the Droid MAX

+1 Posted via Android Central App

I have been looking for a way to sync my wife's icloud calendar to my phone for a couple of years. I have tried many ways and none seemed to work. I am going to have to take a look at this app. Thanks for the heads up AC! Posted via Android Central App

Why not just use Google Calendar? Then you've got access to cross-platform calendar information. Posted via Android Central App

That's not really a helpful suggestion. Some people are invested in iCloud calendars the same as some people are invested in Google calendars. If you're happy to move, then this isn't an article that's going to help. It doesn't matter why someone still uses an iCloud calendar. What matters is that thanks to one awesome Android developer those people have an easy way to carry on.

Exactly. Posted via Android Central App on my daily driver, the Droid MAX

Some people and their comments...*sigh* mine as well :)

I appreciate all the defenders, but let's be honest. No business has adopted iCloud, and no matter who's at fault, that's it's biggest fault. Posted via Android Central App

Working in IT management for many small business, it is actually used very commonly to those who have just started and do not have an Exchange server or something else of the sort. And a huge HUGE chunk of people we're talking about this being useful for are your everyday nornal users, not just large business.

As a new convert to android and setting up my shiny new Note 3 I found this app just fantastic. I am heavily entrenched in icloud calendars from a life of Apple products and not finding a suitable solution would have potentially been a deal breaker. These small frustrations - like not being able to bring across your calendars, can have you pulling your hair out and jumping ship again before giving something a chance. Apps like this are a huge draw to those of us looking to join the other side. In fact they help keep us there. Posted via Android Central App

Welcome to Android. The Note 3 is an awesome device.

Just wanted to pop in and say I steered my dad towards a moto X from an iPhone tyranny in the family, and mom still uses apple. This app solved one of their biggest problems absolutely perfectly (with my help of course!) thanks AC for the suggestion. This is why I visit everyday and have your app shortcut on my home screen Eclipsed Moto X

As a person who carries both a Nexus 7 and a iPhone daily this is really great! Posted via Android Central App

I've been using this out for quite a while. Simple to setup and use. Well worth the cost. Sent from my Sony Xperia™ Z1

Yup. Works seamlessly. My iPhone, Mac Air and Nexus 7 all 'talk' to one another without issue, while the addition of the developer's Tasks app further syncs their Reminders when used in conjunction. History (and the innate desire to not have Google 'own' all of my personal info for their own gain) means this, rather than moving to Google Calendar / Tasks, makes this an ideal solution.

Will just giving this app your icloud password work if you have two factor authentication enabled? Is there a way to make reminders cross platform as well?

This is great for calendars, and Samsung's Smart Switch tool makes the rest of your iCloud stuff super easy too if switching to Samsung just by logging in with your iCloud account.
https://www.androidcentral.com/e?link=https2F2F...

Hi there. My wife and I use iCloud for our calendars and find it to be very useful to keep track of each others schedules. Recently we hired a nanny who has a samsung phone and we would like to have a shared calendar with her. Wil this app allow is to do this?

I want to know the same thing - can I easily sync my Samsung calendar with my iPad calendar

I added this app today and almost immediately my phone had the calendar events from my iPad, which was great! Problem I am having though is that the calendar events from my phone are not syncing over to my iPad calendar. I have tried to adjust several settings but nothing is working. Anyone have any suggestions ?

According to me, there is another way around this problem, that I am personally using.
Just add your Google Calendar to your iCall app on your Apple device (Mac, iPhone, iPad). Then just make sure you use the right calendar (the Google one you just added) to add event in iCal. As this Google Cal is synced with your Android device, you can now have access to calendars added in iCal from your Google Agenda in your Android device.
Of course this suppose you are adding Google Cal events in iCal and not iCloud events. But for me, adding a Google event from my Mac, iPad or Nexus is exactly the same thing as adding iCloud events. I just want to be sure the events I added are on all my devices. And if you want your static iCal archive, you just need to export it in Google Calendar using the export functionality from iCal and add Google events in iCal from now on.
My 2 cents.

hi! I just want to clarify... I have an iPad that I use the calendar on, & I have an android galaxy s4 that I use the calendar on but for some reason not all of my calendar info that I put on my iPad directly comes over to the calendar on my galaxy s4. Will this application fix that?

let me known if you hear anything.

Hi Bonnie-- it worked like a charm! I'm so glad I bought it..I have missed some appts cuz they weren't synced...this shouldn't happen anymore!

Last week all my devices were sharing information between my husband and me and all devices. Today we no longer are accessing each other on any device--- Google calendar. My devices are updating my things, but his is gone. Will this get us back on track?

Hi, we have two iPads, two samsung phones and one tosh all in one. I would like to find a way to sync calendars on all devices. Will your app allow this?

I just downloaded a free app from the play store on my galaxy Tab called "Sync for iCloud". I have two iphones, an ipad and two Galaxy Tabs that I now use at the office. This app synced my iCloud Calendars over to my android devices PERFECTLY. No sense in paying for an app, when there are free ones that do the same ;)

SolCalendar also syncs your iCloud calendars, plus Yahoo! and other services, plus is a complete calendar app, and it's free. https://www.androidcentral.com/e?link=https2F2F...