How does the Pixel 2 camera stack up to the Pixel 3?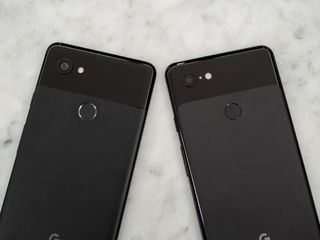 (Image credit: Android Central)
If you want a smartphone with the best camera possible, you really can't do any better than the Google Pixel 3. It's kind of mind-blowing just how much magic Google's able to work with a single rear camera and its usual software tricks, and just like last year, the end result is photos that look better than anything else out there.
However, if last year's Pixel 2 had such a good camera, too, how does it compare to its successor?
Here's what some of our AC forum members think.
What about you? How do you think the Pixel 2 camera stacks up to the Pixel 3?
Joe Maring was a Senior Editor for Android Central between 2017 and 2021. You can reach him on Twitter at @JoeMaring1.
As someone mentioned here already. My friends almost always want her to take pictures and send them to them. They all have new(ish) iPhones or S8 or greater. "Use his phone it takes the best photos". That was true with my Pixel 2 XL and now moreso with the 3 XL.

It's the same unless you scientifically analyze the pictures in a way you can't do when just shooting pictures.

The zoom and Bokeh effect on the Pixel 3 is a bit better than the Pixel 2, but the rest is pretty much a wash. Interestingly, DxOmark found the Pixel 3 still photography inferior to the HTC U12 Plus.

Heck the Pixel 1 still takes great photos. As long as you can control the lens flare.

I still use my Pixel XL 1st Gen. No problem with lens flare AND I updated the camera apk for the latest cameras and I get all of of new features. Pretty sure almost all of the improvements with the 2 & 3 cameras are not hardware based but software.

Some of these comments are frustrating. I've had all three. They certainly, irrefutably, and demonstrably have improved photo taking ability and quality particularly in 'extreme' cases that benefit from HDR. It's more than just software. Anyone who says otherwise is simply not paying attention; because they haven't owned the hardware or they're blinded to technological advances because it's simply 'expected'. The differences between Pixel 1 and Pixel 2 are much bigger than the 2 to Pixel 3, indeed because of the software. That said the Pixel 3 has greater nuance in the HDR photos than I found in same scenes shot by the 2. Backlit performance is also notably better, especially for selfies taken by either front or back cameras.

I bought 3 Pixels 2XL (used, mint condition) for less than $425 recently. I will keep one and sell the other 2 for $399 ea. Once they are in my hands, I will have a subjective opinion regarding the camera.

The only reason I'm sticking with my 2xl is because of the camera and the design is so close.
Android Central Newsletter
Thank you for signing up to Android Central. You will receive a verification email shortly.
There was a problem. Please refresh the page and try again.