Google Assistant vs. Cortana: Which is better for you?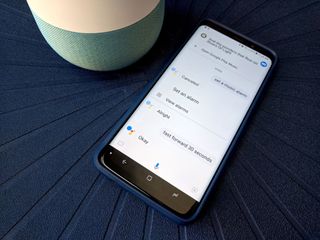 If you're back and forth between Google's and Microsoft's ecosystems, one of the bigger sticking points can be the virtual assistant that each company offers. Yes, both will be able to tell you the weather, stock information, and help you navigate. But, the assistants differ when it comes to where they're supported, and accessories you can use with them.
Here's how Google Assistant and Cortana stack up.
Where are they supported?
Of course, it doesn't matter what Google and Microsoft include with Assistant and Cortana if they aren't available where you live. Google Assistant will be available in 52 countries by the end of 2018. Meanwhile, Cortana is available in 13 countries and seven languages (opens in new tab). Do note that the capabilities of each assistant will vary from region to region and language to language.
What platforms are they supported on?
The next trick to finding out which assistant is best for you is finding out what platforms each is supported on. Cortana is available on Windows 10, Xbox, iOS (opens in new tab) and Android (opens in new tab). Cortana is also built into the Harmon Kardon Invoke speaker. For even better integration, Android users can set Cortana as the default voice assistant.
Google Assistant is available on iOS (opens in new tab), Android, Android TV, Android Auto, Wear OS watches, Smart Displays, connected headphones and speakers, and the Google Pixelbook, though there is evidence to suggest it will come to other Chromebooks in the future. There's also evidence to suggest Google Assistant will be coming to the Xbox One.
More: Here's every device with Google Assistant built-in
What can you do with each one?
Both assistants are great for the basics of answering questions, completing web searches, setting reminders and checking the weather. Both assistants also work will smart appliances, including building your own IFTTT recipes. Google Assistant does have an advantage in this field by working with a lot more brands than Cortana does.
More: These products are services work with Google Assistant
Which one is best?
Deciding which smart assistant is best for you comes down to the other services you use. If your main PC runs Windows, you use Microsoft services like OneNote and Office 365, and your Xbox is your main entertainment system, Cortana is going to be a better fit for you. Meanwhile, if you're mostly using Google services — even if you have a Windows PC or Xbox — Google Assistant is going to be better for you.
If you're completely neutral, Google Assistant will be the better choice because it's supported by more home automation vendors, more smart speaker vendors, and is available in more countries.
What say you?
So which assistant do you think is a better match for you? Let us know down below!
Android Central Newsletter
Get instant access to breaking news, the hottest reviews, great deals and helpful tips
When I was a Windows and Microsoft enthusiast I hardly ever used Cortana. Now that Im back on Android Ive found that I'm using my Google assistant a frick ton. I use it every day multiple times. It would be hard to do without my helpful friend. Then again maybe I'm just a lonely old man.

This post is so full of bullcrap is ridiculous 😂😂😂

Says the evil little troll. Standing toe to toe it wouldn't be like that.

wow, no shame in your game. Salute

Using Cortana on my Pixel 2 XL, because I've been using Cortana since it was available on the assorted Windows-powered PCs and phones I've used over the years. I could easily switch to Google assistant, and maybe I will some day. Overall it's a wash on which is better for me, since I don't have any plans on getting on board with home automation and smart speakers any time soon. For me, personally, a lot of that stuff is cool to be sure, but all those devices are solutions to problems I don't have.

Your spot on for me cortana was better on wp as it read out your texts ect when connected to Bluetooth where at this moment it dose not on Android but the same is with Google assistant unless you use android auto. I've switch over to Google because of Google home and moving away from wp. For me cortana was better on wp but lack of other devices means Google all the way for me unless Microsoft can come up with something

I loved Cortana on my W10M Lumia 950. Worked perfect. MS has since crippled her, and it is nowhere as useful on Android as it was on W10M. And on W10M, she worked way better, IMO, for an assistant. Though I never used it for IFTTT

I'm surprised Cortana is still a thing.

I also had the Lumia 950 and switched to Android. But I'm still using Cortana, Outlook, Bing, and Edge browser. I agree that Cortana has lost some functionality on Android as compared to W10M. But I know what to expect.
I'm also using Cortana on the Invoke which is gaining the ability to run Alexa "soon". We'll see.

I tried Outlook, but couldn't find a way to change the frequency of e-mail checking. Maybe it's buried in there somewhere, but couldn't find it. i removed it, because I was getting notifications from Outlook every 5 minutes or so, it was annoying. Do you know of a way to change it? I probably should have looked harder, it was nice and fast otherwise

My only and first experience with Cortana was a only option on Xbox One to use voice texting. They loaded apparently a horrible unrefined version. Because of my experience with that I'll never touch it. It barely even got half the words right

Google Assistant is great with a pair of Google home minis, Chromecast, some smart lights and chrome audio. Never used Cortana but it seems Google Assistant is easier to integrate

I expected this to be a fanboy post but was pleasantly surprised at the level-headed conclusion. I use Cortana because I have 4 Windows 10 PCs and an Xbox.

No hands-free Cortana (AU) on Android Mobile, that's an automatic FAIL. On the Windows desktop, Cortana is so limited in what she can do. I'm forced to use HER choices for searching, apps, and integration. In fact, her integration with other Microsoft apps was so limited. Separate tasks and reminders to those in Outlook 2016/.com. There really wasn't much she would do other than read out notifications because anything else could be done as fast as a mouse click or keyboard shortcut. It would be nice if we could get Google Assistant working in Windows, or at least through Chrome browser.

I have Google Assistant running most of the the lights, coffee pot Cameras and Fans.
WiFi Plugs are amazing, but this post isn't about that.
Bixby -
Alarms
Television and setting up reminders.
Alexa, pass
Cortana, meh

I use Cortana primarily because of Windows 10 integration. As I transition from my Lumia 950 to a Galaxy S9, I still use Cortana but I will give Google Assistant an honest try.
While there are a lot of cool things Google Assistant can do, the majority of the abilities are not things that matter to me at the moment.

I hate talking to machines, but will use assistant when no one is looking.
Great with Android auto.
Android Central Newsletter
Get instant access to breaking news, the hottest reviews, great deals and helpful tips
Thank you for signing up to Android Central. You will receive a verification email shortly.
There was a problem. Please refresh the page and try again.