How to disable ads in HTC BlinkFeed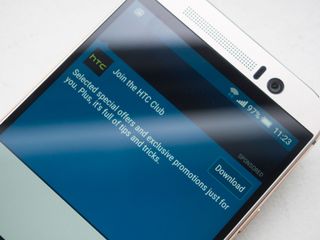 HTC recently started showing promotions through its BlinkFeed home screen reader app. It's a somewhat controversial move that sees BlinkFeed — which had previously been free of advertisements — starting to show "interest-based" ads alongside news and social content in the U.S., UK, Germany, Taiwan, and China. That means you might have started seeing sponsored BlinkFeed items on your HTC One M9, One M8, Desire or other HTC phones. Fortunately, if you're not a fan of ads in your feed, it's easy to opt out altogether.
Identifying ads
Ads in BlinkFeed are clearly marked as such — look out for a "Sponsored" label, and a "Download" or "Buy Now" button next to the item's title. For example, something like this:
You can't dismiss individual ads by long-pressing, like you can regular BlinkFeed items. Instead it's all or nothing — to disable ads you'll need to opt out entirely from the BlinkFeed settings menu.
Turning off ads in HTC BlinkFeed
It's easy to kill ads in BlinkFeed entirely once you know where to look.
From the main BlinkFeed home panel, swipe left-to-right to open the menu panel.
Tap the three dots icon in the top right corner of the panel.
In the menu that appears, tap "Settings."
Scroll down to "Manage ads," under "Customize."
Check "Turn off interest-based ads."
That's it. No more BlinkFeed ads.
It's worth remembering that this only filters out ads that are delivered by HTC BlinkFeed itself, and doesn't block advertisements that might be shown in the course of pulling in social and RSS content — for example sponsored posts on social networks or blogs.
If you don't see the ad management option, chances are ads haven't been enabled for your region, carrier or version of BlinkFeed yet. If and when you do start seeing ads, this menu item should also appear, allowing you to opt out.
Android Central Newsletter
Get instant access to breaking news, the hottest reviews, great deals and helpful tips
Alex was with Android Central for over a decade, producing written and video content for the site, and served as global Executive Editor from 2016 to 2022.
Are they that hard up for money that they'll blast ads on the screens, even if you paid for it outright? Posted via the Android Central App

Have you looked at their stock performance lately. That should answer your question.

It's very specific suggestions based on your location and the time of day. It would be helpful to me if I was still doing days on the road for work. But, I don't do that as much anymore, so I'm turning it off. It's not that intrusive, and only has one suggestion for every dozen articles or more. Clearly not as bad as the sixteen ads I counted for one article on AC yesterday. Thanks for the tip Alex! Posted via the Android Central App

Even if its helpful, its still BS that the stock home screen software allows ads. The trend starts a dangerous one.

It's still intrusive. You paid 600+ dollars for this phone. Why should anyone see ads especially in the stock launcher. Posted via the Android Central App for Sailfish OS on my iPad 7

Reason # 753,736,765 why I love my Nexus... Posted via my Nexus 6

Exactly Posted via the Android Central App for Sailfish OS on my iPad 7

Cheers Alex! I was getting pretty fed up with BlinkFeed making suggestions for me. I knew there had to be a way to turn it off just hadn't spent enough time trying to find it. Posted via Android Central App

I've had mine turned off for months, but I still see sponsored Ads in Blinkfeed. Nothing like a convenient software bug to keep the ads & $$ rolling in... And yes, they're from HTC...not from another source being pulled in by Blinkfeed. If I opt in, then opt back out, they'll disappear from the feed...but low and behold, they'll be back tomorrow.

"This choice doesn't block ads that aren't delivered by HTC" Well, those ads aren't gonna annoy me anymore because I flashed stock Android on my M7 after my G4 arrived.

What did that do to the camera especially with the stock camera application. Posted via the Android Central App for Sailfish OS on my iPad 7

Nothing much other than OIS not being active from the looks of it. Sadly, the camera is still as purple as ever. Posted from the superb LG G4

I don't have any ads in Blinkfeed on my M8 and I live in Canada. Posted via my HTC One M8

Well it has yet to reach Canada. Since its rolling out. Posted via the Android Central App for Sailfish OS on my iPad 7

I literally don't tolerate conference room, advertisement, marketing jargon. You're not fooling me, I didn't take business oriented economics or finance courses in college. On a HUMAN and TRUST level I truly think that "interest-based" is a term that allows conference room lemmings to lighten the mood and slyly convince as many people as possible that we need this. I truly think this is grimy. Find a new way. Find a better way. I'm tired of paying my money just to see more ads. In any medium. My point: IT'S NOT FOOLING ANY OF US.

It's not that big of a deal, and at least you can do something about it if you don't like it. It's not like they are forcing you too accept something you can't do anything about, like a small battery ( nudge, nudge)... Posted via the Android Central App

blinkfeed is a liberal leaning app, I just don't care for the politics of it. maybe if it was more friendlier towards everyone it would be a good app.

i have problems with stopping ads in my HTC DESIRE EYE MOBILE,I did not found the option in settings any ''Manage apps'',
i don't know how to stop ads its very disturbing doing chatting and calling also.Please help me how to stop ads..
Android Central Newsletter
Get instant access to breaking news, the hottest reviews, great deals and helpful tips
Thank you for signing up to Android Central. You will receive a verification email shortly.
There was a problem. Please refresh the page and try again.