How to deal with Blu-ray problems on PlayStation 4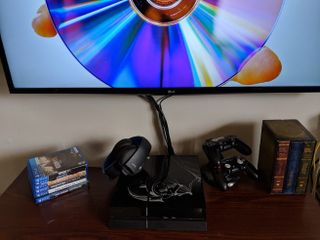 The BD-Live option on many PlayStation 4 units causes a lot of users to experience issues when enabled on their consoles. If you're getting nothing but a black screen when you try to watch your favorite Blu-ray, your PS4 may be looking for content in your movie that doesn't exist. Here's a guide on how BD-Live works and how to fix it so you can get back to the movies you want to watch.
What is BD-Live?
This is a feature on your PlayStation 4 that will allow internet access options to become available on certain Blu-ray discs. The requirements for using this feature are 1 GB of internal storage and an internet connection. When enabled, it will download extra content for your movies like special features and the likes.
You're familiar with the "Extras" disc that came with a lot of your DVD movies growing up, yes? That's the type of content BD-Live brings to the table. Deleted scenes, bloopers, interviews, and more are all waiting for you to enjoy. Only certain Blu-rays, like "Avatar" and "Coco", even have these features.
If your Blu-ray disc doesn't have any of these features, the BD-Live option will constantly look for them when it loads your Blu-ray disc. Then, instead of getting to watch your movie, you'll be faced with a black screen because your entire system will get confused. You want to make sure this feature is only turned on if you know there is content it can find. If not, turn it off.
Turn off BD-Live and forget about it
If you don't care about the features BD-Live offers or the disc you're trying to play doesn't have them, you can turn it off through the settings menu.
While your Blu-ray disc is actively playing (even if it's just a blank screen) press the options button on your controller.
Select Settings.
Select Video Playback Settings.
Opt to turn off BD-Live.
Improve your movie experience with these products
Linksys EA9500 Max Stream ($350 at Amazon)
If you're watching 3D Blu-Ray with an online stream you want to make sure you have the best internet connection possible! With the Linksys EA9500 Max Stream, you get three bands of Wi-Fi, 4 x 4 MU-MIMO, and a ton of ports to connect your wired devices. A 2.4 GHz band with speeds up to 1,000 Mbps is perfect for older devices, and two 5 GHz bands at up to 2,166 Mbps support 4K streaming and seamless online gaming.
Vankyo Leisure 3 - Projector ($90 at Amazon)
Upgrade your movie with this portable projector that can increase the size of your screen up to 176 inches for a killer price. With a resolution of 1920x1080 and 2000:1 contrast ratio its perfect for any home! Also, the 3-year warranty has you covered if you need a replacement.
beFree Sound BFS-450 - Surround Sound ($62 at Amazon)
The beFree surround sound system supports connections through Bluetooth, sub, SD, and FM radio. It has a remote to make the controls a breeze and it's the perfect price for a family budget!
NICETOWN Blackout Curtains ($21 at Amazon)
Stop letting the glare of the outside world ruin your movie or gaming experience. With these blackout curtains you can block out that evil sun from interupting your shows! This package comes with 2 panels that are 42 inches wide and 63 inches long.
Sign up for Black Friday email alerts!
Get the hottest deals available in your inbox plus news, reviews, opinion, analysis and more from the Android Central team.
Essa Kidwell is an expert in all things VR and mobile devices who can always be found with an Oculus Go, a Pixel 2, and an iPhone 7+. They've been taking things apart just to put them back together for quite some time. If you've got a troubleshooting issue with any of your tech, they're the one you want to go to! Find them on Twitter @OriginalSluggo or Instagram @CosmeticChronus.