How to connect a USB flash drive to your Android phone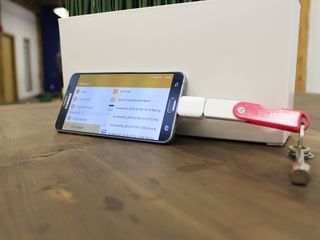 Say you're going to a party and your friends have asked you to play amateur DJ. Your phone has some music on it, but there's so much more on your thumb drive or external solid state drive. You don't want to bring an entire laptop to the party! Why not hook it up to your phone?
Another scenario: you're going on a long road trip or flight and you can't imagine anything better than watching movies the whole time. Problem is, you can't fit them all on the internal or removable storage on your Android phone. Bring your flash drive! It's full of movies!
Connecting a USB flash storage device to your Android phone is cheap and easy. Let's find out what you need and, finally, how to get everything connected and safely disconnected again.
How to check if your phone supports USB On-The-Go
Not all Android phones support USB On-The-Go (OTG) functionality. If you don't have the correct guts in your phone you're not going to be hooking anything up with OTG. Luckily, to check if your phone is compatible requires just one app download.
The Google Play Store has a great app called OTG? that you can download now on your phone. It scans your phone automatically and will let you know if you're one of the lucky ones. If you are, keep reading.
Download: OTG? (Free) (opens in new tab)
What you'll need to connect USB flash storage to your Android phone
Connecting USB flash storage to your Android phone is easy and cheap. Here's what you'll need:
A USB OTG cable
Some Android phones, like the Galaxy S7, come with a USB OTG cable in the box — but most don't. If your Android phone didn't come with an OTG cable, you can pick them up off Amazon for super cheap.
This cable is what allows you to hook up your phone to your flash storage device. Without it you're pooched.
The one linked to here is made by Ugreen — it's $5, it has a one year warranty, and it works great. The cable is six inches long, so you'll be able to set your flash storage device and phone down any way you'd like. Can't really beat that.
See at Amazon (opens in new tab)
A USB flash storage device
This one is largely up to you. Any storage with a USB connector will work as long as it's formatted as FAT32. If you want a ton of storage you'll probably want a solid state drive with a USB connector (but beware of the power draw — not all drives will work!). If you're OK with less storage, a thumb drive will do the trick.
If you don't already have an OTG cable or a USB flash storage device, you can purchase an all-in-one flash drive and OTG connector. The one pictured here, made by Patriot, has 128GB of storage, has USB and micro-USB male connectors, and only costs about $40. You can plug it into your computer, transfer files onto it, then plug it into your phone and stream media without the need for a separate OTG cable.
See at Amazon (opens in new tab)
How to connect a USB flash storage device to your Android phone
Plug your USB OTG cable into your Android phone.
Plug your USB flash storage device into the female connector of your OTG cable. The file explorer on your phone should automatically pop up.
That's it! As long as your USB flash storage device is connected you'll be able to play media from it. Be careful you don't remove the storage device while using or transferring files.
How to safely disconnect a USB flash storage device from your Android phone
Swipe down from the top of your phone's screen.
Tap USB mass storage connected.
Simple as that. You can now safely unplug your flash storage device without risking corruption of any files.
Are you connected?
Do you use OTG cables to connect flash storage to your Android phone? Do you use a different method? Let us know in the comments section below!
Cale Hunt is a staff writer at Mobile Nations. He focuses mainly on PC, laptop, and accessory coverage, as well as the emerging world of VR. He is an avid PC gamer and multi-platform user, and spends most of his time either tinkering with or writing about tech.
i've always wondered about that.
Thank you AC, very helpful!

Great tool for backing up information/moving stuff to a computer. I move all my photos to an external hard drive to back them up, if I feel like bringing them to PC for editing I can just plug it into the computer. This works for keyboards/mice too. I plug into my Tab S2 occasionally.

Excellent tips!
Thank you for taking the time to write this.
I wasn't sure my new phone was OTG enabled.
Thankfully it is!

Er,all well and good,but quite a few devices need to be rooted to enable otg.
Here's looking at you HTC..

My HTC 10 supports it. Posted via the Android Central App

Didn't know the phone need to be rooted to do that. The phones I use worked and that's why Android rocks and iOS sucks

I always carry a 2TB SSD with me and an OTG cable. I find myself not using it that often, but I always carry it, because in past experience the day I decide NOT to bring it is always the day it could've been useful. Posted from my Galaxy Note 4 on SlimLP from the official Android Central app for Android.

I don't believe they make a 2TB SSD. I think you might mean 2 TB 2.5" drive but I've never see or heard if a 2TB SSD, onltly 1TB and they're over 200.00 on average easily still.

Here's the 2tb ssd I use....... A most wonderful and secure ssd for both Windows and Android.....sorry ios......http://www.samsung.com/semiconductor/minisite/ssd/product/portable/t3.html Posted via the Android Central App

That looks genuinely compelling, especially with a USB-C port

Those are $750 on Amazon..

I call BS.. no one needs a 2TB 750.00 drive they they "find myself not using it that often, but I always carry it, because in past experience the day I decide NOT to bring it is always the day it could've been useful" unless you have money to piss away of course but I highly doubt this is a true statement, sorry bud...I call BS. You don't spend 750.00 for a 2TB best SSD drive there is to "sometimes" use it...lmao! 747.49 for a PRIME member..I call horseshit. Forgive me if I'm wrong, maybe you have moolah I do but still wouldn't spend that much on a SSD drive no matter the speed just to have available "occasionally" in case I want to watch movies from it. A 20GB MicroSD and OTG (if your phone doesn't have a MicroSD slot) is only 150.00 or so give or take and would suffice more than adaquately.
https://www.amazon.com/Samsung-T3-Portable-SSD-MU-PT2T0B/dp/B01AVF6UHK/r...

Yeah there's no way anyone would spend that much money on something they occasionally use unless they were Oprah rich.

@Ted Leaf, I've had 4 phones all which supported OTG and not a single one was rooted. Not correct at all.

And one us an HTC 9 Also HTC 10 Works unrooted and I believe HTC M8 also. Sure a FEW need to be rooted but only ok phones say 3-4 years old and older.

Now the question is: Will all this work with USB type C handsets with another adapter? Posted via the Android Central App

Yes, Nexus 6P here. Functionality does not change with the port form factor... It is Android OS after all... Posted via the Android Central App

Works perfect on my Nexus 6P. USB 3 cable. Posted via the Android Central App

My question : where does everyone get their movies from that can be put on a USB storage device these days? All I have is a few from Google play. I doubt I can put Google play movies on a storage device. Posted via the Android Central App

You can rip them of you purchased DVDs?? There are other ways you know... Posted via the Android Central App

I rip them from DVD's and Blu Ray's I've purchased. I don't want to derail this thread, so feel free send me a PM in the forums and I'll walk you through it.

Amazon just enabled the ability to download Prime media, so there's that.

But still only plays in their app with no streaming capabilities like to Chromecast which sucks. You still have to use their app to play downloaded file no matter where they're stored but still nice to put on external...about time. Lol

I rip them using handbrake (Mac and PC FREE TOO) then copy to card, play with any movie plate I use Poweramp.

I use the file manager Total Commander with the USB Plugin. Posted via the Android Central App

I've been using Nexus Media Importer since I bought my first Nexus 7, and it works like a charm. Never fly without it!
https://www.androidcentral.com/e?link=https2F2F...

I bought a small OTG hub from Amazon for about £5. It has a few USB ports, SD card slot and micro SD card slot. The best thing is it can handle them all at the same time. I have had a keyboard, mouse and hard drive all connected at the same time whilst casting to my TV with Chromecast. If you need any further ports you can even plug in another USB multiport adapter. Posted via the Android Central App

The OTG app does not work properly. I have just tried it on my original Moto E and it says my device supports OTG. I have just plugged a micro USB thumb drive in but it doesn't work. I think the network provider may have disabled OTG support, Tesco mobile in the UK. Posted via the Android Central App

Nope...if it has OTG capabilities the carrier has no way to disable them...they wouldn't if they did.

You might be right on the OTG. Not sure about OEMs disabling the facility though. There are many videos on YouTube during his to enable the cast function on Moto G early models. Why was that disabled as it is a fantastic function that I use more than OTG? Posted via the Android Central App

Cool, thanks for the tip.

I have a Sandisk one which is USB 3.0 on 1 side and micro USB on the other, it slides out of the main case. It goes up to 128GB and is very handy when I need to get a document up on my phone or tablet.
https://www.amazon.co.uk/gp/product/B00RBGYG74?tag=hawk-future-21&ascsub...

PSA: don't try this while using a wireless fast charger, you will fry your USB device. I killed a passport and a flash drive.

One of the best file managers that supports OTG in my opinion is Solid Explorer, it;s very powerful, tons of features, simple to use and will specifically tag the OTG card when you plug it in so it's easy to see what you're navigating to and from, copying to and from etc etc. I've tried MANY and solid explorer is the best for ease of use and the most features and especially support and ease of use for OTG connected memory cards and cables, adapters etc and they update VERY often to add new features etc.

I ADORE my OTG cable! Posted via the Android Central App
Android Central Newsletter
Get the best of Android Central in in your inbox, every day!
Thank you for signing up to Android Central. You will receive a verification email shortly.
There was a problem. Please refresh the page and try again.