How to block websites in Chrome on your Android phone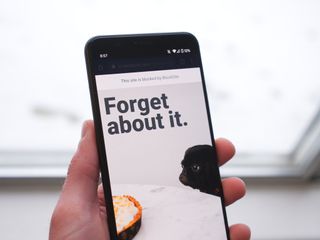 (Image credit: Joe Maring / Android Central)
The internet is a vast, expansive, neverending landscape of information and entertainment. You can find just about anything you want online, ranging from cute puppy videos, free games, celebrity gossip, and everything in between.
However, as Uncle Ben once said, "With great power comes great responsibility." It can be awfully easy to get distracted with websites, especially when you have instant access to them on your Android phone.
Thankfully, there's an easy way to block these pesky sites so you can stay on task and minimize distractions. Ready to get started? Let's dive in.
How to download BlockSite
On its own, Google Chrome for Android doesn't have a built-in way to block websites. While this is certainly something we'd love to see added in the future, there is another app that lets you do this.
It's called "BlockSite," and it's a free download from the Google Play Store.
Open the Play Store on your phone.
Search for "BlockSite".
Find the app and tap Install.
How to use BlockSite to block websites in Chrome
Now that BlockSite is downloaded, it's time to set up the app and get to blocking.
Open the BlockSite app on your phone.
Tap Get Started.
Tap Enable Accessibility.
Tap BlockSite.
Tap the toggle next to "Use service."
Tap Allow.
Tap the X icon in the upper-left corner to dismiss the Premium pop-up.
Tap the + icon to add your first website.
Choose the websites you want to block.
On this page, you have a few different options. You can tap any of the suggested websites below, or type in your own URL for a specific site that's not being recommended. Even with the free version of BlockSite, you can block as many websites as you'd like.
BlockSite also allows you to block apps on your phone from being used, but for today, we're just focusing on blocking websites in Chrome (though it works basically the same way).
After selecting the sites you want to block, tap the green checkmark in the upper-right corner.
How to block sites during certain times of day
Source: Joe Maring / Android Central
In addition to blocking all websites flat-out, you can also choose to only block them during specific times/days. On the BlockSite homepage, tap the clock icon near the top of the screen.
This takes you to the Schedule page, and it has plenty of options to customize your schedule however you want. You set start and end times, which days you want the schedule to be active on, and whether you want all blocked sites to apply by these rules or only certain ones.
For example, if you want to only block Facebook and Instagram during a set time but want to keep YouTube permanently blocked, you'd only want to select Facebook and Instagram on this page.
You can edit how your schedule works at any time by visiting this page again, or if you want to disable your schedule rules, just tap the green toggle at the top of the screen so that it turns gray.
How to block all adult websites
There's another handy tool you get with BlockSite, and that's the ability to block all websites that are rated for adults only (18+). You know the kind of sites we're talking about, and if you have a kid or are just trying to break a habit, this is a great way to block everything and not just the popular destinations.
On the BlockSite home page, tap Adult Block on the bottom navigation bar.
Tap the toggle in the middle of the screen.
The background will turn red to confirm that adult websites are being blocked.
The Adult Block doesn't abide by a schedule you have set up, and instead will simply block all adult sites all the time while it's turned on.
Distractions begone!
There are other website-blocking tools available on the Play Store, and while you're more than welcome to give those a try, too, we've found BlockSite to be the most effective and easiest to use. Then again, as with all things, your mileage will vary.
It'd be great to see Google add built-in blocking tools to Chrome at some point in the future, but until then, at least we have reliable third-party methods that get the job done.
Stay on task
A free tool for keeping distractions at bay
Whether you need a little nudge to stay off distracting websites or you're trying to limit what your kid has access to on their phone, BlockSite is a really useful tool for doing just that. There is a premium version that adds a couple of extra features, but you can just use the free model and still get a great experience.
Sign up for Black Friday email alerts!
Get the hottest deals available in your inbox plus news, reviews, opinion, analysis and more from the Android Central team.
Joe Maring was a Senior Editor for Android Central between 2017 and 2021. You can reach him on Twitter at @JoeMaring1.