How are you liking the Galaxy S9 so far?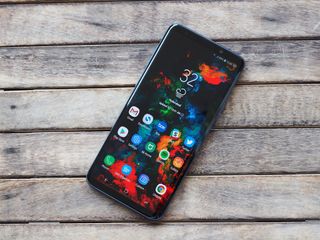 Following plenty of hype and anticipation, pre-orders for the Samsung Galaxy S9 and S9+ are finally being delivered to early buyers!
Plenty of members in the Android Central forums have been quick to share their initial thoughts on the two phones after finally getting to play around with them for a few hours, and while there are a few complaints here and there, the general consensus still remains that Samsung created two excellent gadgets with the S9 series.
Looking specifically at things people like about the S9 and S9+, here's what some of you had to say:
Now, we'd like for you to chime in – If you have a Galaxy S9/S9+, how are you liking it so far?
Android Central Newsletter
Get instant access to breaking news, the hottest reviews, great deals and helpful tips
Joe Maring was a Senior Editor for Android Central between 2017 and 2021. You can reach him on Twitter at @JoeMaring1.
This is a nice wallpaper.
Anyone knows where we could find it ?

It's called "A Riot of colours" search for it in the Samsung theme store

Thank you Crack-a-matic ! :-)

Sony Xperia XZ2 shoots awesome 960fps at 1080p!

Curious how everyone is getting their phone before official launch. I guess if you order online now you get in earlier than pre-ordering for in-store pick up? Or is this just a US thing? I'm in Canada, walked into Samsung and they told me I can either show up tomorrow night at 9pm for the launch party and pick up then. Which I assume will come with some big ass line up. So not about that. Or drop in on Friday morning to pick up on the official launch day. But I'm seeing people here getting theirs days early.

Second sentence of the article . . .

Lundon said he pre ordered also but for store pick up... I did the same since the At&t store is right by my work and I'm getting mine today still 2 days before official launch date. Idk might be a Canadian thing since those in Europe seemed to get their pre orders before their launch day too.

Ummm, no, the second sentence just says preorders are being delivered to early buyers.
It doesn't say *why* anyone is getting the phone before launch date. I was wondering the same thing. I thought launch date meant "first day you can pick up your phone"

Pre-orders before March 8th were given guaranteed delivery of March 14th when buying from Samsung directly (at least in US)

So will GIFs be supported in stock text as part of Oreo?

I like how much faster everything opens and the fingerprint sensor is blazing fast compared to GS8. I've had mine for a full 24 hours now and love it!

Got mine yesterday as well and I was shocked how dang fast it is. Fastest Samsung I've very used. I just hope it can stay that way.

Probably the first phone I've ever received I didn't immediately start using. Picked it up at the UPS depot and threw it in my backpack, got home and put it on the charger and didn't start installing all my apps and settings until today. It's just not that exciting. Loving the blue color though.

Just for the sake of buying the latest and greatest, I suppose. I'm still rocking my Note 4 but I like keeping in touch with smartphone tech. When I finally decide to upgrade, it'll definitely be a Pixel (and I for sure will be excited).

The Blue Coral this year is amazing. I went with Midnight Black but seeing the BC in person made me a bit envious.

Just now starting to download apps on my S9+ and so far I'm really enjoying it. Just a great all around phone and I'm super pumped about being back on Samsung Pay. Now for HDR movies!

I read the article about changing default Icon frames followed instructions Icons only versus Icons with frames, selected Icons only and the frames remain, restarted as well damn frames are still there, looks like the first bug, anyone have an idea about how to get rid of them?
Android Central Newsletter
Get instant access to breaking news, the hottest reviews, great deals and helpful tips
Thank you for signing up to Android Central. You will receive a verification email shortly.
There was a problem. Please refresh the page and try again.