How to adjust focus on your Oculus Go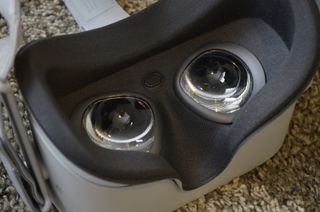 Although the Oculus Go doesn't have a manual focus dial, it does come with eyeglass spacers included in the package, letting you wear your prescription frames without scratching up the Go's lenses. Special corrective lens inserts are available for purchase if your standard frames do not work with the Go. Let's take a look at how to install the eyeglass spacer, as well as where to find prescription lens inserts made specifically for the Oculus Go. That way, everything is in focus.
Products Used In This Guide
How to install the Oculus Go eyeglass spacer
Here's how to install the spacer that lets you use your own prescription frames with the Oculus Go.
Lift the lens rings up and off the Go's lenses to remove them. Be careful not to touch the lens itself.
Pull the facial interface foam away from the lenses and light sensor. It should come off rather easily.
Press the eyeglass spacer that came included with your Oculus Go against the bare area around the lenses. The glasses logo on the spacer should be at the top.
Press the foam facial interface back into place, held securely by the light sensor. Ensure it's not covering the lenses.
Press the lens rings back into place around the lenses. They will clip into place with an audible noise.
You can now safely use your Oculus Go with eyeglasses that measure 142 mm (5.59 inches) or less in width and 50 mm (1.96 inches) or less in height. If your standard eyeglass frames don't work with the Oculus Go, or you don't find the need for eyeglasses unless you're using the Go, you might want to check out prescription lens inserts from FramesDirect.
To install, follow the same steps laid out above to install the eyeglass spacer, but use the custom VirtuClear lens inserts from FramesDirect instead of the stock lens rings in Step 5.
How to put on your Oculus Go while wearing glasses
In order to put on your Oculus Go while wearing eyeglasses, follow these steps.
Loosen the top and side straps. There's no need to remove them completely.
Place the Oculus Go against your face, around your eyeglasses.
Tighten the top and side straps until the Go sits comfortably on your head without interference from your glasses.
Ensure you also loosen the straps before removing the Oculus Go when using eyeglasses.
Our top equipment picks
Here's the stuff you need in order to complete the steps in this guide, including adding custom prescription lens inserts to your Oculus Go.
Our Pick
Portable, immersive VR.
The Oculus Go offers immersive, high-quality VR that doesn't rely on attached cables. You can use it just about anywhere along with the included motion controller, and there are plenty of games and experiences available with more on the way every day.
The Oculus Go might not have manual focus adjustment built into the hardware, but an included eyeglass spacer makes it possible for most people to use their standard frames. In cases where this still isn't possible, custom prescription lens inserts from FramesDirect can be easily added into the mix, allowing just about anyone a clear picture.
Additional Equipment
Check out FramesDirect for custom prescription lens inserts that will bring your Go into focus if standard eyeglasses aren't an option.
VirtuClear custom lens inserts ($80 at FramesDirect)
These are the custom prescription lens inserts recommended by Oculus if you can't get your Go into focus with standard eyeglasses.
Get the Android Central Newsletter
Instant access to breaking news, the hottest reviews, great deals and helpful tips.
Cale Hunt is a staff writer at Mobile Nations. He focuses mainly on PC, laptop, and accessory coverage, as well as the emerging world of VR. He is an avid PC gamer and multi-platform user, and spends most of his time either tinkering with or writing about tech.