How to add new smart devices to your SmartThings Hub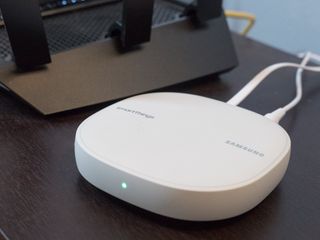 One of the key components to setting up your SmartThings devices is adding them to your hub. While it's not a hard process, there are a few taps involved to make sure everything goes smoothly. Keep in mind as well that even though a device may say it "works with SmartThings", there may be a bit more to it than just powering it up and adding it to your hub. Here's how to get the job done.
Products used in this guide
How to a device to your SmartThings hub
Open the SmartThings app and from the Dashboard, tap Add Device.
Tap Add Device Manually.
Choose the device category and brand or search for your device name.
Follow the specific device instructions within the app to connect.
When finished, tap Edit to rename the device, then Done.
Tap Done to complete the process.
From there, your device is ready to go. You won't have to do anything else to get it up and running aside from adding any smart apps or routines. If you have more devices to add, simply repeat the process above for each new device you want to add.
Can I delete a device?
If you have a device that you no longer want to use with SmartThings, or need to reset, you can easily remove it from your SmartThings hub using these steps.
In the SmartThings app, tap Devices
Tap the location drop-down and choose the one that includes the device you want to remove.
Tap the three dots on the right, then tap Edit.
Tap the red minus icon next to the device you want to remove.
Tap Delete to confirm.
Tap Done
Our top equipment picks
Our Pick
(opens in new tab)
The smartest home hub
The 3rd generation SmartThings hub is a solid center to your connected home. With the vast array of OEM and third-party compatible devices, there's no shortage to what you can do with SmartThings.
If you're looking at SmartThings, there's really no reason to buy a hub other than this 3rd generation model. The older versions will still work (for now) but don't offer the newer features of this model.
By day, Adam is a writer for multiple Future Publishing brands with over fifteen years of experience. He's expertly researched and written hundreds of articles ranging from mobile phones to mobile homes to baby mobiles. By night, he's a gadget geek, avid disc golfer, 80s nerd, cord cutter, cook, husband, dad, and memory collector.
Android Central Newsletter
Get the best of Android Central in in your inbox, every day!
Thank you for signing up to Android Central. You will receive a verification email shortly.
There was a problem. Please refresh the page and try again.