How to add the Harry Potter Kit to your Kano Computer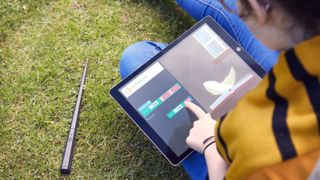 At some point in our lives, we've wanted to have a wand and somehow end up on a train to Hogwarts School of Witchcraft and Wizardry (no? Just me?). Unfortunately, this guide won't be telling you how that's possible — instead, we'll be showing you how to connect the Harry Potter Kano Coding Kit with your Kano Computer. Once finished, you'll be able to code with just a flick of your wrist. It's almost like doing magic.
Products used in this guide
How to connect your Harry Potter Coding Wand to your Kano Computer
Make sure you've downloaded the Kano app.
If not, go to kano.me/app.
Downloading the right Kano App for your Kit
Click the Harry Potter Wand.
Click either Laptop/Desktop or Tablet.
Wait until the app finishes downloading. open it.
Open the app.
Click login.
Activating your Kano Computer's Bluetooth
Go to the bottom left corner of your dashboard.
Click the Windows tab.
Type in Settings.
Click Settings.
A menu will appear.
Click devices.
A menu with appear.
Click the tab to turn Bluetooth on.
Connecting your Harry Potter Kano Wand through Bluetooth
Login to the Kano app.
Hover over the Harry Potter Kano Wand.
Press connect.
Wake up your wand by pressing the button on it.
Finished.
With your Harry Potter wand now connected, you should be able to perform different tricks in Kano World. You should also be able to access different pieces of code, and make them do a variety of things by merely moving your wrists and hands.
Our top equipment picks
Necessary to get started
Harry Potter Kano Coding Kit
Coding with a wand? Granger things have happened
If you like Harry Potter as much as you like coding, then this Harry Potter Kano Coding Kit will be right up your Diagon Alley. This kit adds up to 10 new challenges for users, and all you need is patience and a good flick of the wrist.
Beginners paradise
Kano Computer Kit Complete
Kano believe it?
The Kano Computer is a great first step for those who are taking their first step into coding. It's targeted mostly towards children, but adults can use the kit too.
Sign up for Black Friday email alerts!
Get the hottest deals available in your inbox plus news, reviews, opinion, analysis and more from the Android Central team.